There are two ways you can insert a GIF into your email campaign:
To insert an animated GIF from Giphy, first add a row to hold the GIF. Next, select the GIFS block in the left-pane menu and drag it to the block you want to work with.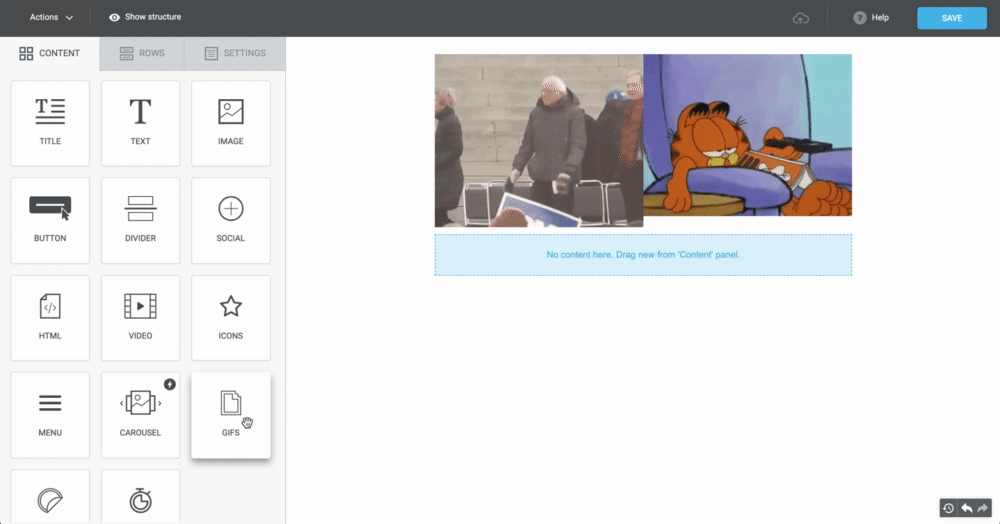 Customize the block:
set the width property for the GIF in the block,
add alternative text to the image,
add a URL to make your GIF a link.
To add a GIF, click the Search for gifs with Giphy button in the left pane or in the GIF block in your email. A pop-up window will appear where you can browse trending GIFs in the Giphy library or type in a keyword in the search box to find a specific GIF. Сlick the GIF to add it to your email design.
Useful links:
Key Features of the Selzy Builder
Customize Fonts and Colors in Your Email
Build a Layout Using Rows
Add and Edit Text, Insert Link
Insert an Image
Add Links to Social Media Websites
Embed a Video
Embed a Gif Image
Add a Preheader
Preview Emails Before Sending