Email analytics
Analyze campaigns and skyrocket your conversion rates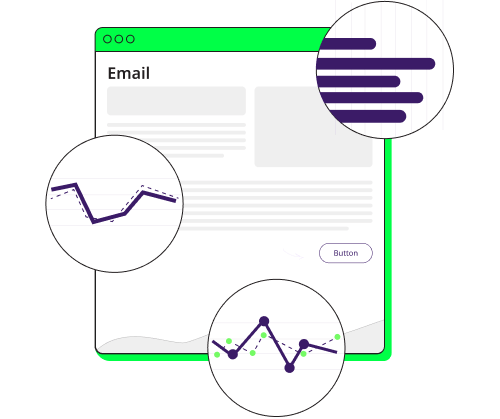 Make your emails work
Get the most out of email marketing using numbers and data.
See the real value of your campaign
Selzy email analytics tool helps you with everything ― from the basics to the advanced metrics. Integrate with Google Analytics and track sales. Spot which devices and send time perform best for you. The click map shows you the conversion from every single link and button. To boost your future results, use the assessment tool or analyze your past campaigns.
Identify best practices for your business
See what your subscribers like
Notice the preferences and immediately identify less popular options.
Optimize your messages
See what makes people open, engage, and buy from your website.
Find your growth points
Compare your most successful campaigns to see where you can do better.
From the basics to in-depth ― we've figured it all out for you
Basic metrics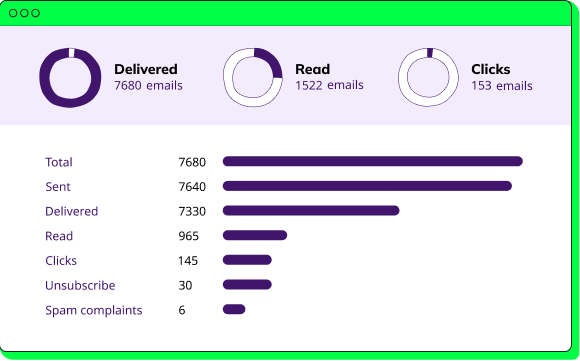 Deliveries, opens, clicks, and unsubscribes provide a condensed overview of the campaign.
Clickmap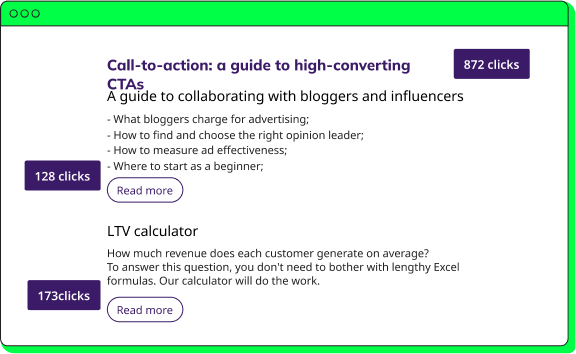 Discover which parts of your email create the most conversion.
Aggregated reports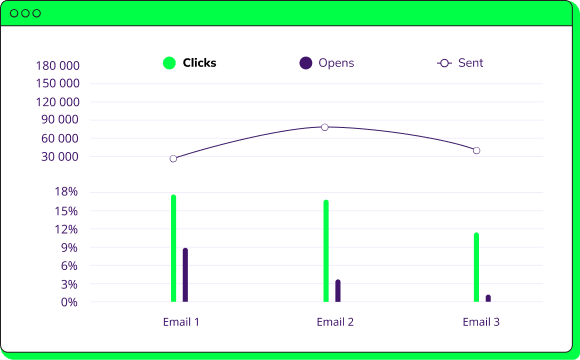 Compare which emails performed better and find out why.
Campaign dynamics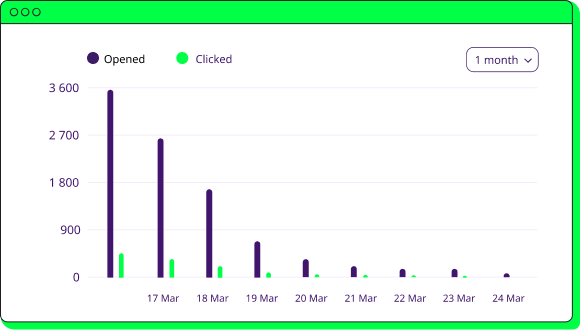 Discover how your campaign has performed over time
Let the numbers do the talking
Evaluate your audience through link metrics
Selzy automatically adds UTM tags to new messages. Just connect to Google Analytics and track your visits and conversion rate.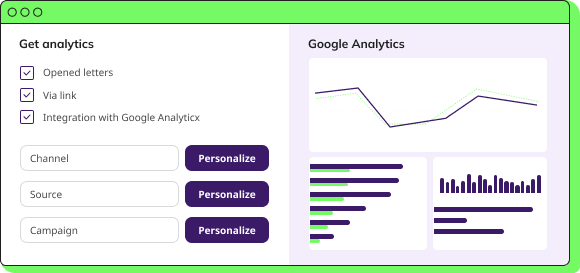 Take your email campaign even further
A/B tests
What is the best subject line? Which buttons are getting the most clicks? Conduct A/B tests to find out the readers' favorite.
Newsletter subscription form
Use signup forms to acquire new leads. Your subscribers will appear straight in the contact list.
Triggered emails
Whenever your subscribers do anything, you'll be there first. Add automated messages based on specific actions and events.
FAQ
What is email analytics?
Answer
Analytics helps you understand how many people opened an email, how many times people clicked the links, and most importantly if it brought any sales. This data determines the efficiency of a marketing campaign. It shows the preferences of your audience, your subscribers' activity and behavior on the website, the delivery rate of your messages, and the number of sales made from email marketing.
Where can I find these stats?
Answer
Selzy provides general stats, such as delivery rate, number of opens and website clicks. Providers like Mailgun, SendPulse, and Gmail show your domain reputation, bounce rate, and general response to your messages. This information helps identify the subscriber's behavior when they visit links and buy from the website.
Which metrics are important?
Answer
A good overview of a campaign includes deliveries, open rates, click-through rates, website visits, and complaint scores. Advanced analytics shows how emails affect your business performance as a whole; from conversion rates to the lifetime value of clients and the acquisition cost.
How do I analyze the campaign's efficiency?
Answer
Use statistics but don't compare things randomly ― it will not show the whole picture. Analyze the data to calculate the ROI with the formula ROI = (profit – expenses)/expenses.
Can I find the email that got the highest conversion rate?
Answer
Sure, with UTM tags. Selzy tags links automatically; connect Google Analytics or any other web service tool, and you're set. Every sale made from the link is now added to the performance. Built-in UTM tags show new website visitors, what they did on the website, parts of your message with the highest conversion, and how profitable your campaign is compared to other marketing channels.
Surpass your performance with every new campaign
Use analytics and attract more sales.
Sign up