Transactional emails service
Millions of messages per hour. Outstanding deliverability. User-friendly API.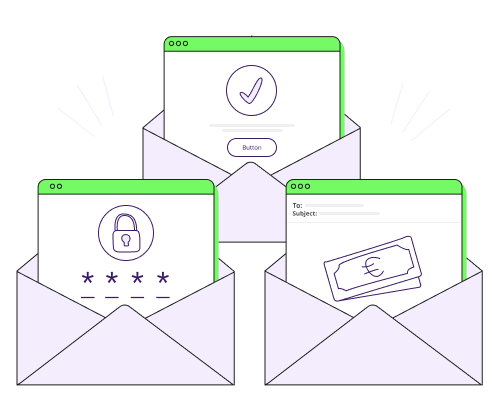 We send up to 60 million emails per hour
Transactional emails help you react to your subscribers' actions immediately to prove you are there for them exactly when they need you.
We deliver 99,8% of messages straight to the inbox
Forget about spam folder issues — we make sure your email lands where it should be.
We make transactional emails easy
We'll run them smoothly so you could focus on more important things
Start fast with SMTP
Send emails via SMTP API to start right away. Integrate in less than 2 minutes. Up to 5 000 messages per hour.
Play big with Web API
Up to 60 million emails per hour. Create templates, manage unsubscribes and get stats through webhooks with Web API.
Visual dashboard
A convenient overview of the most important metrics: delivery, opens, clicks, unsubscribes.
Full support and protection
All along your journey
Get help 24/7

We are available for immediate assistance exactly when you need us, via: email, on the phone, or in chat.

Data protection

Your customers' data is stored on your servers. No third-party access.
Get notified about your most important changes
Be in control of what's happening
When it's time to renew your subscription or your domain settings have changed, we will notify you. Set up notifications to several emails — your IT department will get all the technical info, and the campaign stats will go to your marketing department.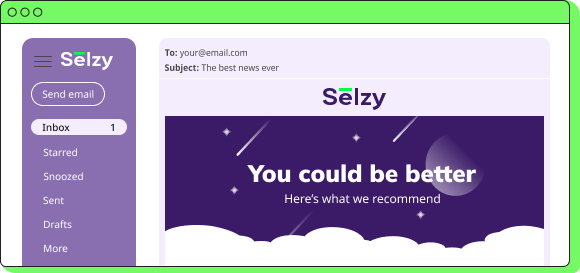 Send like a pro from the start
Easy onboarding
We'll help you make a smooth transition from another service, set up the servers, and test your campaigns.
Regular stats updates
No need to always monitor the dashboard — get the reports straight to your email.
Personalized tips
If your performance is lower than expected, we will recommend what you can do to improve your results.
FAQ
What are transactional emails?
Answer
They are automated messages sent to subscribers based on their particular actions and contain important information. Notifications, reminders, and other messages accompanying purchases are examples of transactional messages.
How do I start sending transactional emails?
Answer
You need to integrate our service with your CRM and website. Register with our service, confirm your email, and set up email authentication (SPF, DKIM). Follow our guide to connect to our Web API. If you need help, we're available 24/7.
What is the difference between transactional and regular emails?
Answer
Regular email campaigns boost sales and customer loyalty and are usually sent manually.Transactional emails are sent automatically to confirm a user's action on the website or to communicate order details. Customers open these messages more frequently because they initiate them by their actions. That's why such messages should arrive fast and straight into the inbox.
Can I personalize transactional emails?
Answer
Yes, you can. You can make your notifications more personalized by adding any fields you have in your base: name, last purchase, interests, location, and even a pet's name. Find out more about personalization.
What's the fee for sending transactional emails?
Answer
Sending up to 6000 emails per month is free for the first 4 months. To work with bigger volumes, make a rough estimate of your email volumes per month and choose the plan that suits your business best. Find out more about our pricing plans.
Deliver your most important messages straight to the inbox
Send fast with API or SMTP
Start for free