To have your emails end up in the Inboxes of your subscribers rather than the Spamboxes, it's important to set up your mailbox for campaigns in a proper way.
To begin with, create a corporate email address if you don't have it yet, and then set up email authentication.
Registering a corporate mail
Mailing services are usually suspicious towards campaigns sent from free domains (like @gmail.com, @yahoo.com, etc.). Such addresses are not really working for email marketing campaigns: the emails from these services often get to spamboxes.
Any campaign works better when sent from a corporate mail. It is an address that is registered with the website domain. For example, @nike.com, @litmus.com.
The campaigns sent from corporate emails don't raise suspicions in mailing services. Besides, a corporate email address looks nice and is convenient to use. The domain in its name tells the recipient which company the sender works for.
To set up your corporate mail, you will need a website and access to the control panel of the website hosting.
If you already have a corporate email address, proceed to the stage of setting up email authentication.
Setting up email authentication
Email authentication is the process of verification of the email sender. It is set up to improve the deliverability of campaigns.
Email authentication works as an ID/passport. Mailing services check if you have one and decide whether to allow the campaign to an Inbox or not. If you set up authentication, the fraudsters won't be able to send an email from your domain.
Set-up authentication gives you two benefits:
An increased chance to get to the Inbox. Authentication helps an email provider understand who sent the email - a reliable sender or a fraudster. If you don't spam, your chances of getting to the Inbox rise.
Allows you to use postmasters. It is special services from email providers (like Gmail) that show the reputation of the domain, % of ending up in spam, and deliverability to particular mail clients. You won't be able to see this data without email authentication.
Follow the steps below to set up email authentication yourself.
If you don't have enough time to deal with it, or experience difficulties with the process, you can order the setup service with Selzy Customer Service.
Step 1. Define the hosting
To set up authentication, you need to learn which hosting you use. It can be done through a service for DNS records review.
For example, let's learn the hosting for Reserved.com website through NsLookup.
Remember the name of the hosting and go to the next step.
Step 2. Form SPF and DKIM settings
Go to Settings in your account.
In the Account Setup, choose Domain Authentication.
To set up domain authentication for your corporate email that you use to send your campaigns, click on the Create button, type the name of the domain (the address without the protocol) and click on the Obtain Settings button.
You will be able to add a domain only if you have a confirmed email at this domain within Selzy.
You will see a window with the information you need to copy to the hosting.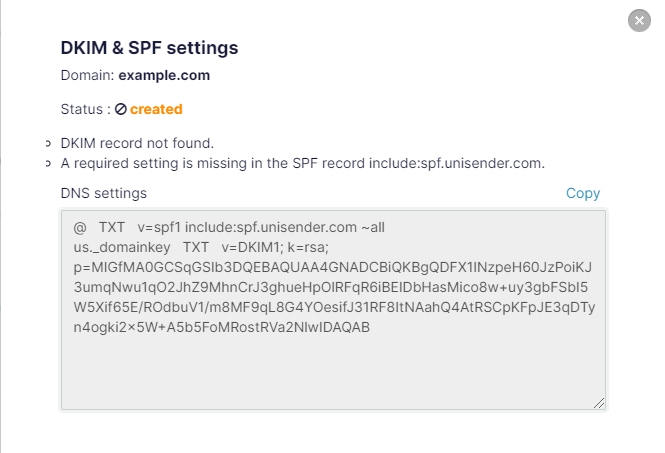 Step 3. Set up SPF
SPF shows which email servers are able to send emails on your behalf. If you use an email marketing service, you should state it in SPF.
Let's take beget.com hosting as an example. You can do it with a different hosting, meaning that the interface is different, whereas the rest is the same.
Go to the hosting and find Account → DNS (it can be Domains or Manage Area in your case).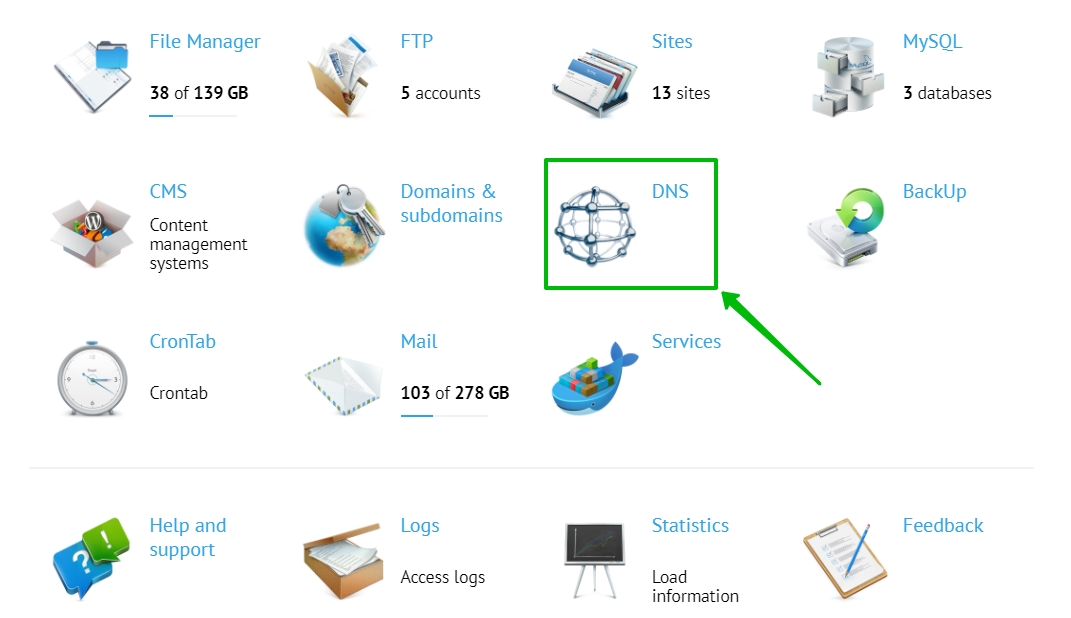 Choose a domain you would like to add records to.

From the records got at Selzy at the previous step, copy the line @ TXT v=spf1 include:spf.unisender.com ~all and paste it to the hosting.
This line stands for the following:
@ — the name of the record (host) or Subdomain. If @ is not accepted, use your domain in the Host (Subdomain) field.
TXT — the type of the record.
v=spf1 include:spf.unisender.com ~all — the value of the record.
Insert the information you now have into the fields. In the Name field, type the domain to which the record is intended. In the Type field, choose ТХТ, and add the record to the Data field. Click on the Add New button.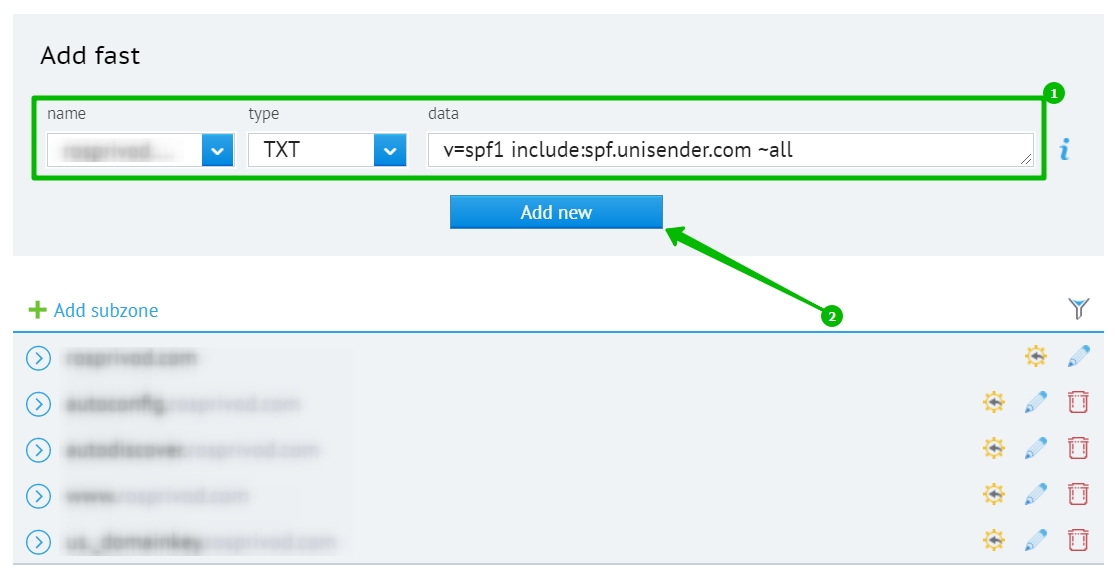 It's correct to have only one SPF record. At the same time, it can include all servers from different services that you are going to use for your campaigns. In this case, SPF records should be combined.

What should I do if I already have an SPF record at a different service?
Step 4. Set up DKIM
DKIM allows the sending server to sign your emails with a unique key. If a fraudster decides to send an email using your domain name, they won't have this key. Thus, mailing services will detect it and put their email to spam.
Let's fill in the fields in the DNS Records Administration Form. Copy the subdomain name us._domainkey from the data received from Selzy and insert it in the Name field. The system will automatically add your domain to it. Choose the variant with the domain.

Some control panels demand a second-level domain to be given next to us._domainkey, for example, us._domainkey.yourdomain.com. However, at the majority of hostings, the us._domainkey as the name of the entry is enough.
Choose the same type of record as for SPF - TXT. Paste the following long key DKIM: k=rsa; p=xxxxxxxxxxxxxxxxxxxxxxxxxxxx into the Text field. Click on the Add New button when you are ready with all the fields.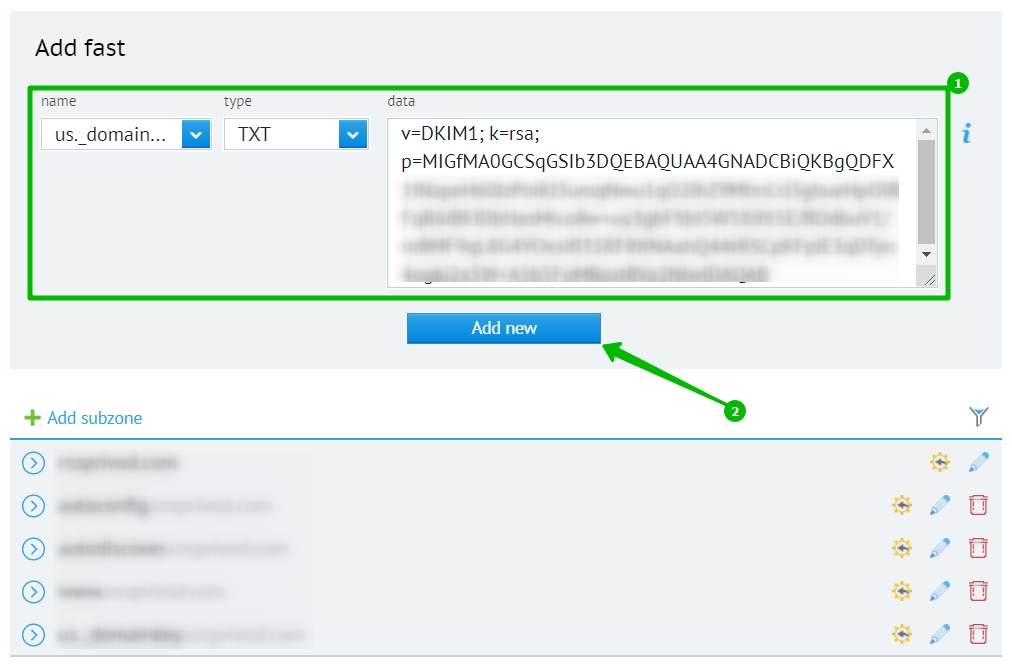 Here is what DKIM record will look like at the hosting settings.

Step 5. Check all the records in Selzy
After you have set up the hosting data, go to Account Settings → Domain Authentication and check if your Selzy status has changed to Enable. It doesn't get updated at once, usually, you have to wait from half an hour to a couple of hours.
Done! You have successfully set up email authentication for your account.
Q&A
What should I do if I already have an SPF record at a different service?
It's correct to have only one SPF record. At the same time, it can include all servers from different services that you are going to use for your campaigns.
For example, you are using Selzy together with your mailbox at Yandex Business.
In this case, you should add "include:spf.unisender.com" to the existing "v=spf1 redirect=_spf.yandex.net" record, whereas "redirect=" should be substituted by "include:". In the end, add "~all".
Your input will look like this:
v=spf1 include:_spf.yandex.net include:spf.unisender.com ~all
A similar example for Mail.ru:
v=spf1 redirect=_spf.mail.ru change on v=spf1 include:_spf.mail.ru include:spf.unisender.com ~all
In the same way, you can edit the standard SPF record at any other email provider.
I have followed all the instructions, though the Selzy status is still "created" or "disabled". What should I do?
If you refresh the status and see a notification that no errors were found, wait 30 more minutes. The status will be actualized to enabled.
When you refresh the status, the following errors might occur:
DKIM record not found.
SPF record missing.
The obligatory parameters include:spf.unisender.com. is missing from the SPF record.
In this case, you should check if your records at the hosting are correct. We recommend you to double-check extra spaces, they are taken into account when reading the record. It's also a good idea to check if the hosting you've set up is correct.
Is DMARC setting up obligatory?
Apart from SPF and DKIM you can also specify the policy of reading these records (DMARC). In this case, the providers will have an instruction what to do if an email is sent from your domain but SPF and DKIM disagree. This happens if someone is trying to send spam using your domain.
DMARC allows one to receive reports and decide what to do with those emails that don't comply with SPF and DKIM checkups.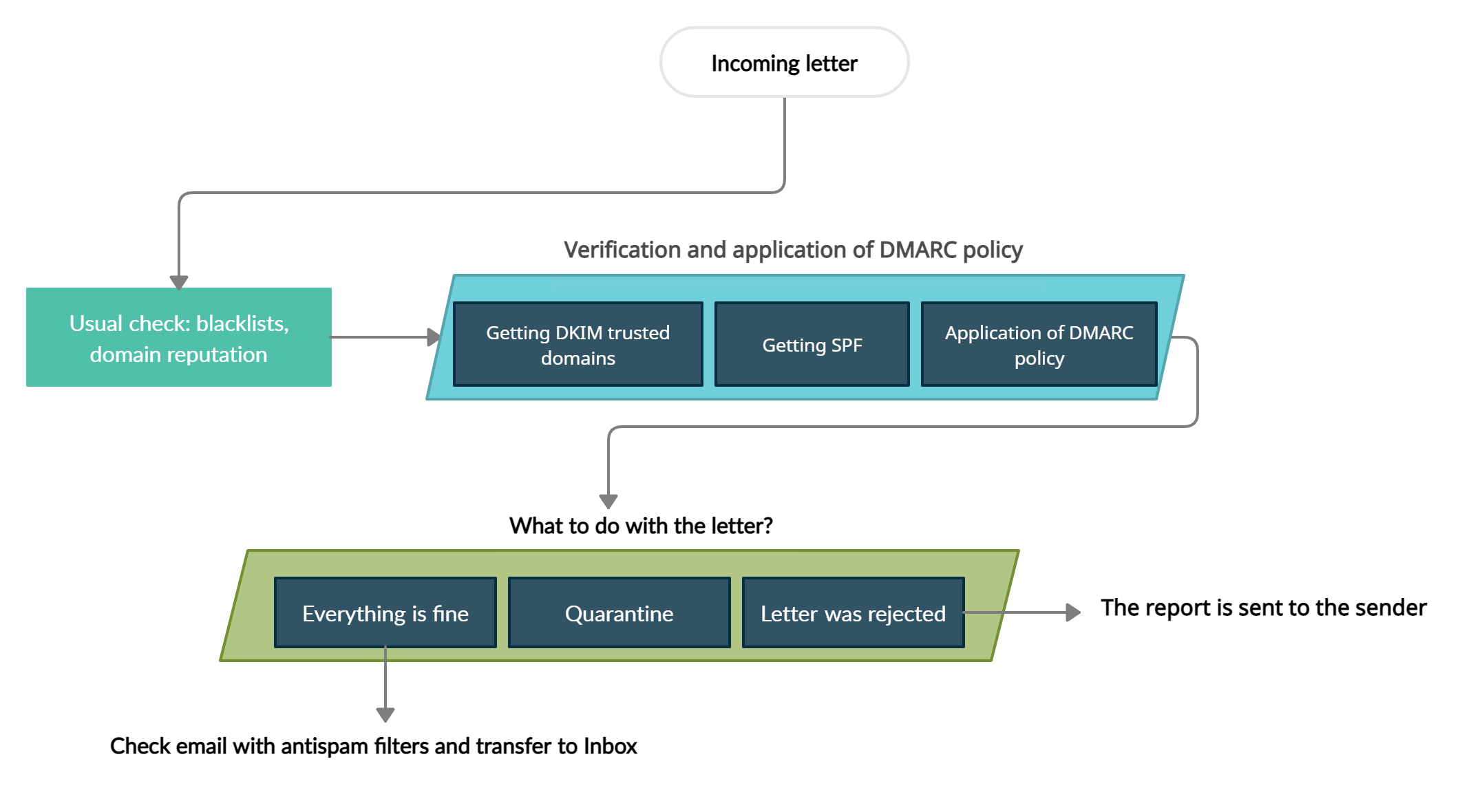 It's not obligatory to prescribe DMARC if you have just begun to set up the authentication. You can send your campaigns without it.