My Automations page contains all your integrations. Here, you will find scenarios or rules according to which the data is transferred.
To create a new automation from scratch, use the Create New Automation button. 
For convenient sorting of automations by projects, there is an option to create automation groups.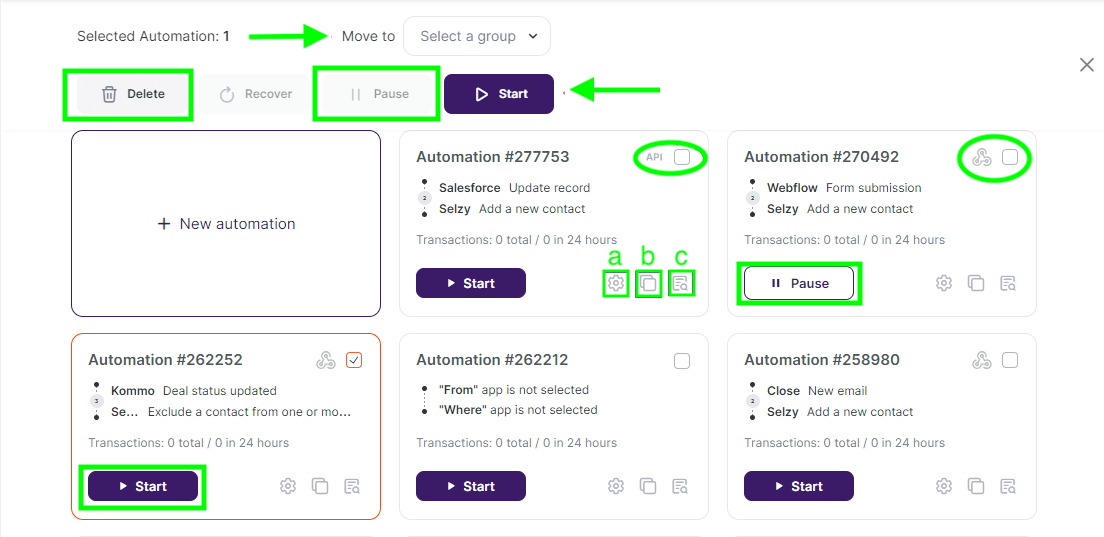 Using the filter, you can display only the running automations or find the deleted ones.
Let's take a closer look at all the interface elements:
Checkboxes

allow you to perform bulk operations with automations. Selected automations can be started, stopped, moved to another group, or deleted. By clicking on the cross in the upper right corner, you can deselect all.

The

API

label on automation cards means that the integration automatically sends requests to an external server every 5 minutes (the frequency of requests can be changed in the

Launch Schedule

). If there is no new data, you will see the

No new data

label in the general log and the automation log.

The

Pause

button allows you to stop the automation for editing. Do not forget to restart it to avoid losing data.

Webhook-trigger

indicates that an external service immediately sends data to Albatross when an event occurs, such as the creation of a new deal in CRM or a new order in the store. 

The

New Automation

button creates a new automation from scratch.
Buttons for working with an automation:
Navigate to automation settings.

Create a copy of the automation. 

Go to the automation log.

If you click on the Copy icon, another automation will be created with similar field settings and lists. You can assign a new custom name to it.
Copying helps to quickly create several typical automation scenarios that differ in one or several parameters. For example, different conditions in filtering and lists for adding contacts.