Selzy vs Campaign Monitor
Trying to choose between Selzy vs Campaign Monitor as your email marketing software? Here's when to choose each tool – and the pros and cons to know about.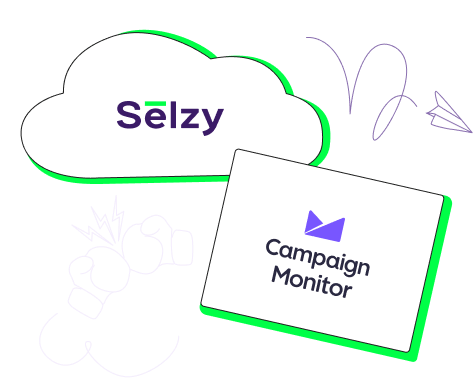 4.8

GetApp

4.8

Capterra

4.7

G2
Average 4.8 / 5
Selzy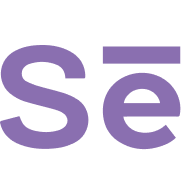 Selzy is an email marketing platform that targets small and medium-sized businesses. With Selzy you can create email campaigns in a matter of minutes, import existing contacts and collect new ones, automate tasks to save time, improve, test and track marketing campaigns.
Pricing
From $7 a month depending on the tariff, the contact list size and the final scope of work and extra services
Key features
100+ free responsive email templates
Email block editor with customizable ready-made HTML modules
Personalization and segmentation
List hygiene
Analytics
A/B testing
Email automated
Email recommendations
Support
24/7 available support via chat, email and phone
4.6

TrustPilot

4.6

Capterra

4.1

G2
Average 4.4 / 5
Campaign Monitor

Campaign Monitor is a global technology company that provides an email marketing platform that's easy to use yet extremely powerful. It powers media moguls, tech giants, nonprofits, and other industries.
Pricing
From $9 to $989 a month depending on the tariff and the contact list size
Key features
No-code email editor
Automated sequence builder
List management and segmentation
Personalization
Analytics
A/B testing
Support
Online support with limited working hours, the Help center on the website, video tutorials, courses
General info about company
Selzy
Selzy is an easy-to-use email marketing tool for businesses of all sizes with a focus on small and medium businesses.
Campaign Monitor
Founded in 2004 by Ben Richardson, based in Nashville. Belongs to CM Group, along with other marketing software companies like Sailthru and LiveClicker.
Difficulty
Selzy
The platform offers a great choice of templates for any occasion from Black Friday to non-profit campaigns and a drag-and-drop email editor — no coding or design skills needed.
The workflow is intuitive and simple — it allows you to launch your first ever email campaign in 15 minutes.
The analytics dashboard is minimalist and only contains the necessary information.
Overall, Selzy is a great choice for those who have never done email marketing before.
Campaign Monitor
The email editor is WYSIWYG and the platform provides users with a great choice of templates and an automated email builder for your brand — no coding or design skills are required. Campaign analytics come in the form of digestible graphs that are easy to interpret for junior marketers.
Best for
Selzy
Small and medium businesses, newbies in email marketing
Campaign Monitor
Marketing agencies, small organizations, publishers
Free plan
Selzy
Free forever plan with the full functionality and a limited contact list up to 1,000 addresses and a monthly limit of 15,000 emails a month
Campaign Monitor
No free plan, free trial only.

The free trial only allows sending test campaigns to 5 people or less, importing contact lists, and creating customer journeys without sending them
Pricing
Selzy
Selzy offers two dynamic pricing systems — by contact list size (up to 500,000 contacts) and by email volume:
Lite: $10–$210/month
Standard: $15–$700/month
Premium: $220/month and higher, full price depends on the scope of work
If you pay by email volume, you can:
Pay $0.005 for each email you send
Pay in bulk monthly or annually, starting from $1150 for 500,000 emails
Campaign Monitor
Dynamic, depends on the contact list size and the tariff type:
Basic: $9–$299/month
Unlimited: $30–$699/month
Premier: $158–$989/month
All tariffs are limited to 50000 contacts.
Support
Selzy
Selzy offers live chat, email and phone tech support available 24/7. The average response time is 5 minutes. The platform also has an extensive knowledge base with tutorials on getting started.
Campaign Monitor
An in-app Digital Assistant tool. Support agents around the world are available in the following hours:
America: Mon to Fri 6 am to 5 pm PST/PDT
Australia and Asia: Mon to Fri 9 am to 5 pm AEST/AEDT
Europe: Mon to Fri 9 am to 5 pm BST/GMT
Limited support (unspecified working hours) is available on weekends and during holidays. Support phone numbers are only available for Premier users.
Aside from online support, Campaign Monitor offers:
Video tutorials for newbies and experienced users
A 30-minute Getting Started course
Email Academy — an email marketing course
Resources for developers
The in-app Help Center with documentation
Features
Selzy
Website subscription forms and pop-ups
Anti-spam email check
Email size check
Email authentication check
Email recommendations — for Standard plan users
Deliverability tips — for Premium users
Subject line assistant — for Premium users
Full campaign management from setting up DKIM to training and consulting — for Premium users
Campaign Monitor
Supports SMS notifications
Advanced segmentation — available for Premier users
Link Review — checks for broken links
Free email template builder
Campaign analytics
CAN-SPAM compliance checker
Integrations with CRM systems and more
Templates
Selzy
144 free templates sorted by industries and occasions, 16 of which are empty with fully customizable blocks. If you don't like templates, here's how you can build an email from scratch:
Build an email in the block editor using pre-made rows
Use an HTML editor to tweak Selzy's templates or create your own
Upload your own HTML code you've written in another editor
Campaign Monitor
108 free mobile-friendly templates available without signing up, templates sorted by email types from announcements to transactional.
If you don't like templates, you can build emails from scratch using blocks in the email builder.
Recently launched their own stock with free images.
Campaign Monitor also has an automated custom template builder where you fill in the questionnaire and get a bunch of email templates with the logo of your business and custom design.
Video/screenshots
Selzy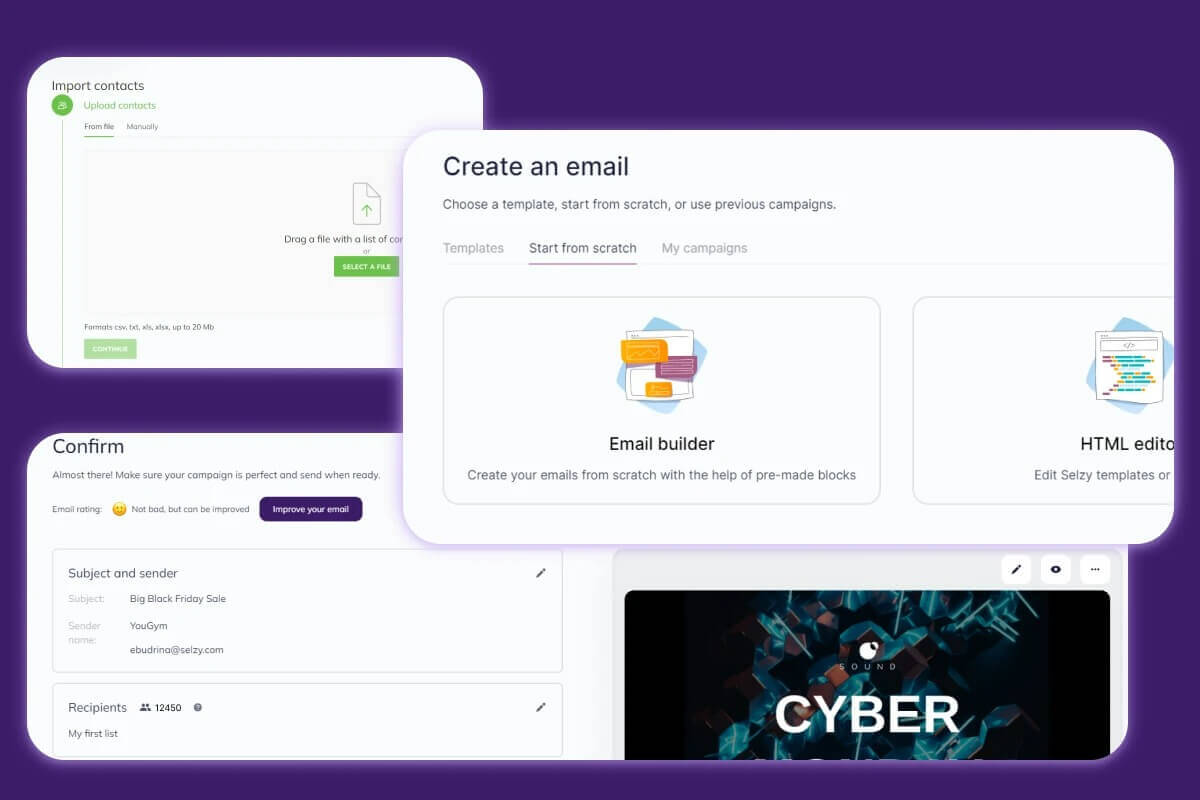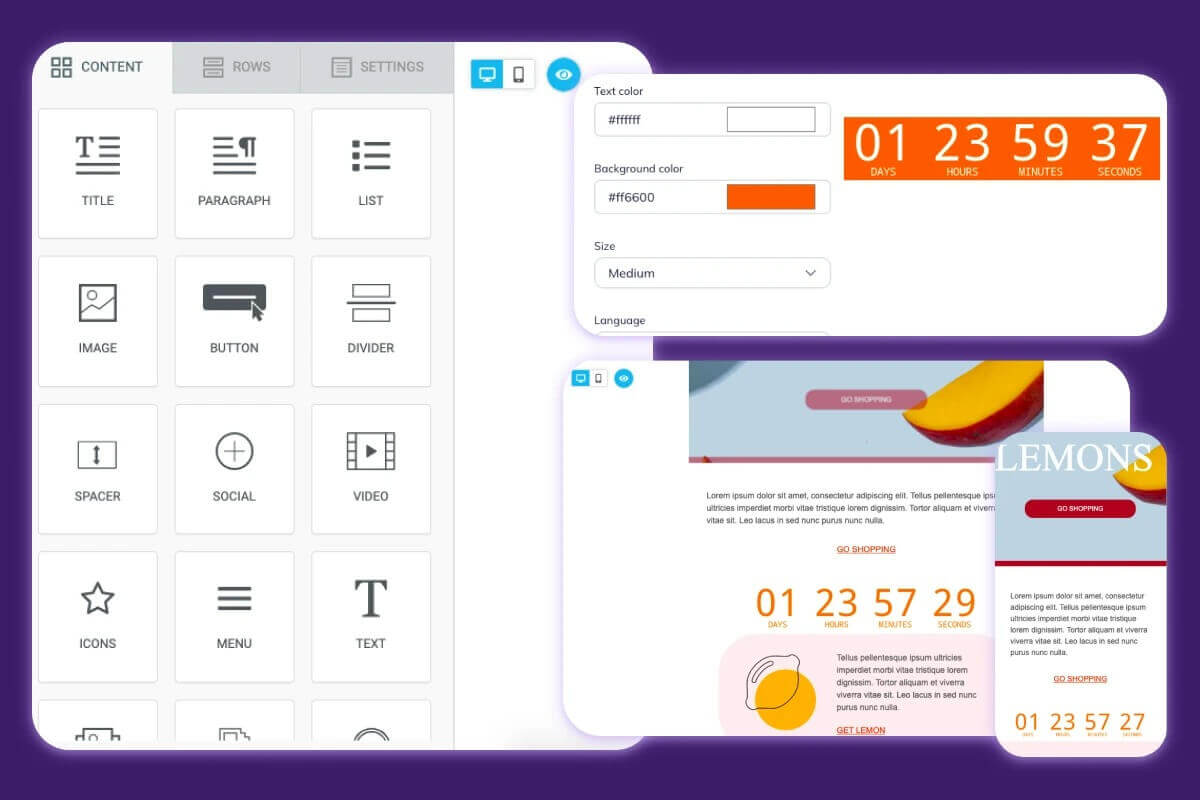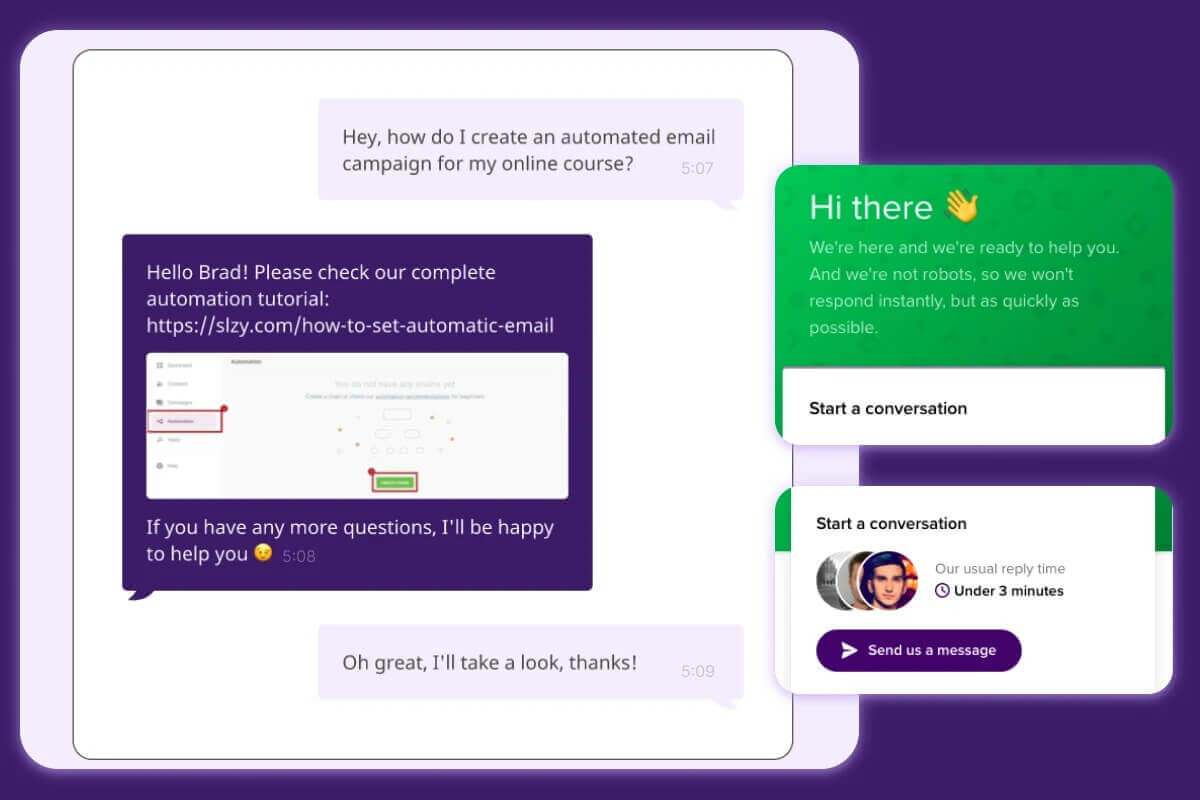 Campaign Monitor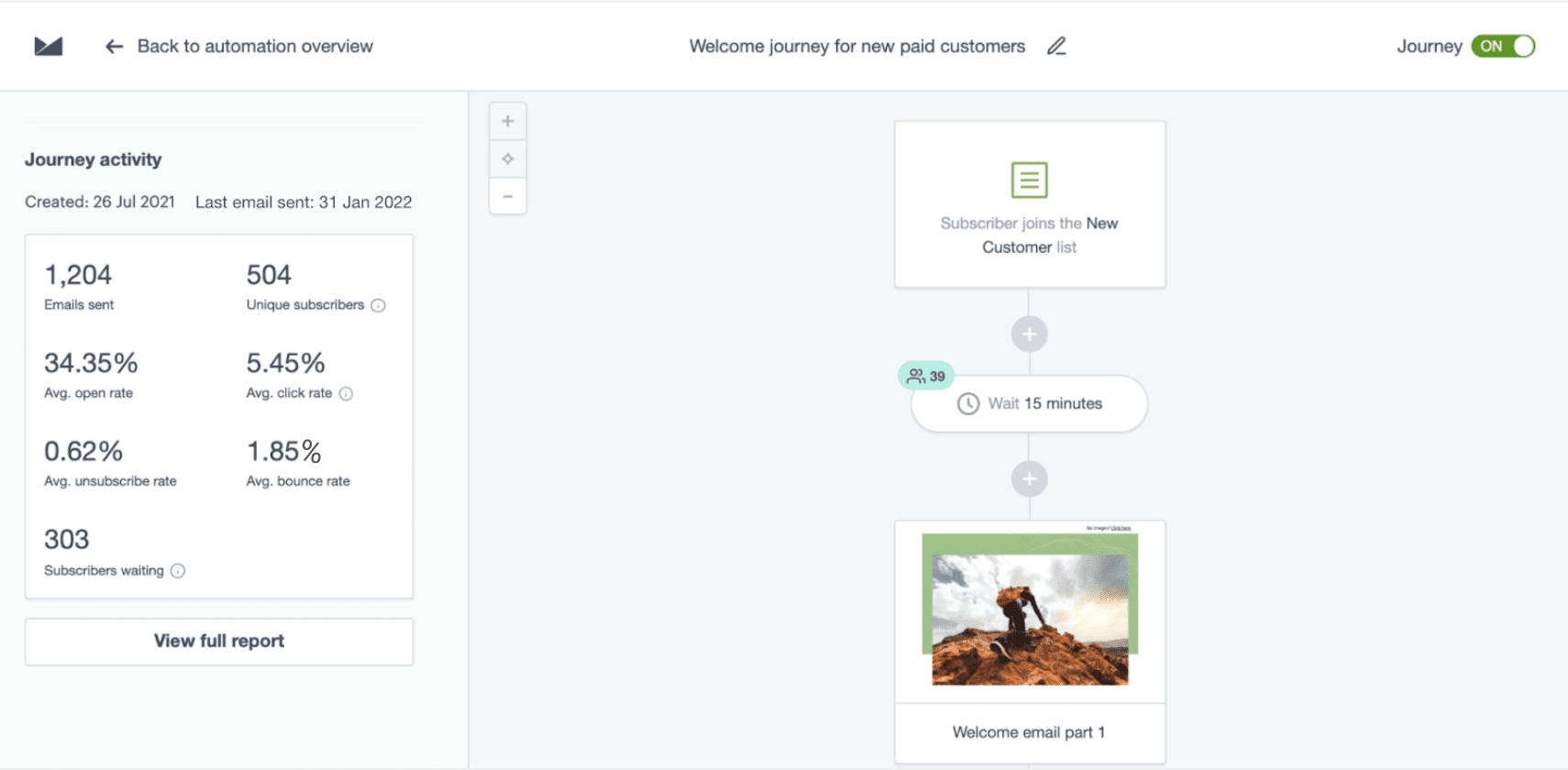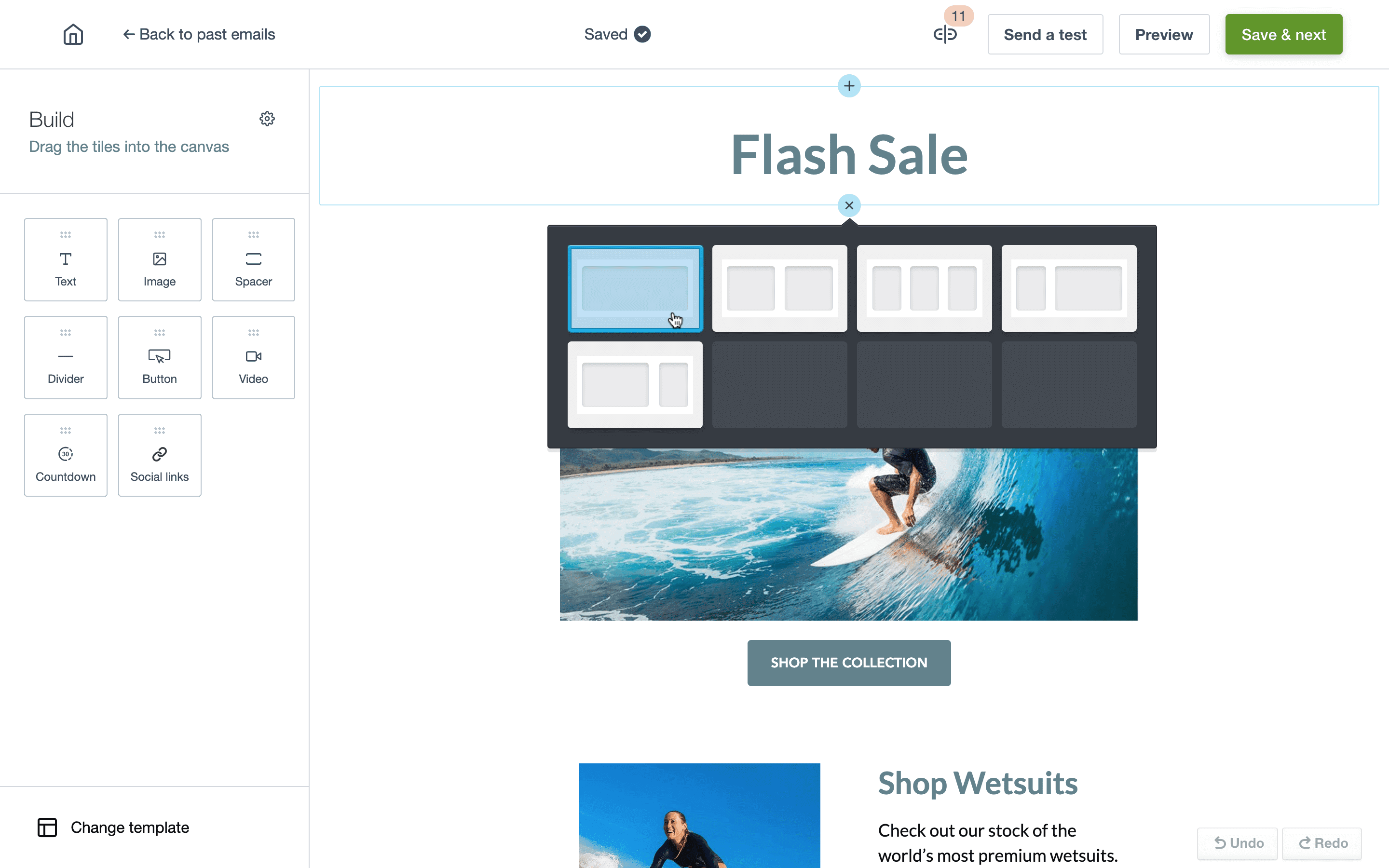 Integrations
Selzy
CRM: Salesforce, Pipedrive, RD station, Zendesk, HubSpot, Kommo, Zoho
Tables: Google Sheets, Airtable
Form builders: Typeform, WordPress
Ecommerce: Shopify, Ecwid, WooCommerce
Social media: Facebook
Currently a beta version.
Campaign Monitor
Data for marketing: Salesforce, WordPress, Shopify +
List growth: Intercom, OptinMonster, Unbounce +
CRM: Raiser's Edge NXT, Lexer, Qgiv +
Advertising: AdRoll, Facebook Lead Ads, Rungopher+
More than 100 integrations are available for CRM, list management, surveys, and more
Devices
Selzy
A web app for desktop, the website is optimized for smartphones
Campaign Monitor
A web app accessible from phones
Languages
Selzy
English
Ukrainian
Campaign Monitor
English
Automation
Selzy
Selzy offers 12 templates for automated email chains — each template includes scenarios, email subject lines, and sending time. If none of them is suitable for your goal, you can start from scratch.
So far, Selzy offers two triggers for email sequences — "Add to list" and "Subscribe to list". After choosing the initial trigger, you can start building an automation chain using actions like sending an email and conditions like sending different emails to different user groups. Conditions are highly customizable and include many characteristics from email engagement to UTM content, promo code, and so on.
Campaign Monitor
The drag-and-drop interface for creating automated email sequences that includes:
Triggers — subscribers' actions that start or continue the sequenc
Yes/No rules for personalization
Timers — for example, you can send emails 3 or more days after a certain subscriber's action or the previous email in the sequence
The sequence is visualized like an activity diagram where every element is customizable.
Pros
Selzy
Fully functional free trial
Many unique features like anti-spam check and deliverability suggestions
A simple interface great for newbies
24/7 tech support
Affordable pricing
Campaign Monitor
Good WYSIWYG email editor interface
Easy and simple email automation
Easy-to-understand campaign reports with good infographics
Cons
Selzy
Interface not translated to many languages
A limited choice of integrations
Limited customization options in sign-up forms
Campaign Monitor
No live chat support + no 24/7 support
All of the tariffs are limited to 50000 contacts
No functional free trial you can actually use for work
Contact importing is difficult when matching custom fields
Split testing only allows 2 email versions
No landing page builder
Reviews from experts
Selzy
"I recently started using Selzy and I have been extremely impressed with its performance. One of the standout features is its user-friendly interface. It's very easy to navigate, and I was able to set up my first campaign in just a few minutes. The drag-and-drop editor makes it simple to create visually appealing emails, and there are plenty of customizable templates to choose from."
"As someone who has built up my network with Selzy's tools, I'm confident it's saved me countless hours of hard work compared to other similar products—which speaks volumes. Plus, they consistently provide helpful customer support, comprehensive online tutorials & guides, and other resources that make it easy to start immediately. If you're looking for an email marketing platform to help you stand out in the times ahead, give Selzy a try – you won't regret it!"
Campaign Monitor
"Feature-wise, there's not really much to fault it on, but 'power' email marketing users will find the A/B testing feature a bit basic and will notice the absence of a fully fledged landing page creator."
"It's easy to find all features, which means you can get up and running quickly and get the most out of the solution without having to spend days playing around with it. If you sell products online, you'll love the focus on optimizing transactional emails and tracking their performance so you can understand what works in terms of customer engagement."
*This information is current as of 04/14/2023. While we regularly update our articles, it`s possible that this article may not contain some of the latest information.