MailerLite vs Salesforce
Trying to choose between MailerLite vs Salesforce as your email marketing software? Here's when to choose each tool – and the pros and cons to know about.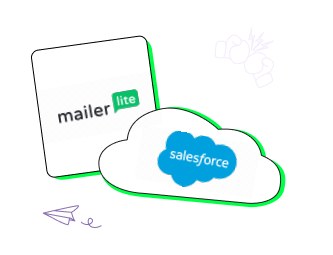 4.4

TrustPilot

4.7

Capterra

4.7

G2
Average 4.6 / 5
MailerLite

MailerLite is an all-in-one email marketing platform that allows you to create newsletters, landing pages, and even websites using pre-made templates. It has 100+ integrations with other platforms and a recurring payment feature for paid newsletters.
Pricing
Free plan, dynamic paid plans depending on the features and the contact list size start from $9/month billed yearly.
Key features
Drag-and-drop email editor with an AI writing assistant
No-code website, blog, and landing page builder
iPad subscriber app for generating leads on offline events
Paid newsletter subscription
Automated sequences
Integrations with online stores
Email verifier
Support
24/7 email and live chat support
1.4

TrustPilot

4.4

Capterra

4.3

G2
Average 3.4 / 5
Salesforce

Salesforce is a powerful marketing ecosystem that includes CRM, a system for marketing personalization, sales automation, analytics, and more — and all that is AI-powered.
Pricing
Dynamic, depending on the number of users, add-on products, and more
Key features
CRM
Email marketing automation
Personalization
Segmentation
Analytics
A/B testing
Support
Salesforce Help, phone, online chat, separate support systems for additional products
General info about company
MailerLite
MailerLite was founded in 2005 as a web design agency but then switched to email marketing. The company is remote-first, with employees in 40 countries.
Salesforce
Salesforce, Inc. is a cloud-based software company that was founded in 1999 and is currently headquartered in San Francisco, California. It provides customer relationship management software and applications focused on sales, customer service, marketing automation, e-commerce, analytics, and application development.
Difficulty
MailerLite
No coding or design skills are required to create emails and web pages. The platform also offers an extensive knowledge base with tutorials, which makes it beginner-friendly.
Salesforce
Most users claim that it takes at least a month to learn working in Salesforce, so it's not beginner-friendly.
Best for
MailerLite
E-commerce, freelancers, small businesses
Salesforce
Large or scaling businesses and sales teams
Free plan
MailerLite
A generous forever free plan with a limit of 1 user, 1,000 contacts, and 12,000 monthly emails. The free plan includes:
Email editor and automation builder
Website builder and 10 templates for landing pages
Sign-up forms and pop-ups
24/7 email and chat support for the first 30 days
Salesforce
No free plan, 30-day free trial that includes:
Preloaded data for learning
Pre-configured processes, reports, and dashboards
Online training and live onboarding webinars
Pricing
MailerLite
Growing business:
$9-205/month billed yearly, depending on the number of subscribers, with a limit of 50k contacts at the highest price
Unlimited emails and 24/7 support
Includes extra features like dynamic emails, selling digital products, blogs, and an unsubscribe page builder
3 users available
Advanced:
$19-1,600/month billed yearly, with a limit of 500k contacts at the highest price
An email limit if you have more than 50k subscribers, up to 6 million, depending on the number
Includes features like custom HTML editor, AI writing assistant, Facebook integration, promotion pop-ups, and more
Unlimited users
Entreprise:
Depends on the scope of work
Only available for businesses with 100k and more subscribers
Includes the services of a dedicated success manager, onboarding, account audit, and dedicated IP and deliverability consultation
Salesforce
Salesforce has a very complex pricing system that includes several products. Since we're only talking about email marketing, here are the pricing plans for the email, mobile, and web marketing package.
Basic: $410/month with unlimited users, billed annually, includes:
Subscriber profiles
Drag-and-drop segmentation
Email and mobile-optimized templates
Content management and workflows
A/B testing
Personalisation tools
Preference center
Integration with Salesforce Sales Cloud and Service Cloud
Reports and dashboards
Pro: $1282/month with unlimited users, billed annually, includes:
Personalisation Builder
Automation Studio
Triggered Communications
Automated workflow and campaigns
Web and mobile analytics
Corporate: $3844/month with unlimited users, billed annually, includes:
Journey Builder
Mobile SMS and MobilePush
Multi-channel predictive content
Advanced reporting
Entreprise: pricing depends on contact and message volume, unlimited users, includes:
Real-time big data segmentation
Distributed sending
Shared content, subscribers, and data
Locked templates
Custom roles and permissions
Business Units
Support
MailerLite
Customer support is available 24/7 via email and live chat — however, it's only available for 30 days on the free plan. Users can also hire experts in email marketing, copywriting, no code development, and more.
MailerLite also offers an extensive Customer Self-Service Center. It includes:
A large categorized knowledge base, that includes articles about troubleshooting most common issues
Video tutorials
A Circle community where users can communicate with each other
A free ML Academy with 5 free online courses about MailerLite and email marketing
Salesforce
All customers regardless of a pricing plan can create a case in Salesforce Help using their Salesforce or Trailblazer accounts. Phone support in English is available 24/7 but support in other languages has limited availability for some regions:
French Support (Canada) — Monday–Friday, 3:00 AM–11:30 AM EST
Spanish and Portuguese Support for Latin American countries — Monday–Friday, 8AM–8PM EST
French, German, Italian, Dutch, Spanish and Portuguese Support for European countries — Monday–Friday, 8AM–4:30PM GMT
Mandarin and Korean Support for Asian countries — Monday–Friday, 10AM 7PM AEST
In addition to that, Salesforce also provides an extensive knowledge base, a YouTube channel with longform video tutorials, and communities for admins and developers.
Features
MailerLite
Email marketing automation
Sign-up forms
Landing pages
Website builder
Blog builder
Email verifier
Transactional emails
Click maps
The ability to sell digital products like e-books and online courses
Setting up a paid subscription for emails
Salesforce
CRM
Email marketing automation
AI-powered list segmentation
A/B testing
No-code email template builder
Analytics in customizable dashboards
Google Analytics integration
Integration with third-party data sources for relevant embedded ads
Templates
MailerLite
70+ templates for newsletters:
Blog digests
Events
Holiday emails
Featured product
Notifications
Surveys and quizzes
Deals and offers
Emails for creative professionals
40+ templates for landing pages:
For bloggers
For creative professionals
Events
Surveys and quizzes
Coming soon
Celebrations
Books
Non-profits
18 website templates for different industries and purposes:
Business
E-commerce
Education
Events
Food and drinks
Portfolio
Wellness
Salesforce
Pre-made templates are empty but offer different layout options.
Salesforce includes three types of templates: Classic (basically plain text with little customization options), Lightning Experience (allow for images, links, rich text, etc.), and built-in Email Template Builder (your regular marketing email editor).
Video/screenshots
MailerLite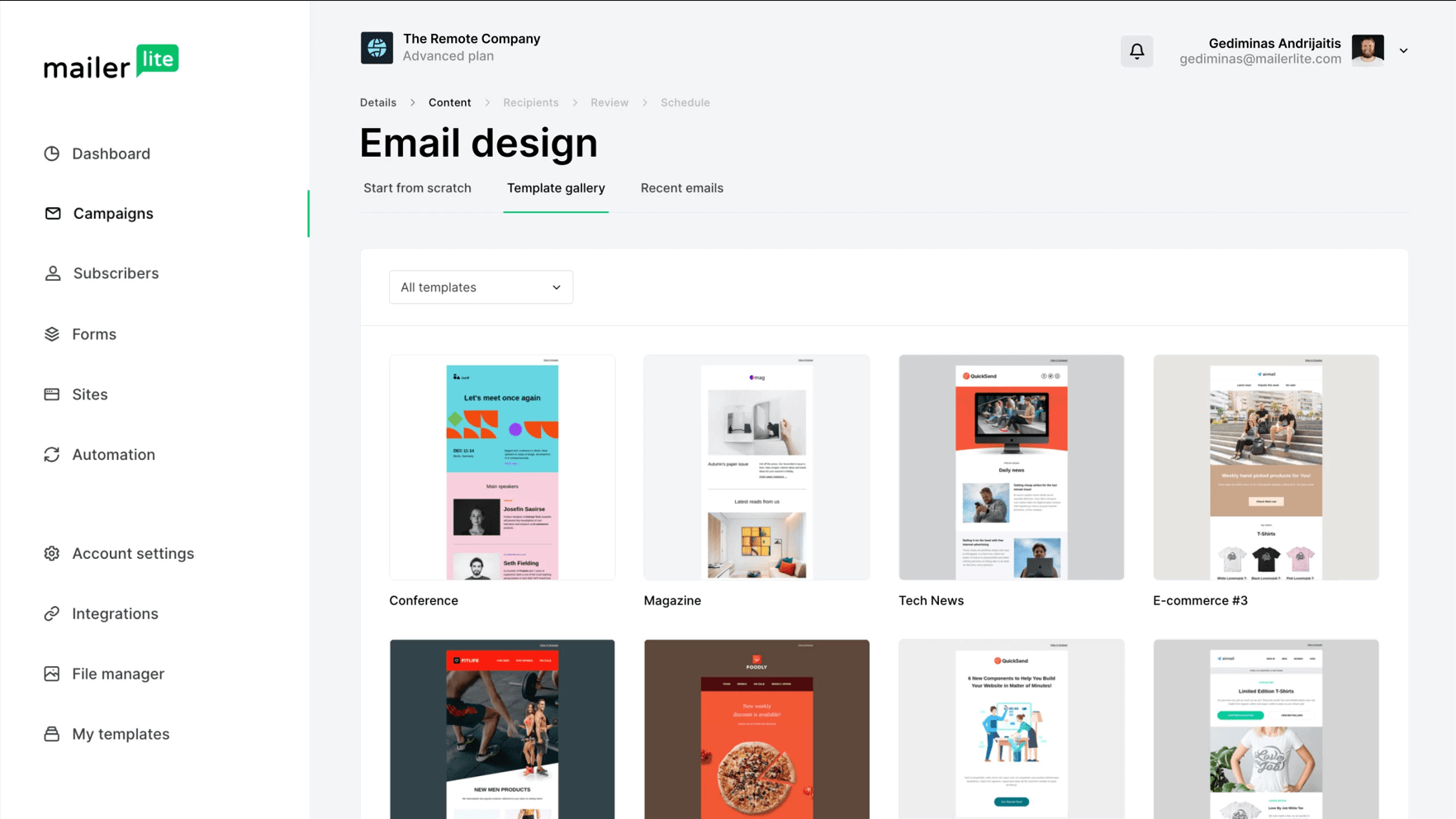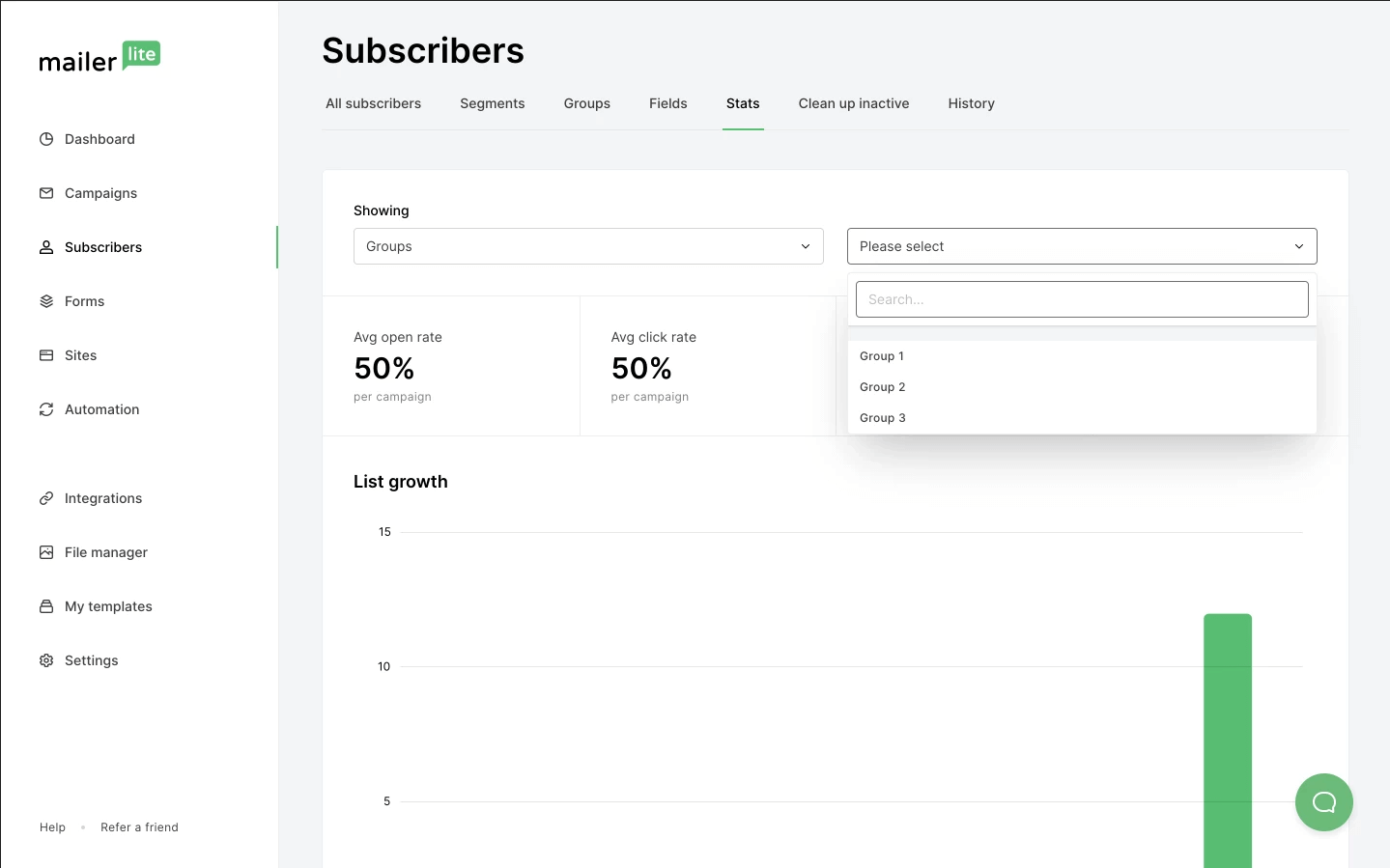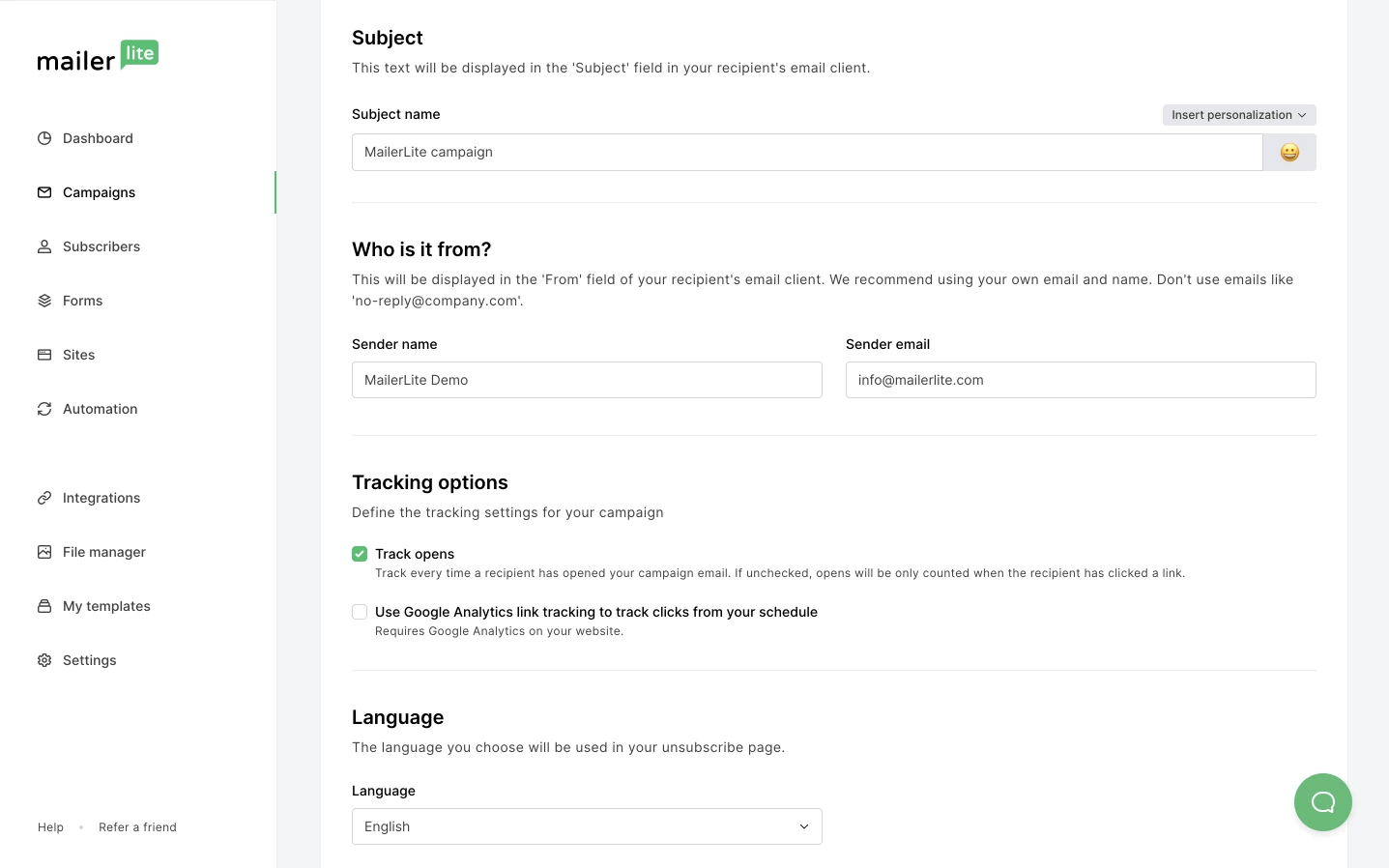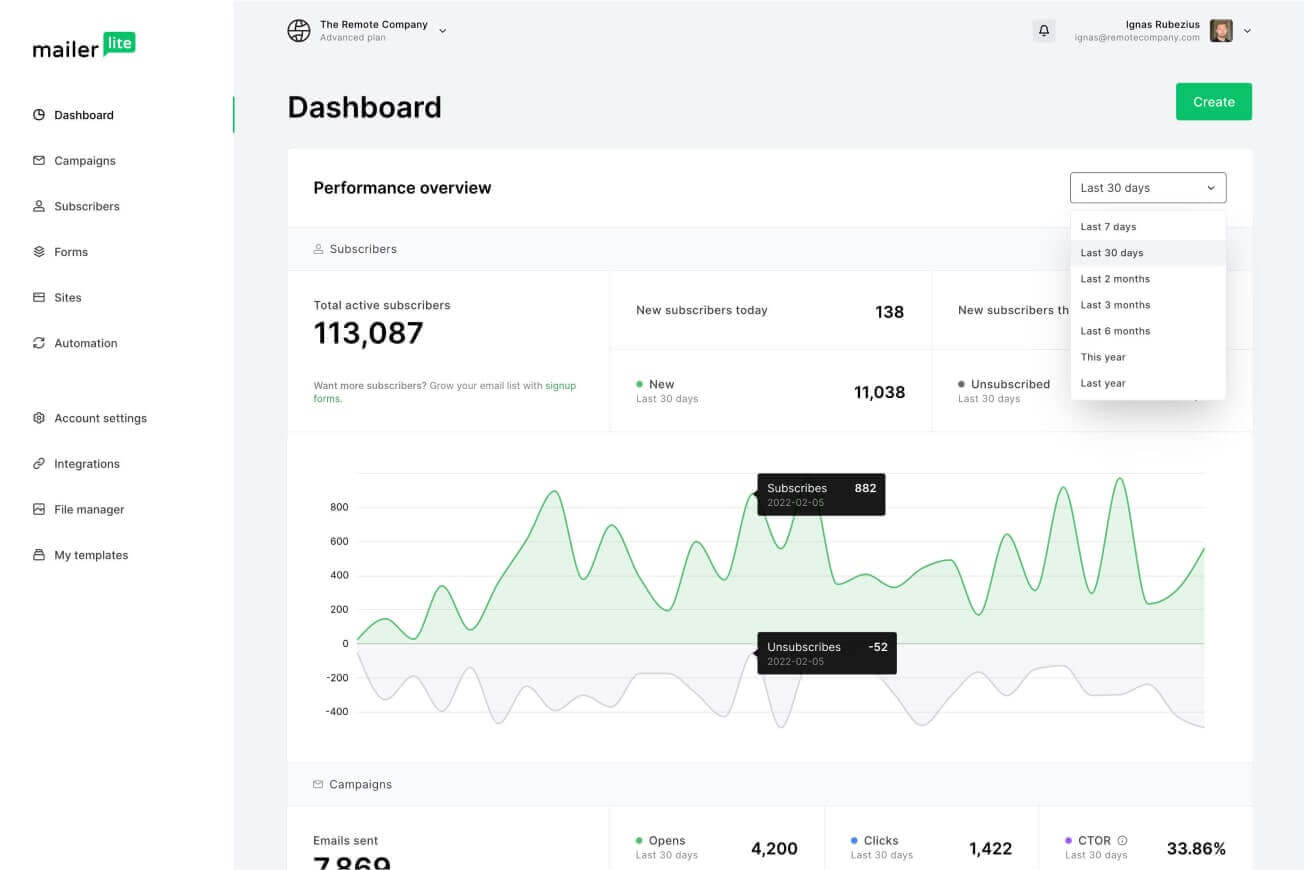 Salesforce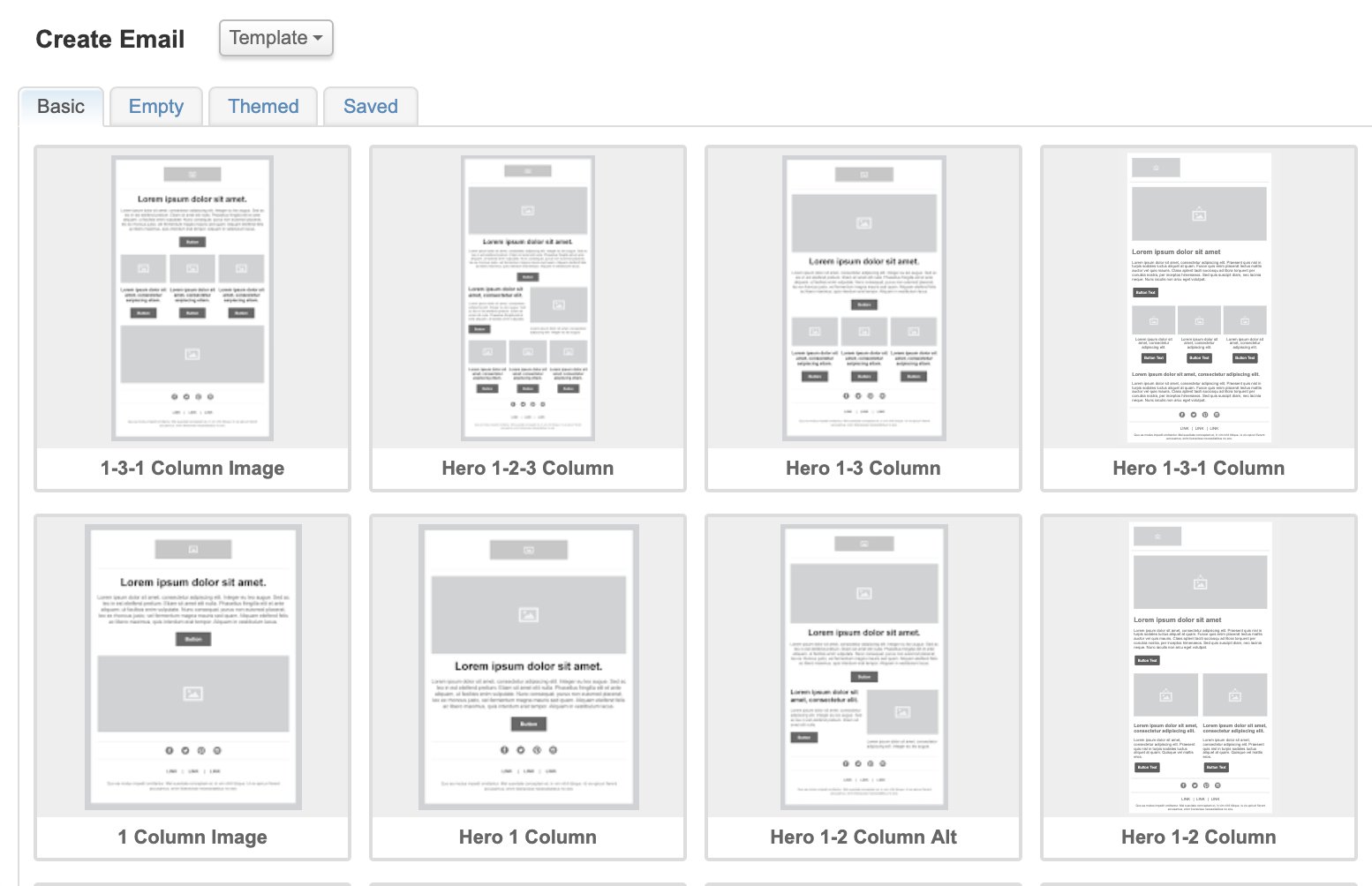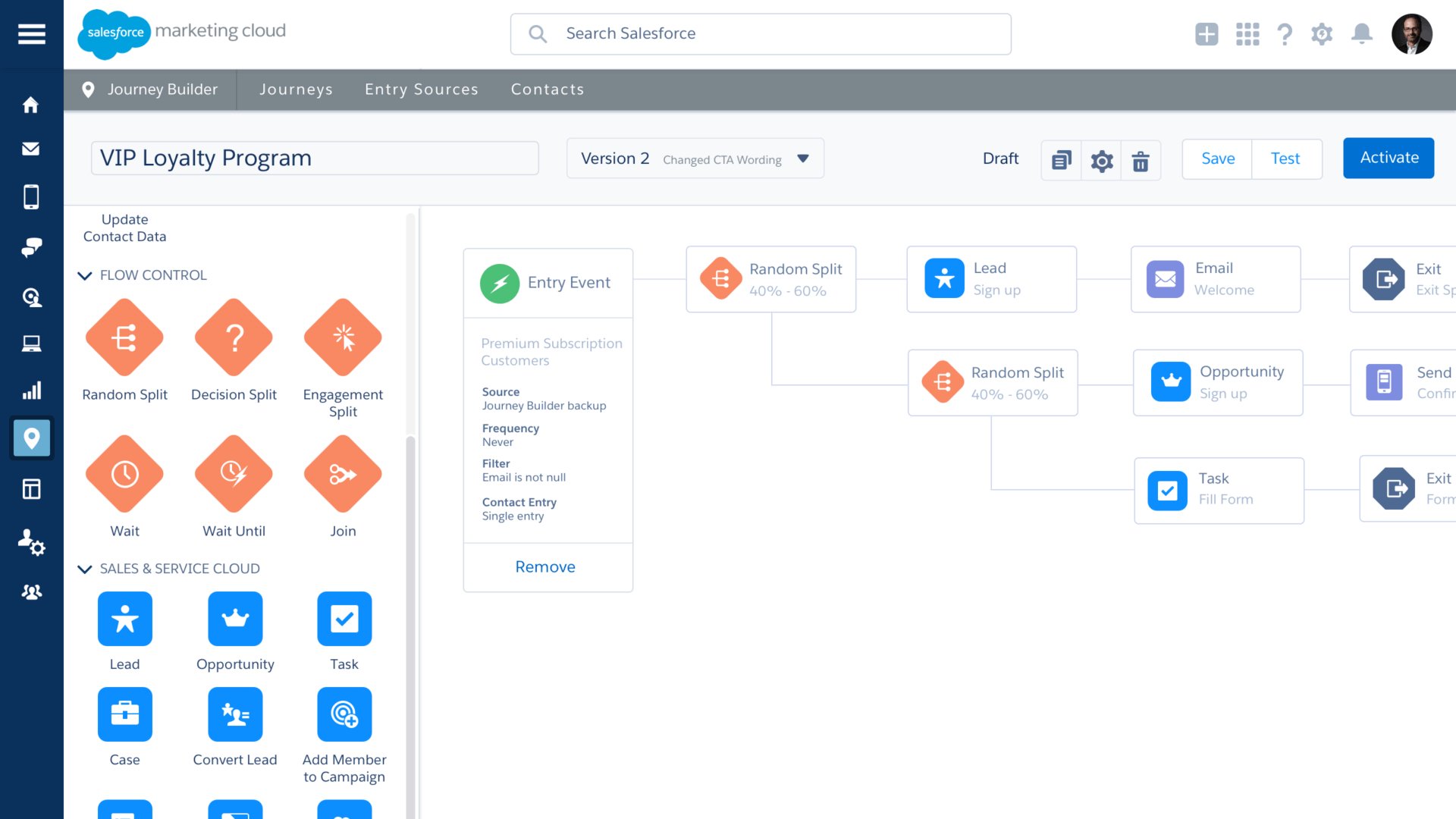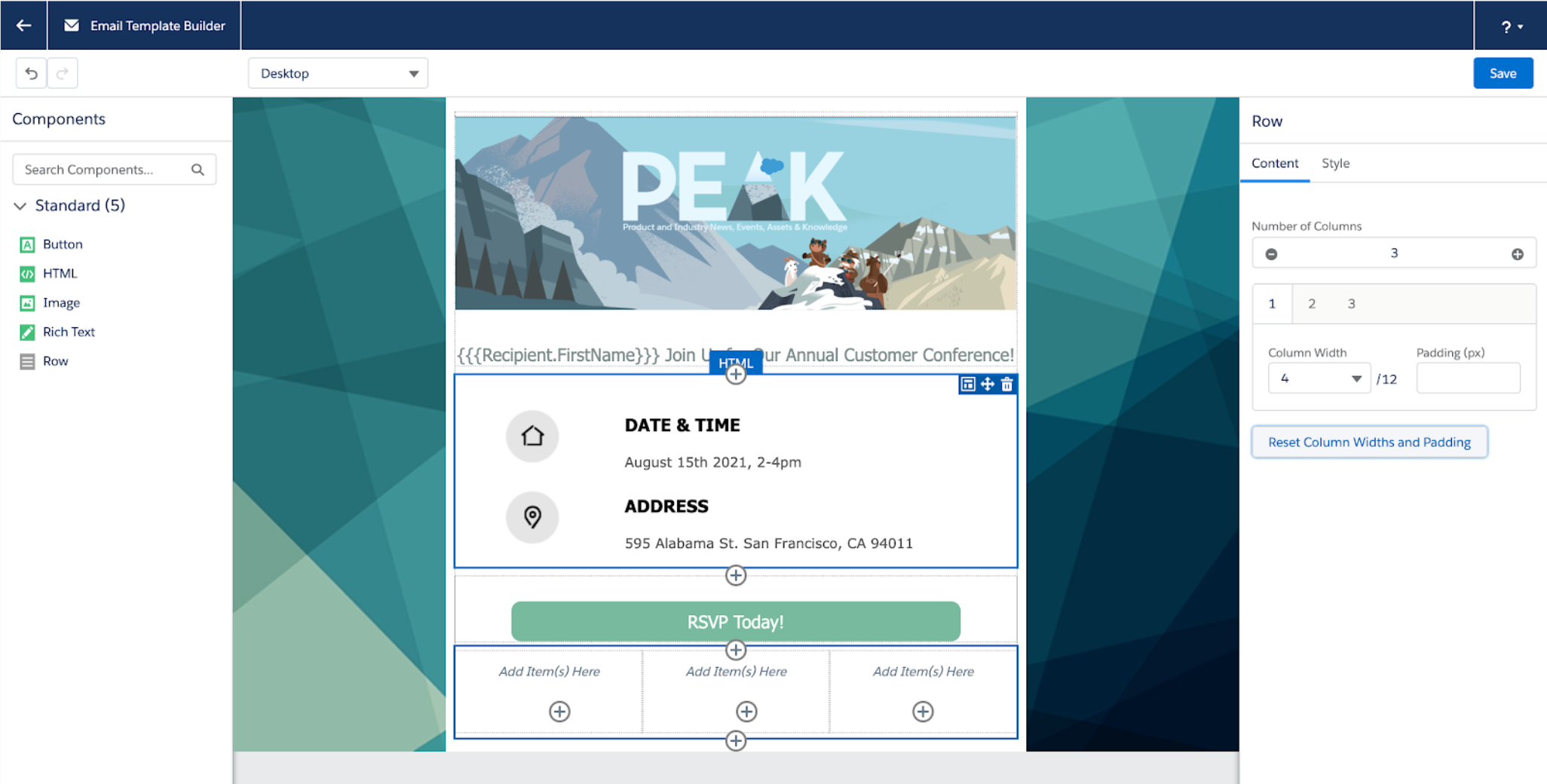 Integrations
MailerLite
139 integrations with services for CRM, loyalty programs, e-commerce, project management, surveys, and more.
Salesforce
4000+ integrations and apps like other CRM systems, other ESPs (for example, Mailchimp), Slack, Tableau, Zoom, and more. Some of these integrations are free, others are paid for separately or only available for certain pricing plans.
Devices
MailerLite
MailerLite has a web app, an iOS app, and an iPad app only for subscribing leads on offline events.
Salesforce
Web app
Desktop app
Mobile apps for iOS and Android
Languages
MailerLite
English
Salesforce
Chinese (Simplified)
Chinese (Traditional)
Danish
Dutch
Finnish
English
German
Italian
Portuguese (Brazil)
Russian
Spanish
Spanish (Mexico)
Swedish
Thai
Automation
MailerLite
15 automation recipes for welcome emails, abandoned cart, membership renewal, online courses, and more.
Paid versions include an AI writing assistant powered by OpenAI that allows users to write marketing copies faster.
Automated A/B testing for up to 3 workflow variations.
Salesforce
Salesforce offers Automation Studio for automating email journeys which allows users to create complex email sequences with many conditions.
Pros
MailerLite
A very simple and minimalist product that is good for beginners
Many unique features like paid newsletters and selling digital goods
Great customer support
A lot of integrations available
Easy migrations from other services
Extensive video tutorial library for new users
Salesforce
Great support on onboarding from the vendor
Sophisticated customer journeys
Dynamic content in emails
Integrations with CRMs
Cons
MailerLite
May come off as too simple for experienced marketers
You need to get approval to start working with the service
2FA requires a third-party app instead of a phone number
Stripe integration can be troublesome
Confusing categories in the interface
Outdated documentation at times
Salesforce
Steep learning curve
Very convoluted pricing system that caused most of the negative reviews on TrustPilot
Hard to implement and maintain, requires a Salesforce administrator to help
Very expensive and includes arising additional costs
Reviews from experts
MailerLite
Great level of satisfaction in terms of the results we are obtaining in our campaigns, as well as how it is to work with MailerLite on a daily-basis. Also, very important to mention the amazing customer service provided. Always very quick, detailed and helpful. Message Factory couldn't be any happier by working with MailerLite!
On the down side, MailerLite felt a bit unpolished at times. Things like the odd feature that was incomplete, or a tab that seemed to be in the wrong place – small things that slowly added up, resulting in a bittersweet experience.
MailerLite is great, and I'm sure it will only get better with time. It just fails to deliver an exceptional email marketing experience right now
Salesforce
Salesforce scores a perfect 5/5 in our data reporting research category. It offers a lot of data visualization tools on all of its plans, which are important tools for any kind of business, and whether you're looking for a sales or customer service CRM. These tools include custom reports, a chart builder, and revenue data views, and allow you to better understand data, explain trends, and generate valuable insights. When you can analyze data faster, you can create feasible business goals and targets.
When it comes to email marketing, you build your stack according to your size and maturity. You will consider Salesforce Marketing Cloud (either Engagement or Account Engagement) once you have data in your CRM and want to use it. In this case, Salesforce Marketing Cloud competitors would be Adobe, Oracle or Braze.
But Salesforce Marketing Cloud is a great solution if you consider the platform. You can easily use your CRM data, you have powerful Artificial Intelligence features with Einstein and one of the most powerful Customer journey orchestrators with Journey Builder.
<...>
As for me, Salesforce meets the needs of both SMB and enterprise companies, but be careful with budgets: of course when customization needs are rising, you have to pay for that. But exactly the CRM gives you that opportunity.
*This information is current as of 09/28/2023. While we regularly update our articles, it`s possible that this article may not contain some of the latest information.