AWeber vs MailerLite
Trying to choose between AWeber vs MailerLite as your email marketing software? Here's when to choose each tool – and the pros and cons to know about.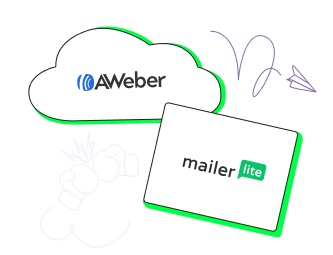 3.4

TrustPilot

4.4

Capterra

4.2

G2
Average 4 / 5
AWeber

An email marketing software with automations and integrations. It can also be used to build landing and e-commerce pages.
Pricing
Starts from $12.50 a month for 500 contacts (billed yearly)
Key features
Email automation
Landing page builder
Custom sales pages
Web push notifications
Integrations with various services
Drag-and-drop email builder
Support
24/7 support via email, limited hours support on the phone and in the live chat.
4.4

TrustPilot

4.7

Capterra

4.7

G2
Average 4.6 / 5
MailerLite

MailerLite is an all-in-one email marketing platform that allows you to create newsletters, landing pages, and even websites using pre-made templates. It has 100+ integrations with other platforms and a recurring payment feature for paid newsletters.
Pricing
Free plan, dynamic paid plans depending on the features and the contact list size start from $9/month billed yearly.
Key features
Drag-and-drop email editor with an AI writing assistant
No-code website, blog, and landing page builder
iPad subscriber app for generating leads on offline events
Paid newsletter subscription
Automated sequences
Integrations with online stores
Email verifier
Support
24/7 email and live chat support
General info about company
AWeber
AWeber was founded in 1998 by Tom Kulzer. Headquarters in Chalfont, PA.
MailerLite
MailerLite was founded in 2005 as a web design agency but then switched to email marketing. The company is remote-first, with employees in 40 countries.
Difficulty
AWeber
No coding or design skills are required. The software is intuitive with many pre-made templates and automations but lacks advanced features like photo editing inside the email builder.
MailerLite
No coding or design skills are required to create emails and web pages. The platform also offers an extensive knowledge base with tutorials, which makes it beginner-friendly.
Best for
AWeber
Small to medium companies that only need an email marketing platform with basic features.
MailerLite
E-commerce, freelancers, small businesses
Free plan
AWeber
Has a free plan for up to 500 subscribers and 3,000 emails a month. The features are limited, only basic templates and support are available on the free plan.
MailerLite
A generous forever free plan with a limit of 1 user, 1,000 contacts, and 12,000 monthly emails. The free plan includes:
Email editor and automation builder
Website builder and 10 templates for landing pages
Sign-up forms and pop-ups
24/7 email and chat support for the first 30 days
Pricing
AWeber
For up to 500 contacts, billed yearly/monthly:
Lite $12.50 / $14.99
Plus $20 / $29.99
Unlimited $899
Other pricing features:
3 months of service free and up to 60.5% discount for nonprofits
20% discount for students
Customer referral program
Account hold package for $4.99 a month
MailerLite
Growing business:
$9-205/month billed yearly, depending on the number of subscribers, with a limit of 50k contacts at the highest price
Unlimited emails and 24/7 support
Includes extra features like dynamic emails, selling digital products, blogs, and an unsubscribe page builder
3 users available
Advanced:
$19-1,600/month billed yearly, with a limit of 500k contacts at the highest price
An email limit if you have more than 50k subscribers, up to 6 million, depending on the number
Includes features like custom HTML editor, AI writing assistant, Facebook integration, promotion pop-ups, and more
Unlimited users
Entreprise:
Depends on the scope of work
Only available for businesses with 100k and more subscribers
Includes the services of a dedicated success manager, onboarding, account audit, and dedicated IP and deliverability consultation
Support
AWeber
24/7 support via email
Live chat: Mon-Fri 7:00 am — 10:00 pm ET (UTC-5)
Sat-Sun 8:00 am — 5:00 pm ET (UTC-5)
Support phone line: 8 am — 8 pm ET (UTC-5)
Guides and YouTube tutorials
24/7 paid email marketing master class
AWeber expert service
MailerLite
Customer support is available 24/7 via email and live chat — however, it's only available for 30 days on the free plan. Users can also hire experts in email marketing, copywriting, no code development, and more.
MailerLite also offers an extensive Customer Self-Service Center. It includes:
A large categorized knowledge base, that includes articles about troubleshooting most common issues
Video tutorials
A Circle community where users can communicate with each other
A free ML Academy with 5 free online courses about MailerLite and email marketing
Features
AWeber
Email automation and pre-built autoresponders
Landing page and sign-up forms builder
Custom sales pages
Web push notifications
Integrations with various services
Drag-and-drop email builder
Custom template design service
Free migration services
3 mobile apps for iOS and Android with various features
MailerLite
Email marketing automation
Sign-up forms
Landing pages
Website builder
Blog builder
Email verifier
Transactional emails
Click maps
The ability to sell digital products like e-books and online courses
Setting up a paid subscription for emails
Templates
AWeber
600+ templates and 600+ free stock photos
Custom email template design service
Templates for:
Newsletter
Holiday
Various industries (real estate, food services, agencies, etc.)
Birthdays and anniversaries
Events
MailerLite
70+ templates for newsletters:
Blog digests
Events
Holiday emails
Featured product
Notifications
Surveys and quizzes
Deals and offers
Emails for creative professionals
40+ templates for landing pages:
For bloggers
For creative professionals
Events
Surveys and quizzes
Coming soon
Celebrations
Books
Non-profits
18 website templates for different industries and purposes:
Business
E-commerce
Education
Events
Food and drinks
Portfolio
Wellness
Video/screenshots
AWeber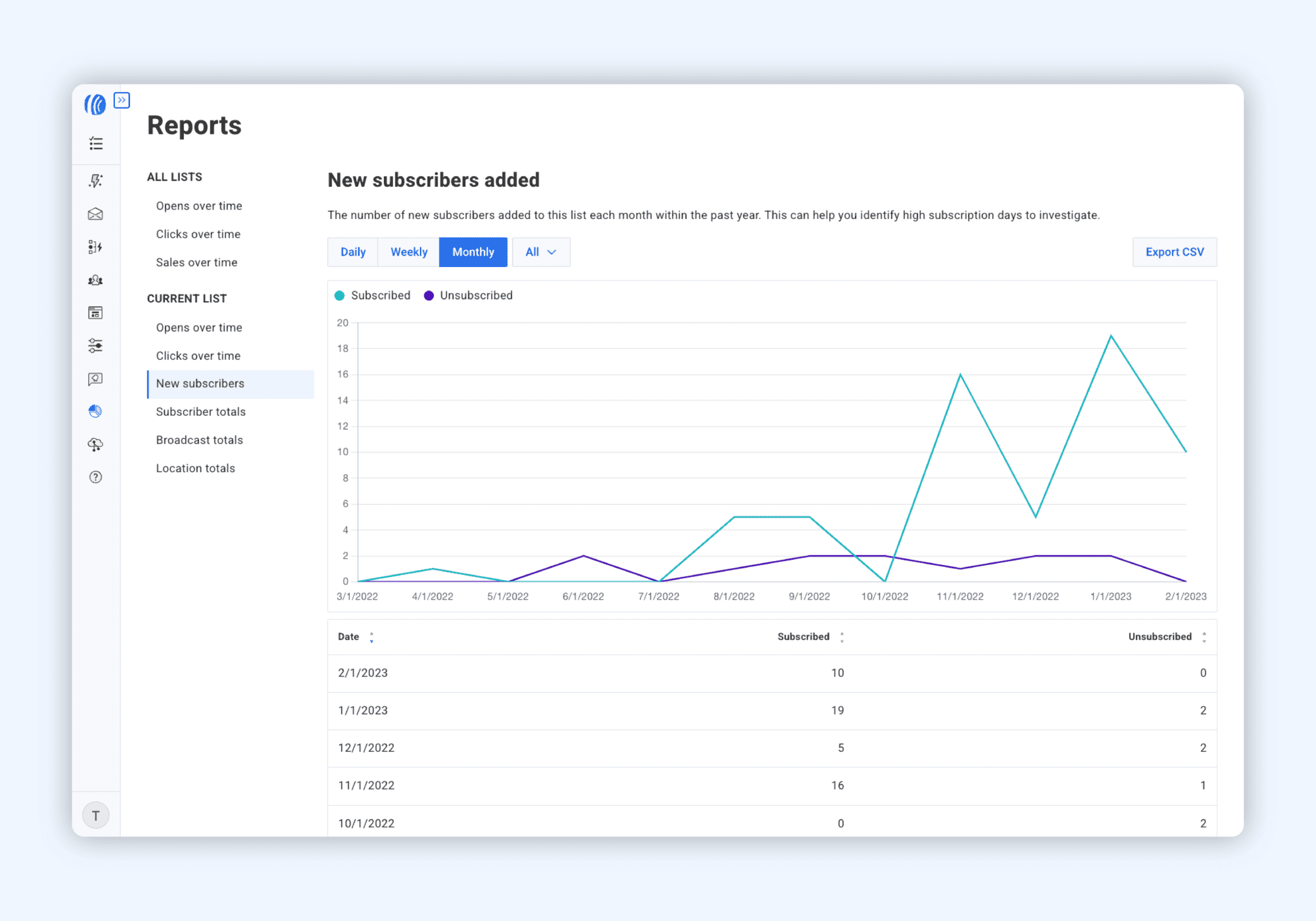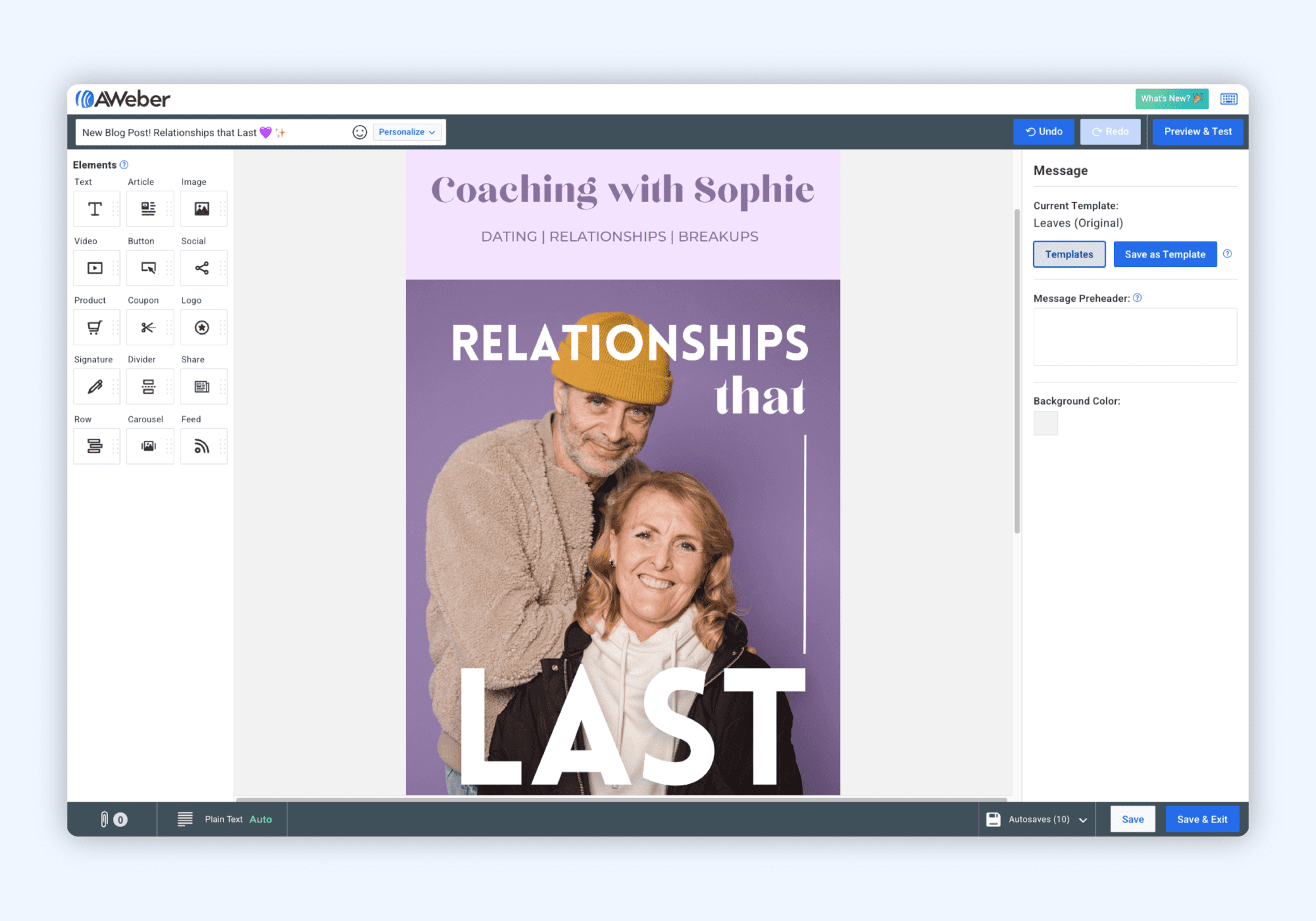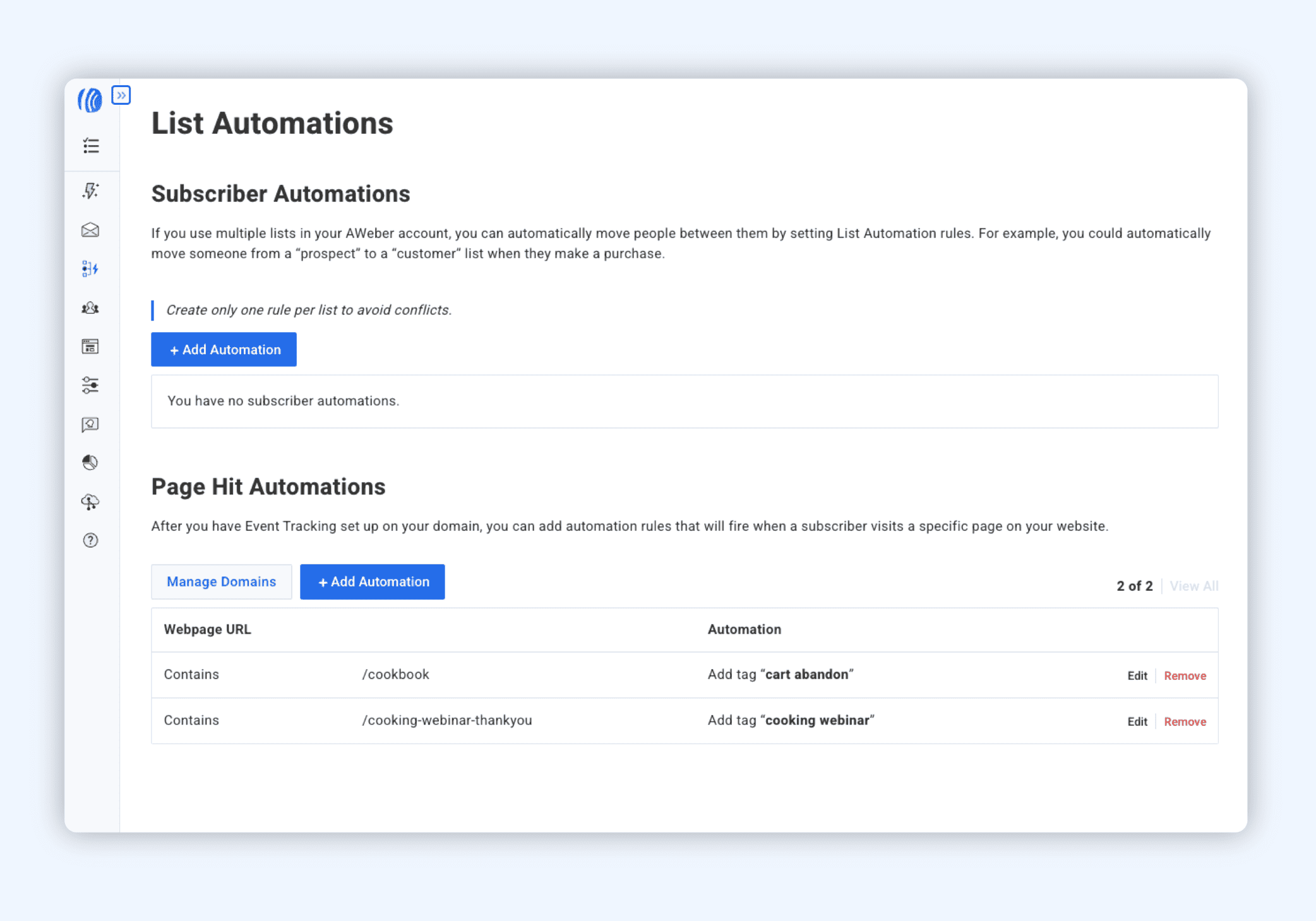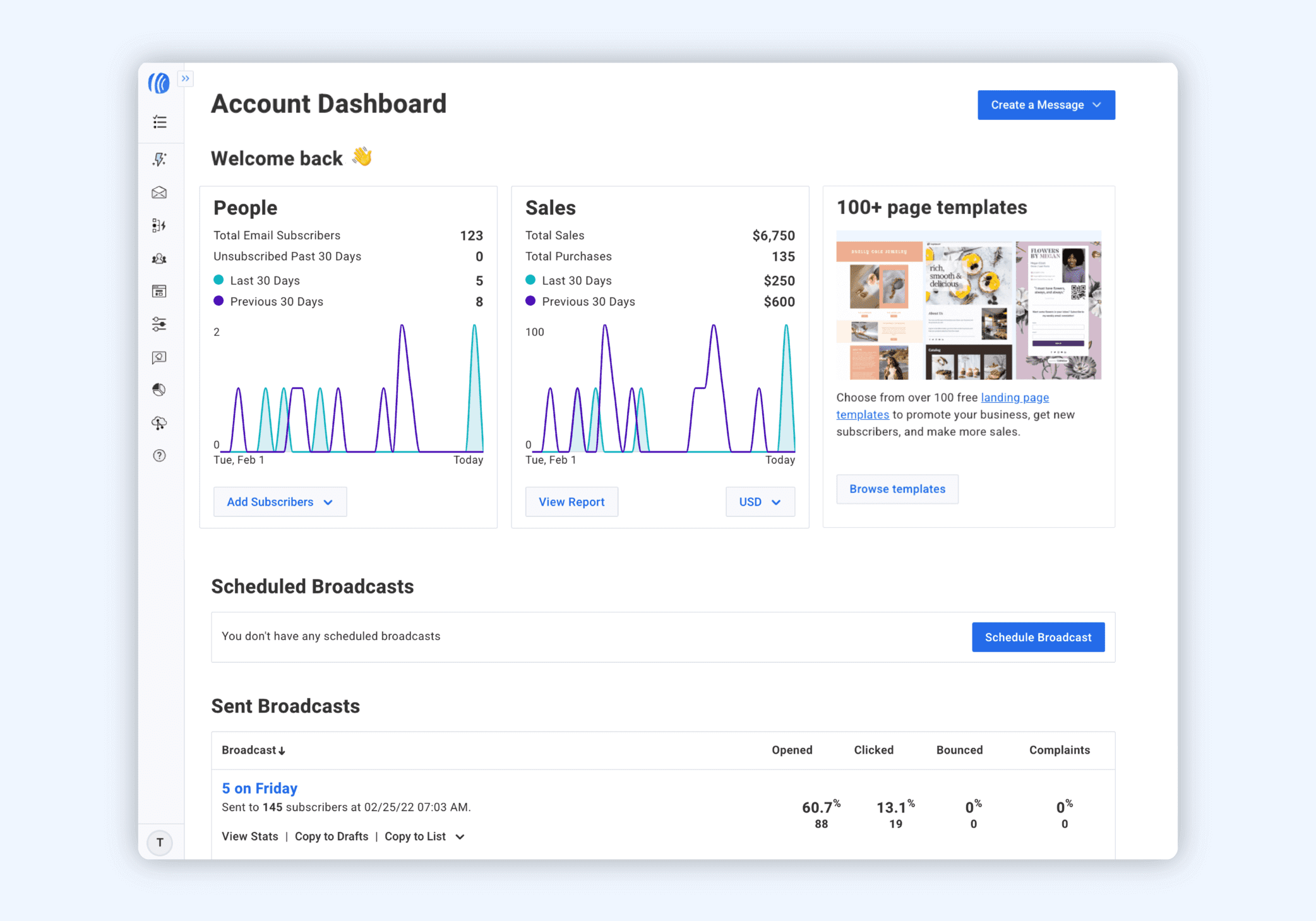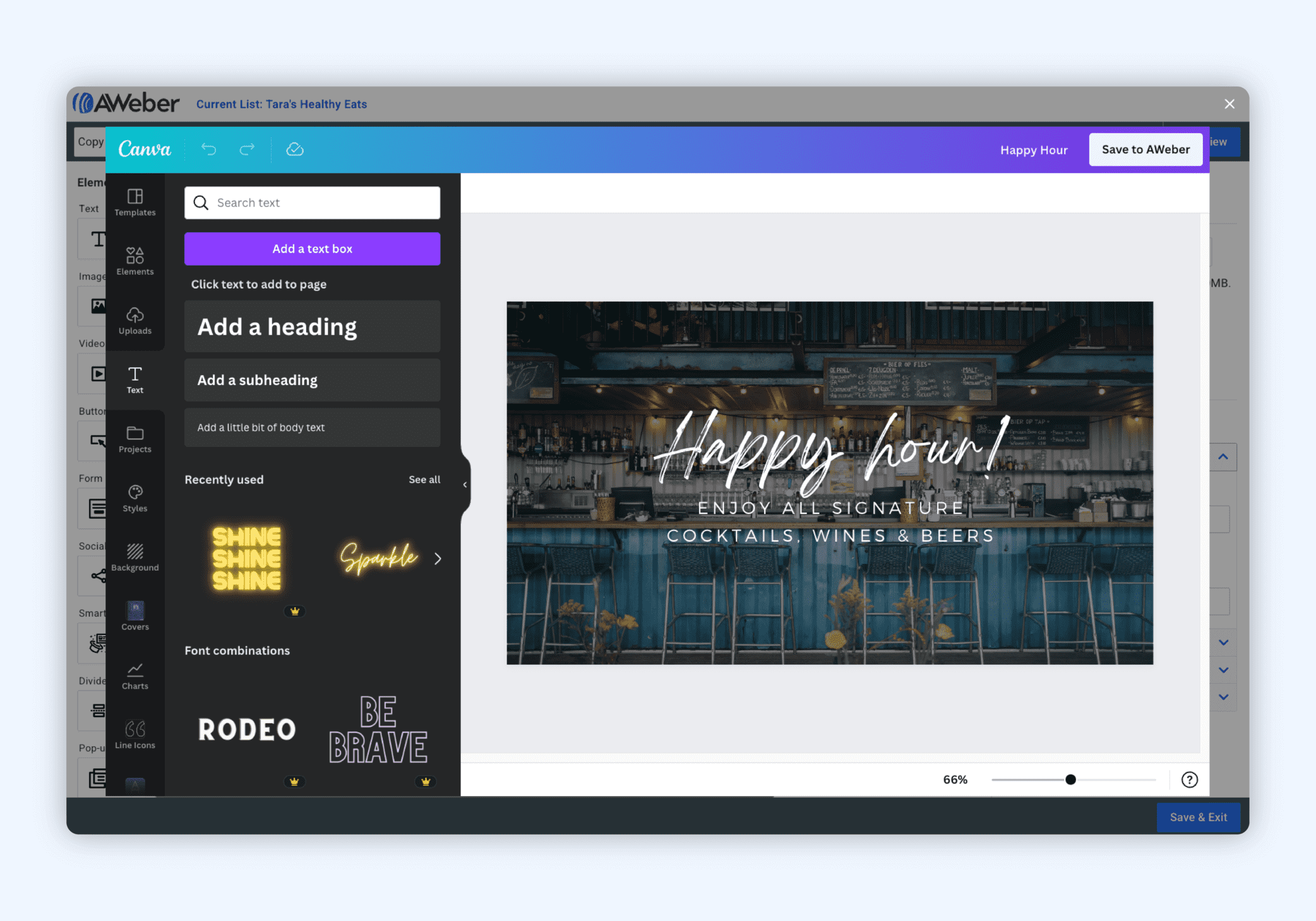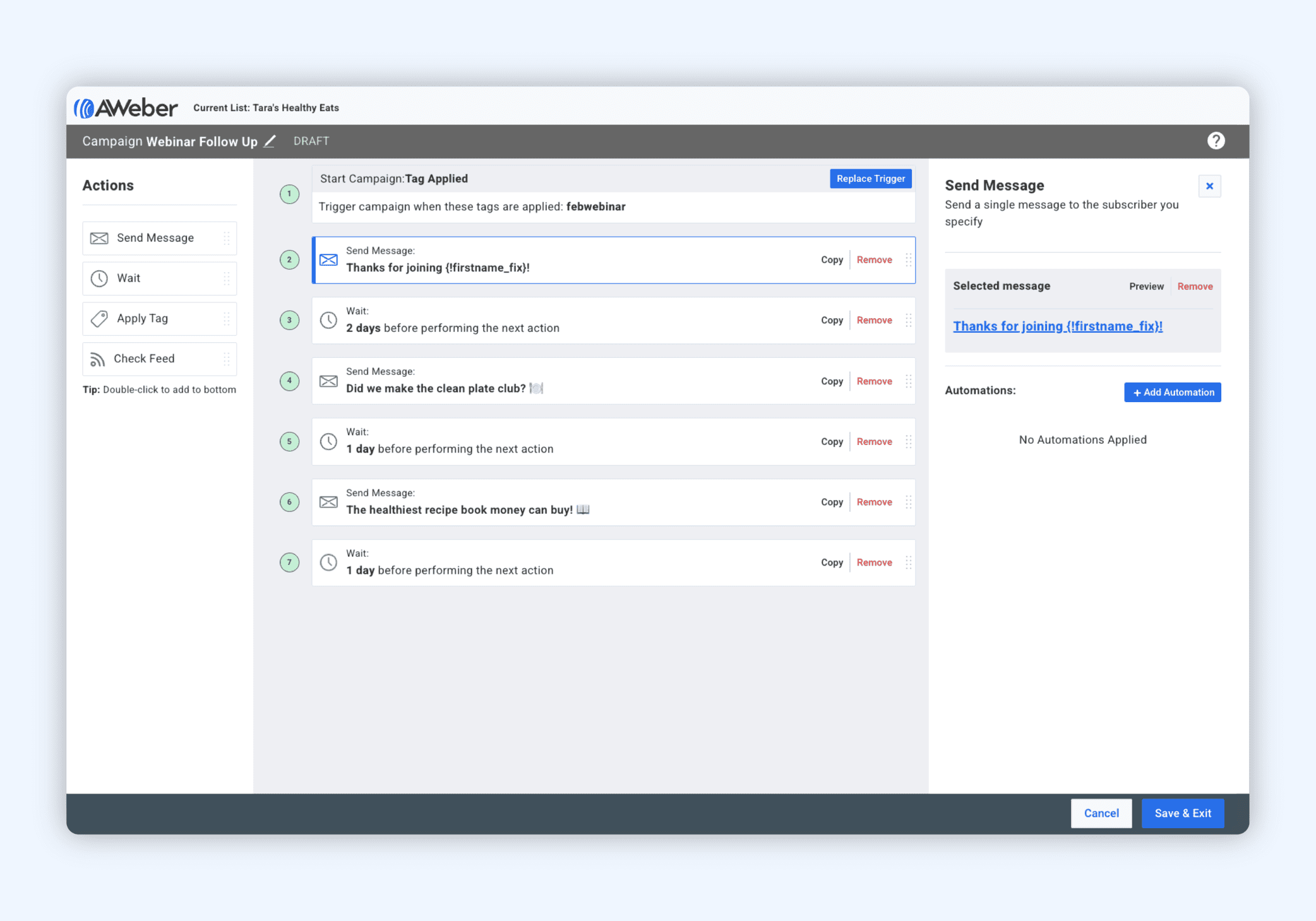 MailerLite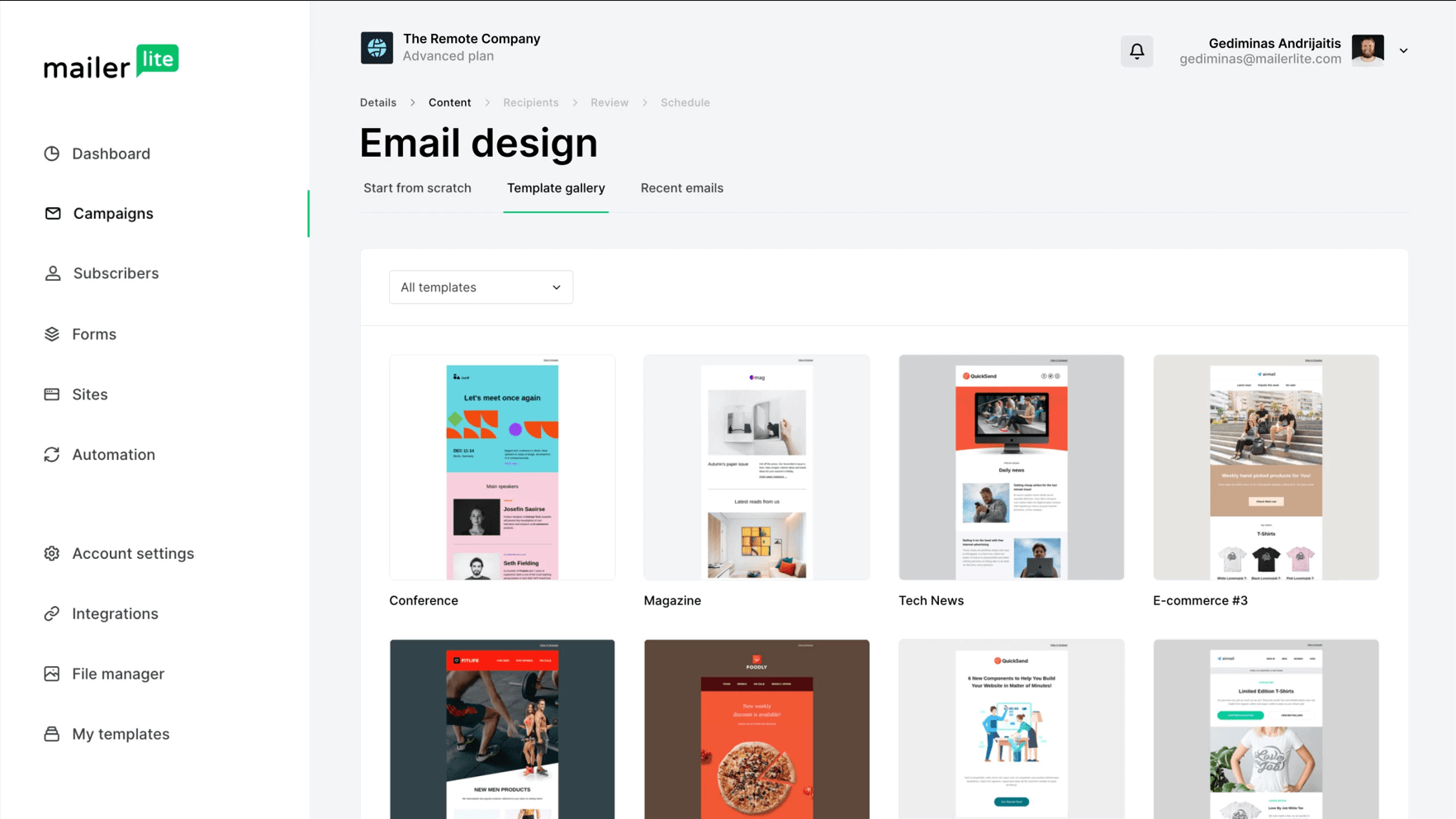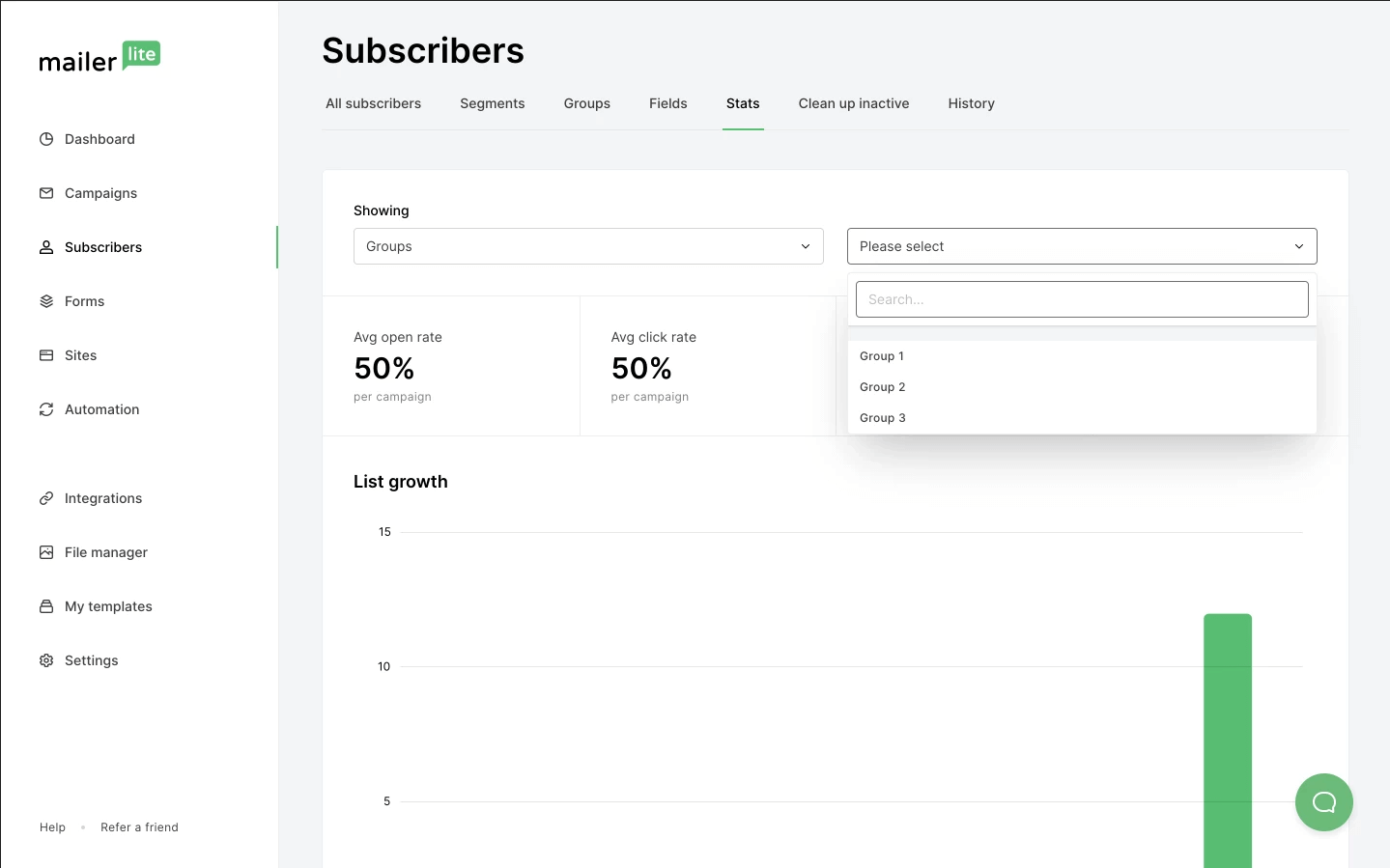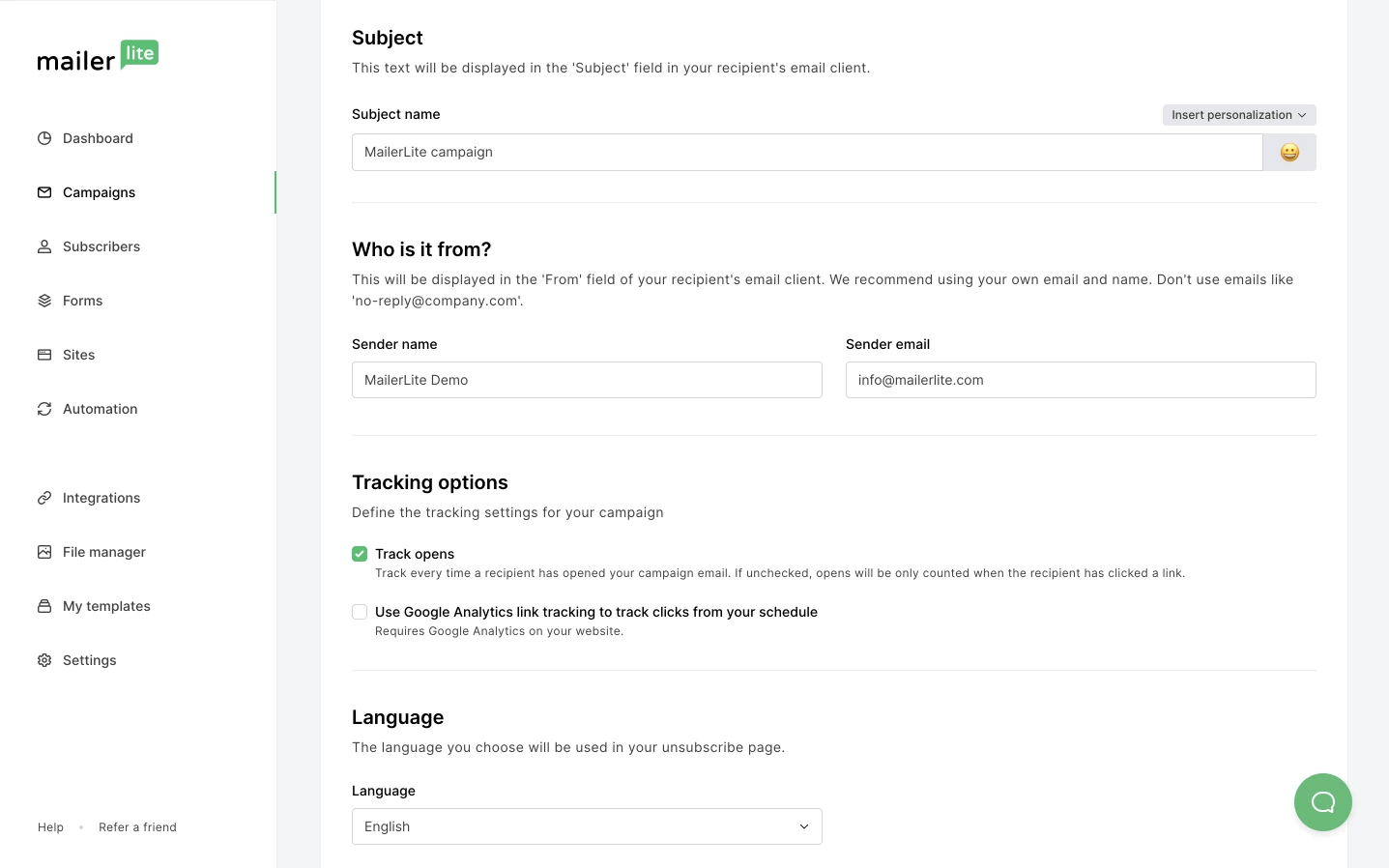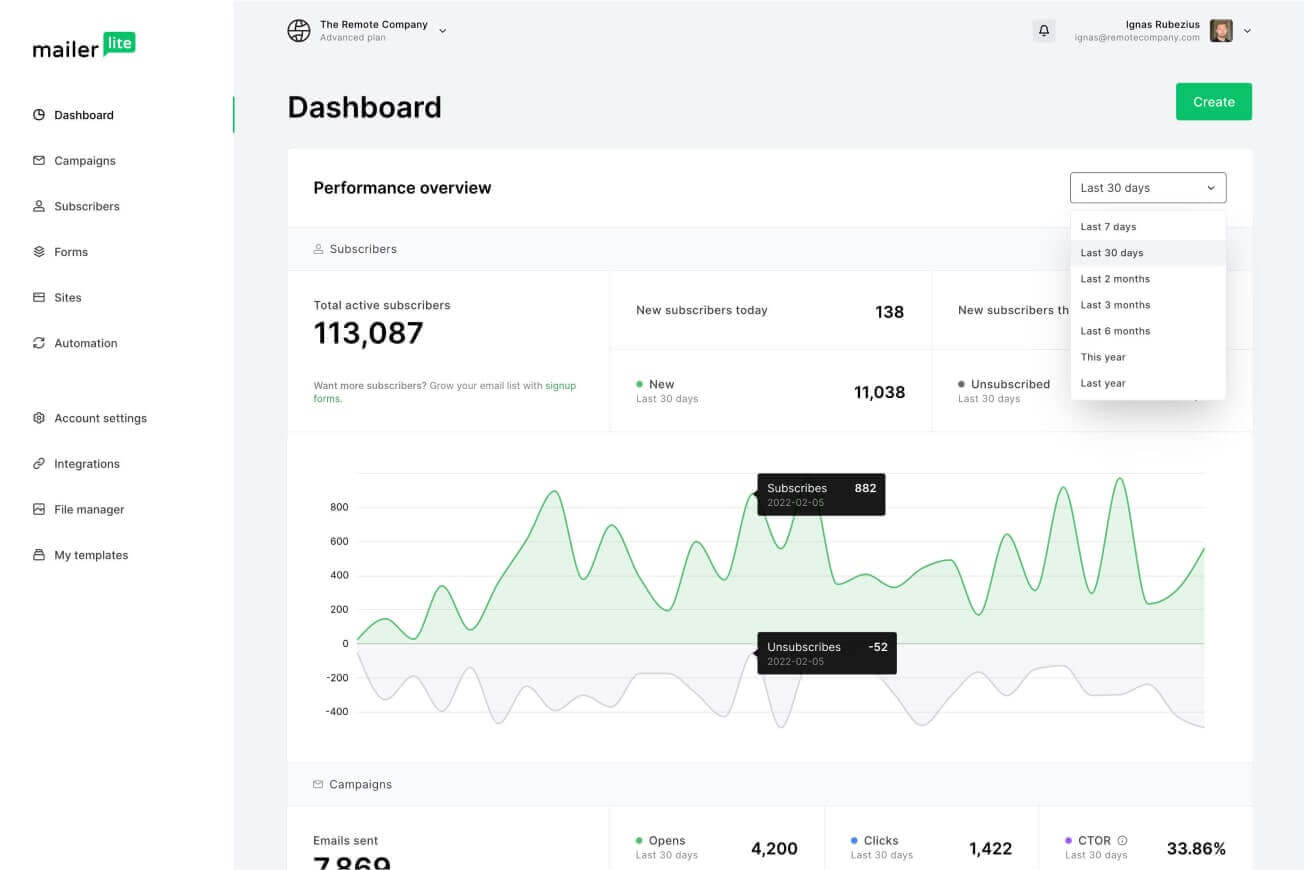 Integrations
AWeber
700+ integrations including WordPress, PayPal, Intercom, Pipedrive, Shopify, Facebook, Salesforce, Google Analytics, Twilio, Zapier, and more
MailerLite
139 integrations with services for CRM, loyalty programs, e-commerce, project management, surveys, and more.
Devices
AWeber
Website
3 mobile apps for Android and iOS (possible to check email marketing stats, add new subscribers, create and send newsletters)
MailerLite
MailerLite has a web app, an iOS app, and an iPad app only for subscribing leads on offline events.
Languages
AWeber
English
MailerLite
English
Automation
AWeber
Offers 3 types of email marketing automations:
Open-based to track and reward the most engaged subscribers
Click-based to send campaigns based on subscribers' actions
List-based to easily organize lists
MailerLite
15 automation recipes for welcome emails, abandoned cart, membership renewal, online courses, and more.
Paid versions include an AI writing assistant powered by OpenAI that allows users to write marketing copies faster.
Automated A/B testing for up to 3 workflow variations.
Pros
AWeber
Only necessary email marketing features
700+ integrations
3 mobile apps for different purposes
Easy-to-use no-code automations
24/7 email support
Landing page builder
MailerLite
A very simple and minimalist product that is good for beginners
Many unique features like paid newsletters and selling digital goods
Great customer support
A lot of integrations available
Easy migrations from other services
Extensive video tutorial library for new users
Cons
AWeber
Dynamic content requires coding
Free plan and Lite plan are very limited
Relatively high prices
Lacks advanced features (like photo editing)
MailerLite
May come off as too simple for experienced marketers
You need to get approval to start working with the service
2FA requires a third-party app instead of a phone number
Stripe integration can be troublesome
Confusing categories in the interface
Outdated documentation at times
Reviews from experts
AWeber
It's fair to say, AWeber has all the basics you need for a small business and does quite a good job at educating first-time users with its range of customer support articles, videos, and podcasts. The issue is that, apart from customer service and landing page solution, there isn't a particular area where Aweber really excel in when it comes to its features.
It allows me to quickly create engaging emails with their drag-and-drop email builder. I also appreciate that I can track the success of my emails with their comprehensive reporting suite. Additionally, I love the variety of automated features like segmentation, list segmentation, and automation rules. All of these features make AWeber a great choice for businesses looking to maximize the impact of their email marketing campaigns.

Cons: AWeber has some features that I found difficult to use. For example, I found the automation rules difficult to configure, and the interface was a bit overwhelming. Additionally, the customer service was not always helpful or responsive to my inquiries. I also found that some of the reporting was not very detailed and I was not able to access some of the data I needed
MailerLite
Great level of satisfaction in terms of the results we are obtaining in our campaigns, as well as how it is to work with MailerLite on a daily-basis. Also, very important to mention the amazing customer service provided. Always very quick, detailed and helpful. Message Factory couldn't be any happier by working with MailerLite!
On the down side, MailerLite felt a bit unpolished at times. Things like the odd feature that was incomplete, or a tab that seemed to be in the wrong place – small things that slowly added up, resulting in a bittersweet experience.
MailerLite is great, and I'm sure it will only get better with time. It just fails to deliver an exceptional email marketing experience right now
*This information is current as of 07/07/2023. While we regularly update our articles, it`s possible that this article may not contain some of the latest information.