Campaign Monitor vs MailerLite
Trying to choose between Campaign Monitor vs MailerLite as your email marketing software? Here's when to choose each tool – and the pros and cons to know about.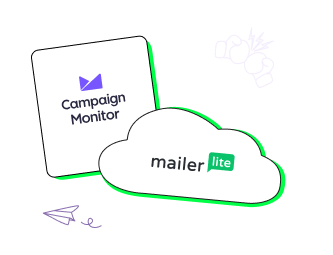 4.6

TrustPilot

4.6

Capterra

4.1

G2
Average 4.4 / 5
Campaign Monitor

Campaign Monitor is a global technology company that provides an email marketing platform that's easy to use yet extremely powerful. It powers media moguls, tech giants, nonprofits, and other industries.
Pricing
From $9 to $989 a month depending on the tariff and the contact list size
Key features
No-code email editor
Automated sequence builder
List management and segmentation
Personalization
Analytics
A/B testing
Support
Online support with limited working hours, the Help center on the website, video tutorials, courses
4.4

TrustPilot

4.7

Capterra

4.7

G2
Average 4.6 / 5
MailerLite

MailerLite is an all-in-one email marketing platform that allows you to create newsletters, landing pages, and even websites using pre-made templates. It has 100+ integrations with other platforms and a recurring payment feature for paid newsletters.
Pricing
Free plan, dynamic paid plans depending on the features and the contact list size start from $9/month billed yearly.
Key features
Drag-and-drop email editor with an AI writing assistant
No-code website, blog, and landing page builder
iPad subscriber app for generating leads on offline events
Paid newsletter subscription
Automated sequences
Integrations with online stores
Email verifier
Support
24/7 email and live chat support
General info about company
Campaign Monitor
Founded in 2004 by Ben Richardson, based in Nashville. Belongs to CM Group, along with other marketing software companies like Sailthru and LiveClicker.
MailerLite
MailerLite was founded in 2005 as a web design agency but then switched to email marketing. The company is remote-first, with employees in 40 countries.
Difficulty
Campaign Monitor
The email editor is WYSIWYG and the platform provides users with a great choice of templates and an automated email builder for your brand — no coding or design skills are required. Campaign analytics come in the form of digestible graphs that are easy to interpret for junior marketers.
MailerLite
No coding or design skills are required to create emails and web pages. The platform also offers an extensive knowledge base with tutorials, which makes it beginner-friendly.
Best for
Campaign Monitor
Marketing agencies, small organizations, publishers
MailerLite
E-commerce, freelancers, small businesses
Free plan
Campaign Monitor
No free plan, free trial only.

The free trial only allows sending test campaigns to 5 people or less, importing contact lists, and creating customer journeys without sending them
MailerLite
A generous forever free plan with a limit of 1 user, 1,000 contacts, and 12,000 monthly emails. The free plan includes:
Email editor and automation builder
Website builder and 10 templates for landing pages
Sign-up forms and pop-ups
24/7 email and chat support for the first 30 days
Pricing
Campaign Monitor
Dynamic, depends on the contact list size and the tariff type:
Basic: $9–$299/month
Unlimited: $30–$699/month
Premier: $158–$989/month
All tariffs are limited to 50000 contacts.
MailerLite
Growing business:
$9-205/month billed yearly, depending on the number of subscribers, with a limit of 50k contacts at the highest price
Unlimited emails and 24/7 support
Includes extra features like dynamic emails, selling digital products, blogs, and an unsubscribe page builder
3 users available
Advanced:
$19-1,600/month billed yearly, with a limit of 500k contacts at the highest price
An email limit if you have more than 50k subscribers, up to 6 million, depending on the number
Includes features like custom HTML editor, AI writing assistant, Facebook integration, promotion pop-ups, and more
Unlimited users
Entreprise:
Depends on the scope of work
Only available for businesses with 100k and more subscribers
Includes the services of a dedicated success manager, onboarding, account audit, and dedicated IP and deliverability consultation
Support
Campaign Monitor
An in-app Digital Assistant tool. Support agents around the world are available in the following hours:
America: Mon to Fri 6 am to 5 pm PST/PDT
Australia and Asia: Mon to Fri 9 am to 5 pm AEST/AEDT
Europe: Mon to Fri 9 am to 5 pm BST/GMT
Limited support (unspecified working hours) is available on weekends and during holidays. Support phone numbers are only available for Premier users.
Aside from online support, Campaign Monitor offers:
Video tutorials for newbies and experienced users
A 30-minute Getting Started course
Email Academy — an email marketing course
Resources for developers
The in-app Help Center with documentation
MailerLite
Customer support is available 24/7 via email and live chat — however, it's only available for 30 days on the free plan. Users can also hire experts in email marketing, copywriting, no code development, and more.
MailerLite also offers an extensive Customer Self-Service Center. It includes:
A large categorized knowledge base, that includes articles about troubleshooting most common issues
Video tutorials
A Circle community where users can communicate with each other
A free ML Academy with 5 free online courses about MailerLite and email marketing
Features
Campaign Monitor
Supports SMS notifications
Advanced segmentation — available for Premier users
Link Review — checks for broken links
Free email template builder
Campaign analytics
CAN-SPAM compliance checker
Integrations with CRM systems and more
MailerLite
Email marketing automation
Sign-up forms
Landing pages
Website builder
Blog builder
Email verifier
Transactional emails
Click maps
The ability to sell digital products like e-books and online courses
Setting up a paid subscription for emails
Templates
Campaign Monitor
108 free mobile-friendly templates available without signing up, templates sorted by email types from announcements to transactional.
If you don't like templates, you can build emails from scratch using blocks in the email builder.
Recently launched their own stock with free images.
Campaign Monitor also has an automated custom template builder where you fill in the questionnaire and get a bunch of email templates with the logo of your business and custom design.
MailerLite
70+ templates for newsletters:
Blog digests
Events
Holiday emails
Featured product
Notifications
Surveys and quizzes
Deals and offers
Emails for creative professionals
40+ templates for landing pages:
For bloggers
For creative professionals
Events
Surveys and quizzes
Coming soon
Celebrations
Books
Non-profits
18 website templates for different industries and purposes:
Business
E-commerce
Education
Events
Food and drinks
Portfolio
Wellness
Video/screenshots
Campaign Monitor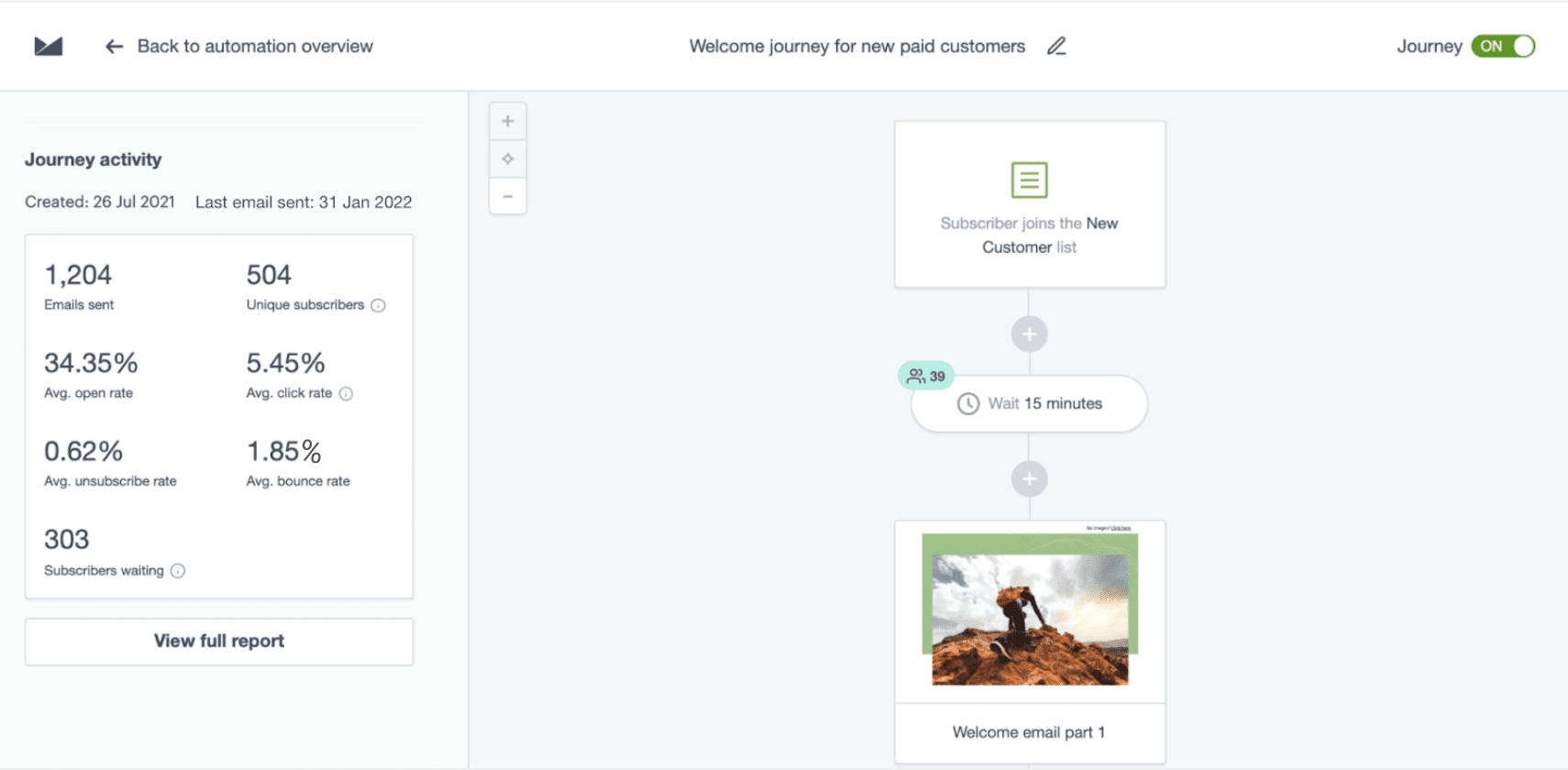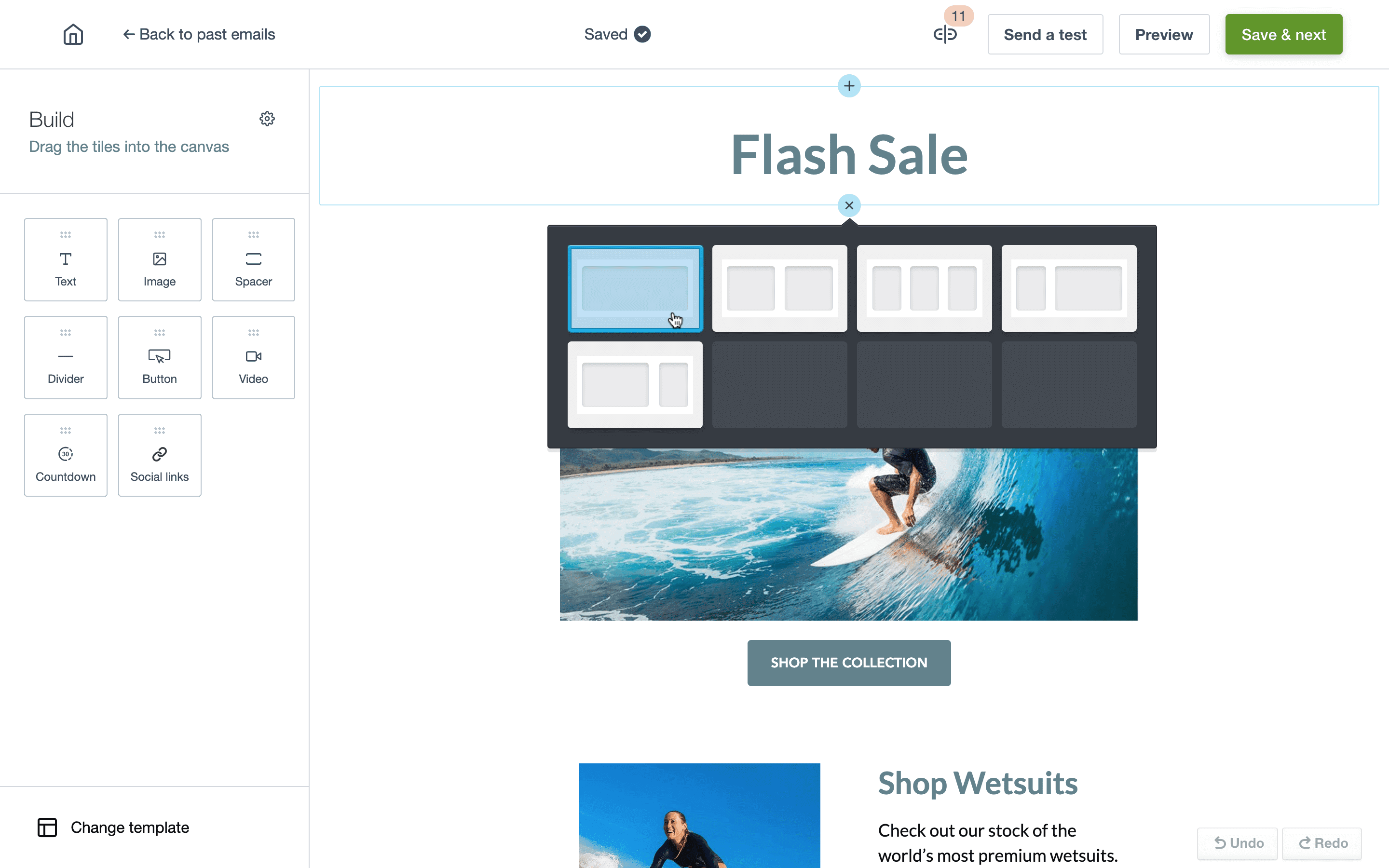 MailerLite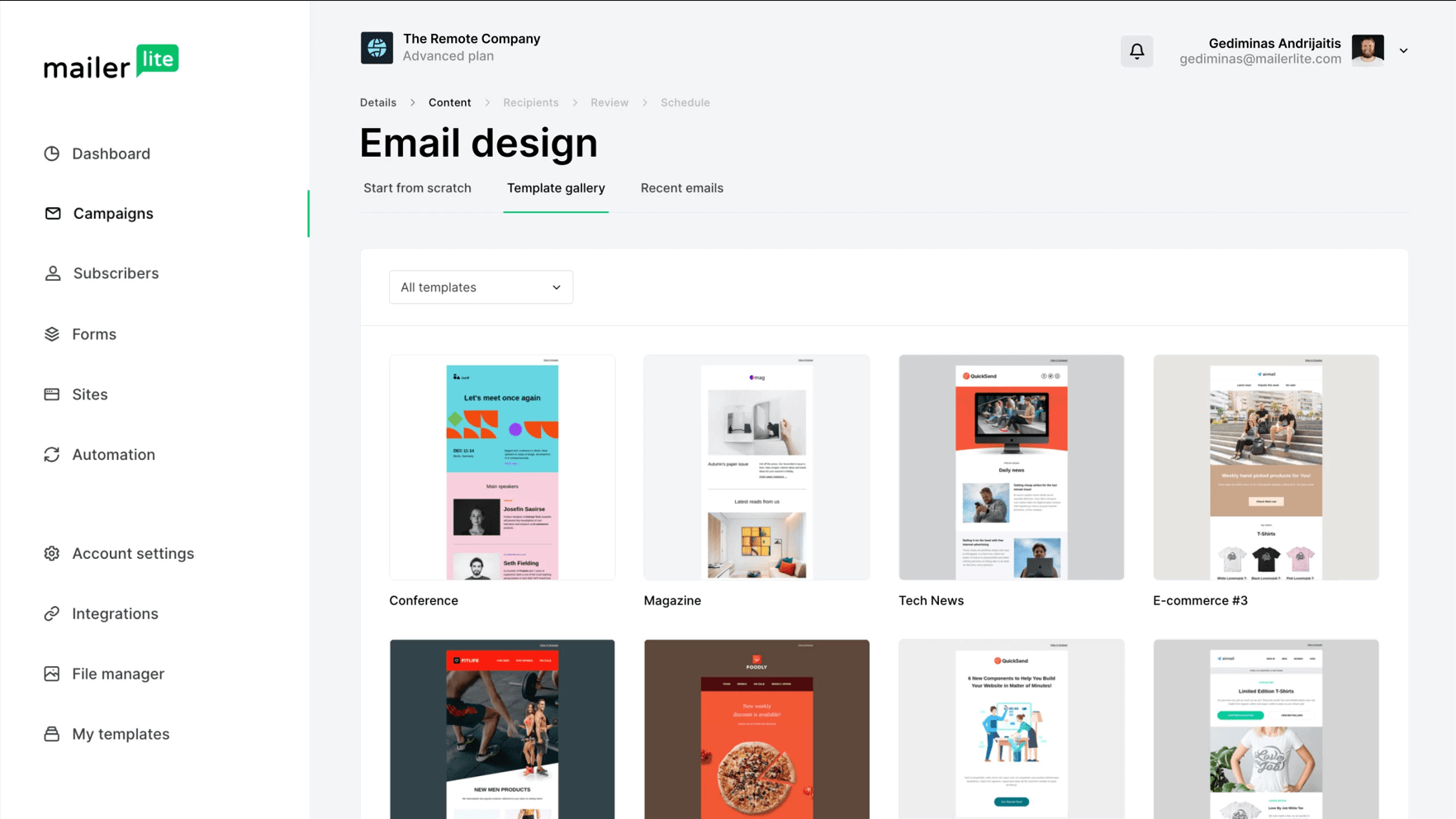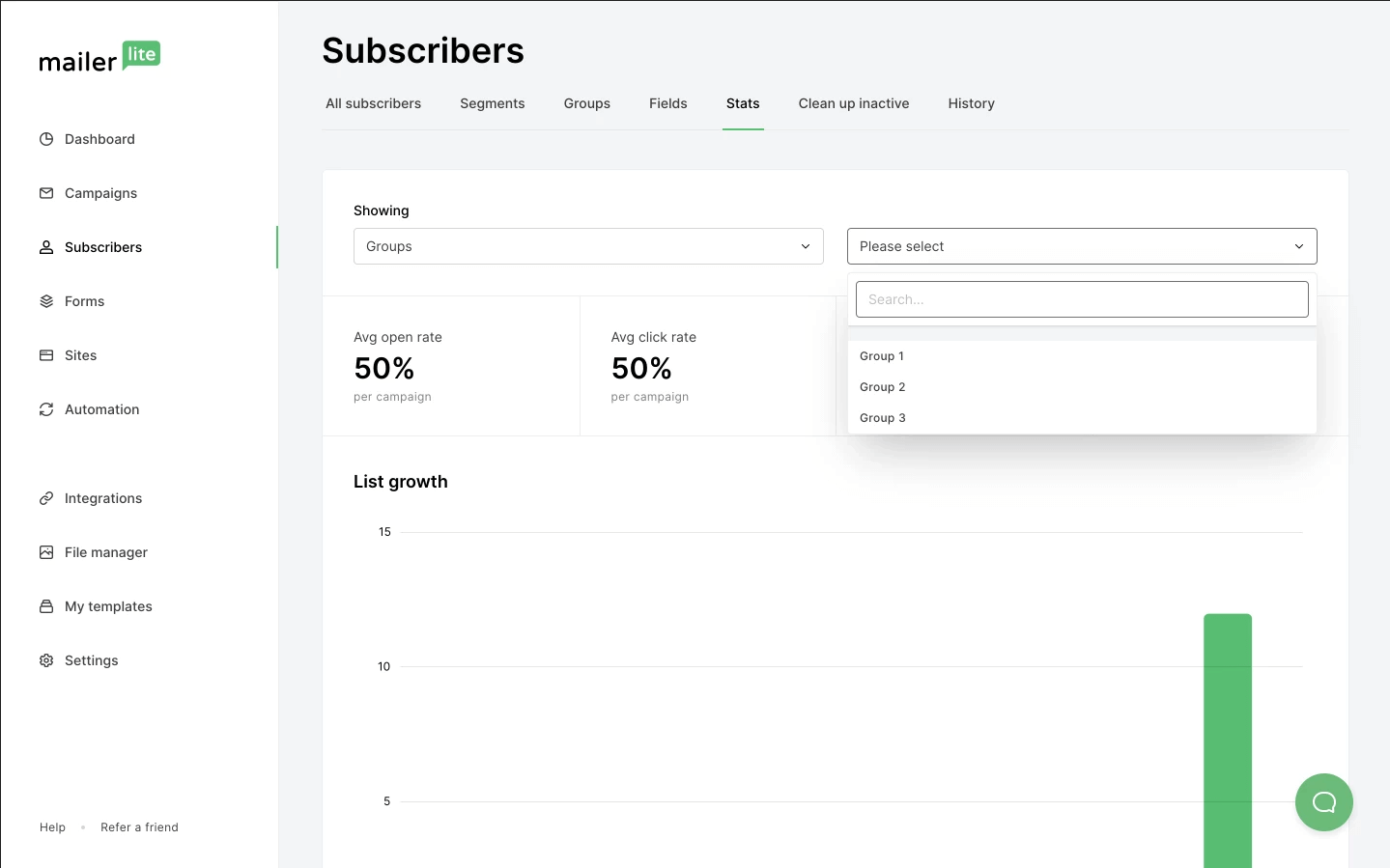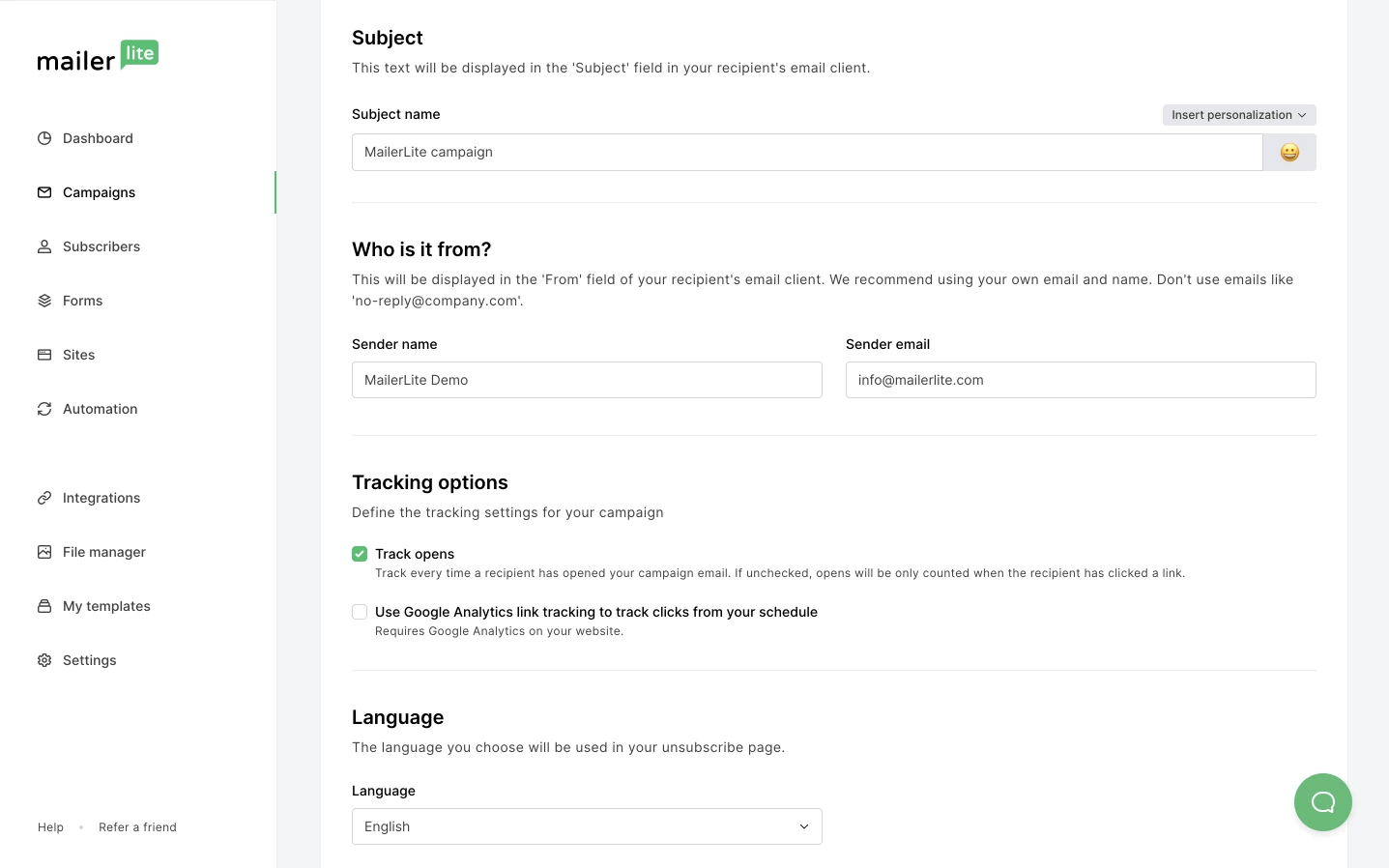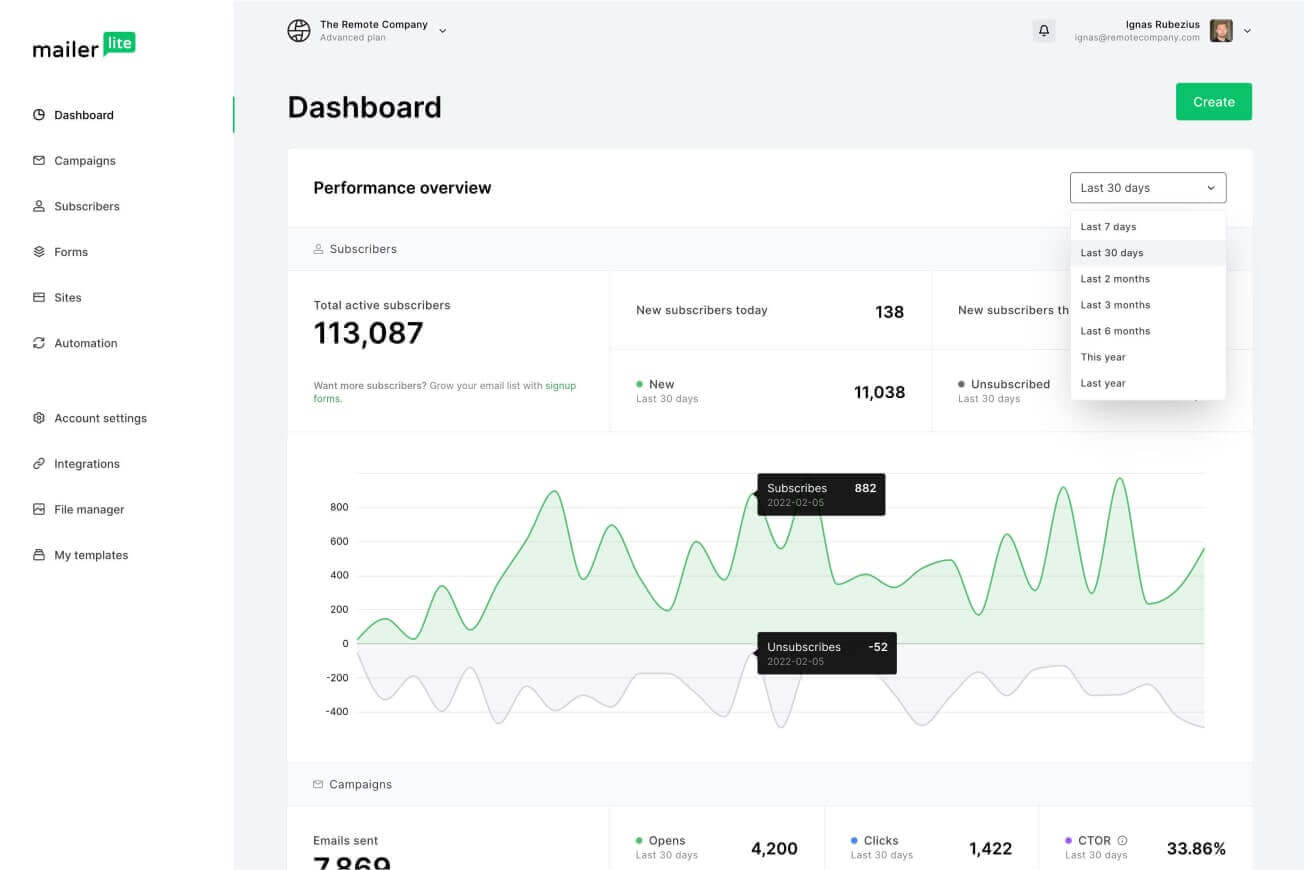 Integrations
Campaign Monitor
Data for marketing: Salesforce, WordPress, Shopify +
List growth: Intercom, OptinMonster, Unbounce +
CRM: Raiser's Edge NXT, Lexer, Qgiv +
Advertising: AdRoll, Facebook Lead Ads, Rungopher+
More than 100 integrations are available for CRM, list management, surveys, and more
MailerLite
139 integrations with services for CRM, loyalty programs, e-commerce, project management, surveys, and more.
Devices
Campaign Monitor
A web app accessible from phones
MailerLite
MailerLite has a web app, an iOS app, and an iPad app only for subscribing leads on offline events.
Languages
Campaign Monitor
English
MailerLite
English
Automation
Campaign Monitor
The drag-and-drop interface for creating automated email sequences that includes:
Triggers — subscribers' actions that start or continue the sequenc
Yes/No rules for personalization
Timers — for example, you can send emails 3 or more days after a certain subscriber's action or the previous email in the sequence
The sequence is visualized like an activity diagram where every element is customizable.
MailerLite
15 automation recipes for welcome emails, abandoned cart, membership renewal, online courses, and more.
Paid versions include an AI writing assistant powered by OpenAI that allows users to write marketing copies faster.
Automated A/B testing for up to 3 workflow variations.
Pros
Campaign Monitor
Good WYSIWYG email editor interface
Easy and simple email automation
Easy-to-understand campaign reports with good infographics
MailerLite
A very simple and minimalist product that is good for beginners
Many unique features like paid newsletters and selling digital goods
Great customer support
A lot of integrations available
Easy migrations from other services
Extensive video tutorial library for new users
Cons
Campaign Monitor
No live chat support + no 24/7 support
All of the tariffs are limited to 50000 contacts
No functional free trial you can actually use for work
Contact importing is difficult when matching custom fields
Split testing only allows 2 email versions
No landing page builder
MailerLite
May come off as too simple for experienced marketers
You need to get approval to start working with the service
2FA requires a third-party app instead of a phone number
Stripe integration can be troublesome
Confusing categories in the interface
Outdated documentation at times
Reviews from experts
Campaign Monitor
"Feature-wise, there's not really much to fault it on, but 'power' email marketing users will find the A/B testing feature a bit basic and will notice the absence of a fully fledged landing page creator."
"It's easy to find all features, which means you can get up and running quickly and get the most out of the solution without having to spend days playing around with it. If you sell products online, you'll love the focus on optimizing transactional emails and tracking their performance so you can understand what works in terms of customer engagement."
MailerLite
Great level of satisfaction in terms of the results we are obtaining in our campaigns, as well as how it is to work with MailerLite on a daily-basis. Also, very important to mention the amazing customer service provided. Always very quick, detailed and helpful. Message Factory couldn't be any happier by working with MailerLite!
On the down side, MailerLite felt a bit unpolished at times. Things like the odd feature that was incomplete, or a tab that seemed to be in the wrong place – small things that slowly added up, resulting in a bittersweet experience.
MailerLite is great, and I'm sure it will only get better with time. It just fails to deliver an exceptional email marketing experience right now
*This information is current as of 07/07/2023. While we regularly update our articles, it`s possible that this article may not contain some of the latest information.