Email Campaign Management
We'll help you set up email campaigns for your business from scratch, from developing a template to analyzing the results and providing recommendations for future strategy.
Starting at $600
The service is one-time and available for a period of at least 10 days
Book now
* Price and terms depend on the scope of work. Leave a request and we'll contact you to clarify the details.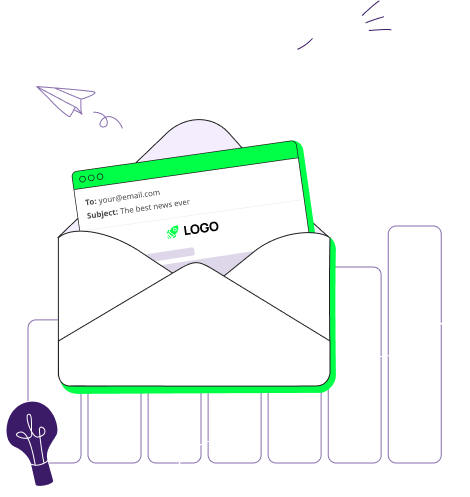 What we'll do for you
Advise on the campaign launch
We'll assess your email campaigns and help identify your target audience and define the goals and expected results by developing a step-by-step email marketing implementation plan.
Do a full technical set-up
We'll set up all the needed email authentication: DKIM, DMARC, SPF, set up Postmasters, as well as integrate your CRM with our email service and more — all this to make sure your apps work in sync with ours.
Launch and analyze campaigns
We'll launch a campaign and make sure to check its open rate, click rate and the number of unsubscribes. We'll also look deeper for detailed reports on device statistics, subscriber location, click maps and more.
Import your list
We'll help you choose the most suitable pricing plan and import your contact list into your Selzy account. We'll check the contacts and segment them based on your goals. Don't have a list of contacts? We'll help you collect them by adding subscription forms to your website.
Сreate an email template
We'll design a responsive email template that you can use for future campaigns, from scratch or in our email builder. We also create email copy for you based on your business goals.
Provide recommendations
Setting up email marketing is just the beginning of the journey. We'll tell you how to improve your campaigns in every aspect — from copy to strategy and automation — and what to do next to drive more sales with email marketing.
What you'll get
You get your first email campaign set up and launched with a set of recommendations on how to implement and improve email marketing in a company — a great investment well worth the return
Book now
Who's it for
Marketer
If you need to start doing email marketing for your company but you have no experience with email design, content and strategy, we're here for you.
Entrepreneur
If you want to attract new customers from your email marketing campaigns, but you don't know where to start, we can provide our expertise.
Email marketer
If you have experience with email marketing but need to hone your skills under the professional expert guidance, we can help you.
Why Selzy
All things email in one place
No need to pay for additional tools. Selzy has everything you need for email marketing from importing a list and building a template to setting up complex automatic email sequences.
24/7 support
Stuck and not sure what to do next? We are ready to help you at any time. Even at 1 AM on Sunday morning — we got your back.
Quality assurance
Your campaigns will be managed by email marketing experts. If you are not happy with the result, we'll refund you.
Email marketing training
We don't just do the work for you as your agency – we teach you how to set up email campaigns and get new clients.
Book a consultation
We'll launch your first email campaign and show you how to get more customers using email marketing.
The cost of the service depends on the amount of work. Leave a request and we'll contact you to discuss the details and calculate the cost of the project.
Try Selzy for free
Leave your email and benefit from hassle-free email marketing experience. Start creating and launching campaigns by using our Free plan with access to all features.
Try it now
Thanks for
submitting the form!
We will contact you shortly to discuss the details of your project and calculate its cost.