HubSpot vs SendGrid
Trying to choose between HubSpot vs SendGrid as your email marketing software? Here's when to choose each tool – and the pros and cons to know about.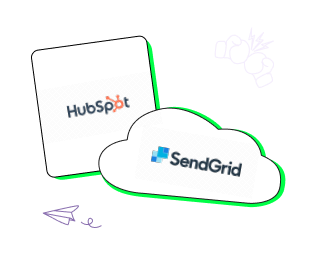 3.4

TrustPilot

4.5

Capterra

4.4

G2
Average 4.1 / 5
HubSpot

A CRM platform that offers email marketing, content management, marketing automation, and customer service capabilities.
Pricing
Marketing tools only start at $18 a month for 1,000 marketing contacts
Key features
Email automation, reporting, etc.
Landing pages and forms
Marketing automation
Website builder and hosting
CRM platform
B2B commerce tools
Customer service software
Sales and operations software
Integrations with various services
Support
24/7 support via email and chat on paid plans, phone support on professional and Enterprise plans. Community support only on the Free plan.
1.4

TrustPilot

4.2

Capterra

4

G2
Average 3.2 / 5
SendGrid

SendGrid is a cloud-based platform for transactional and marketing emails.
Pricing
Starting at $15/month, dynamic pricing, depends on the number of emails sent monthly and the contact list volume.
Key features
Email automation
Email builder with templates
Email testing
A/B testing
Signup forms
List management
Dynamic content in emails
Support
Web form tickets, Twitter DMs, live chat support for paid users, phone support for users on Pro/Advanced plans and higher
General info about company
HubSpot
HubSpot was founded by Brian Halligan and Dharmesh Shah in 2006. Headquarters in Cambridge, Massachusetts.
SendGrid
SendGrid is based in Denver, Colorado, and it was founded in 2009. In 2019, the company was acquired by Twilio, the service for customer communications and data storage.
Difficulty
HubSpot
The software may seem complex and even overwhelming. However, newcomers get service demos and tutorials for a smooth start. Overall, the interface is user-friendly and approachable.
SendGrid
SendGrid may require technical expertise to set up and start working, so it's not 100% beginner-friendly.
Best for
HubSpot
Medium to big e-commerce companies that want an integrated software package with marketing, CRM, customer service, and website hosting all in one.
SendGrid
Entreprises and tech companies
Free plan
HubSpot
A free plan for 2,000 email sends per month. Available email templates and features are limited. No customer support, only the access to HubSpot Community.
SendGrid
SendGrid offers a free plan with a limit of up to 2,000 contacts and 6,000 emails sent per month. The free plan includes:
Design & code editors
Segmentation
A/B testing & actionable insights
3 email testing credits
1 signup form
Ticket support
1 user
Automation
Pricing
HubSpot
Billed monthly:
Starter: $20 for up to 1,000 marketing contacts
Professional: $890 for up to 2,000 marketing contacts (the starting price is $3,890 with a mandatory paid onboarding)
Enterprise: $3,600 for up to 10,000 marketing contacts (the starting price is $6,000 with a mandatory paid onboarding)
Other pricing features:
Users are only billed for their "marketing" contacts (actively in use) and can have many more inactive contacts
Even if a user cancels the subscriptions, they will be billed for the rest of their commitment period duration
SendGrid
Dynamic pricing, depends on the number of contacts, emails sent per month, the number of users, and the set of platform features:
Basic: $15–200/month, 5–100K contacts, up to 300K emails per month. Includes:
Design & code editors
Segmentation
A/B testing & actionable insights
10 email testing credits
5 signup forms
Ticket & chat support
1 user
Advanced: $60–900/month, up to 200K contacts and 1 million emails/month. Unlike the Basic plan, it includes:
60 email testing credits
15 signup forms
Up to 1,000 users
The plan also unlocks access to:
Automation
Dedicated IPs
Guaranteed response times on ticket, chat, & phone support
Custom: Custom pricing for high-volume sending over 200K contacts and 1 million emails/month.
Support
HubSpot
Service demo for new users
Technical support is available on paid plans only
Access to the HubSpot Community on the Free plan
Chat and email support on all paid plans
Phone support only on Professional and Enterprise plans
Mandatory paid assisted onboarding on Professional and Enterprise plans
Advanced and Premier additional onboarding options
Customer training
Various courses with certifications
HubSpot user groups
SendGrid
Support is available 24/7 in English via the following channels:
Twitter DMs and web form tickets — for all users
Live chat support — for paid users
Phone support — for paid users on Advanced email marketing plan/Pro API plan and custom high-volume plans
SendGrid also provides a knowledge center for marketers and developers with screenshots and video tutorials. Articles in the knowledge base are partially translated to French, Japanese, Portuguese (Brazil), German, and Spanish (Mexico). The videos are only available in English.
Features
HubSpot
Email automation
Dynamic list segmentation based on various criteria
Email reputation reporting and tracking
Custom reporting dashboards
Integrations with popular services
Drag-and-drop email builder and pre-made templates
Landing pages
Live chat with website visitors
A CRM app for iOS and Android
SendGrid
Email marketing automation
Signup forms
List management
Email editor: both no-code and code
Email templates
A/B testing
Analytics
Email testing
Dynamic content
Deliverability insights
Templates
HubSpot
15+ email templates
Only 5 email templates on the free plan
Templates for:
Welcome messages
Sales
Newsletter
Event invitations
Announcements
Ebook emails
SendGrid
60+ free templates for different campaign types and industries, including:
Healthcare
Traveling
E-commerce
Non-profits
Emails for small businesses
SendGrid also offers templates for:
Welcome emails
Holiday emails
Promotional emails
Newsletters
Transactional emails (i. e. order confirmation, shipping confirmation, etc.)
Some of these templates contain dynamic content.
Video/screenshots
HubSpot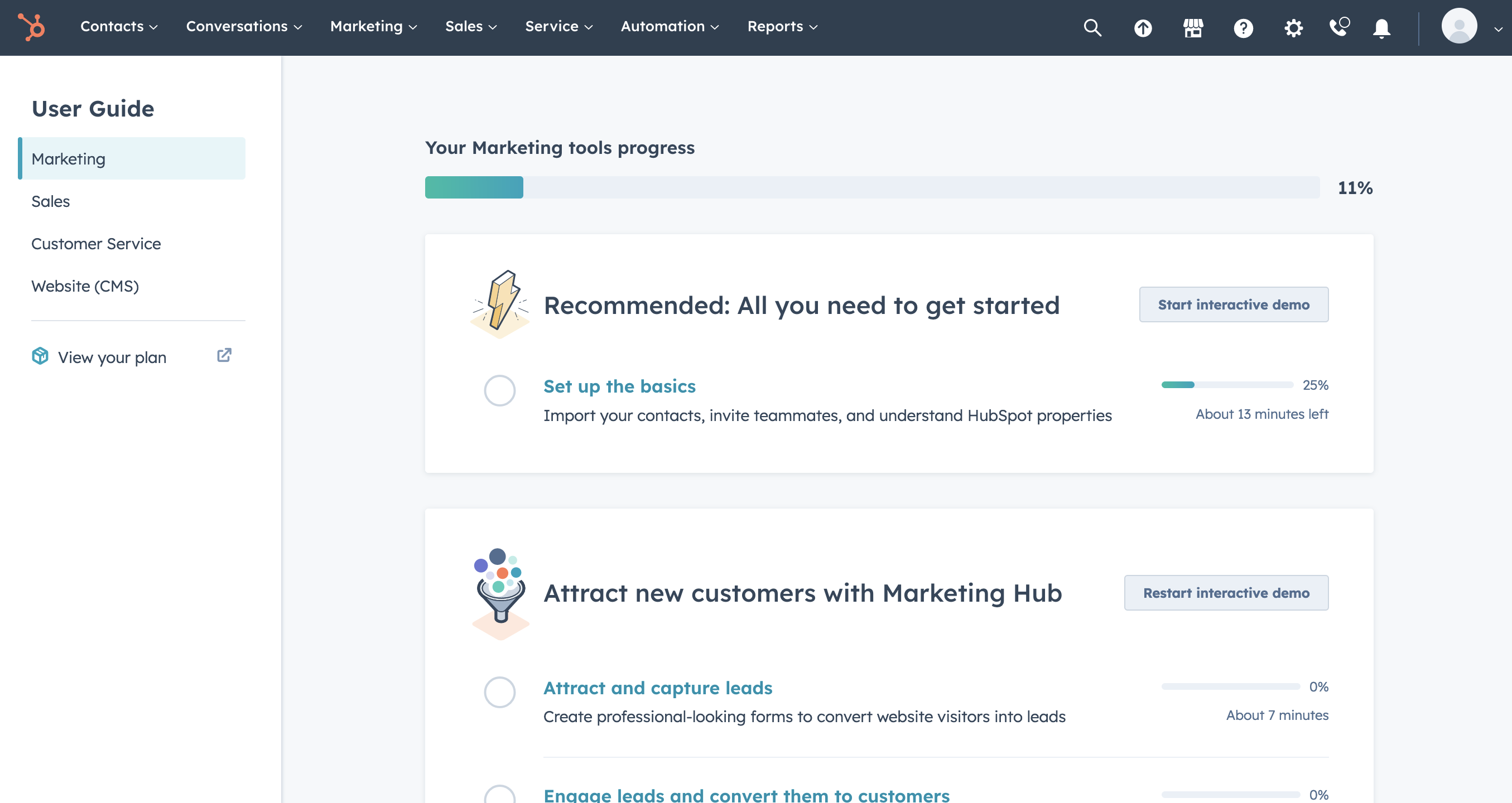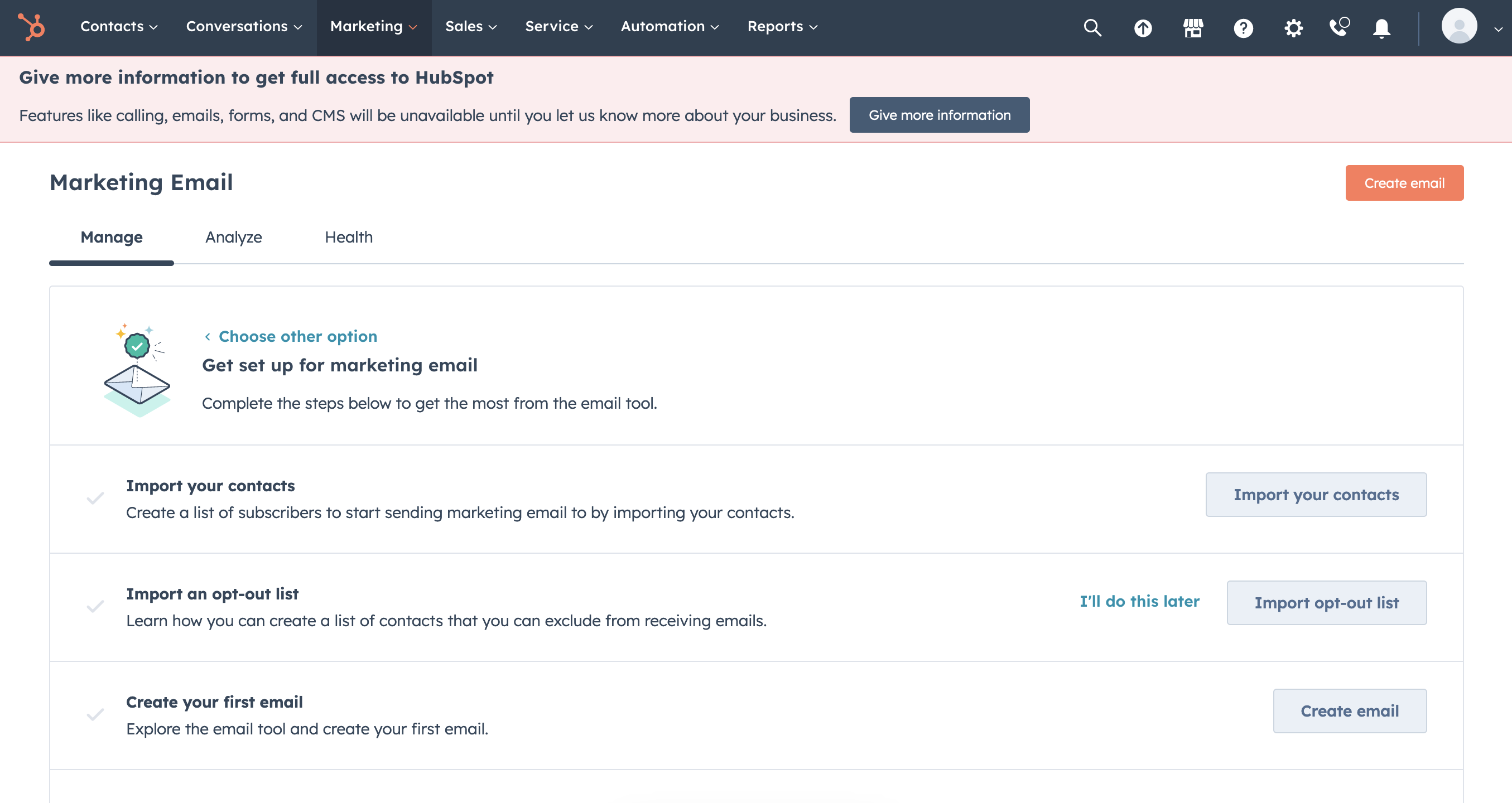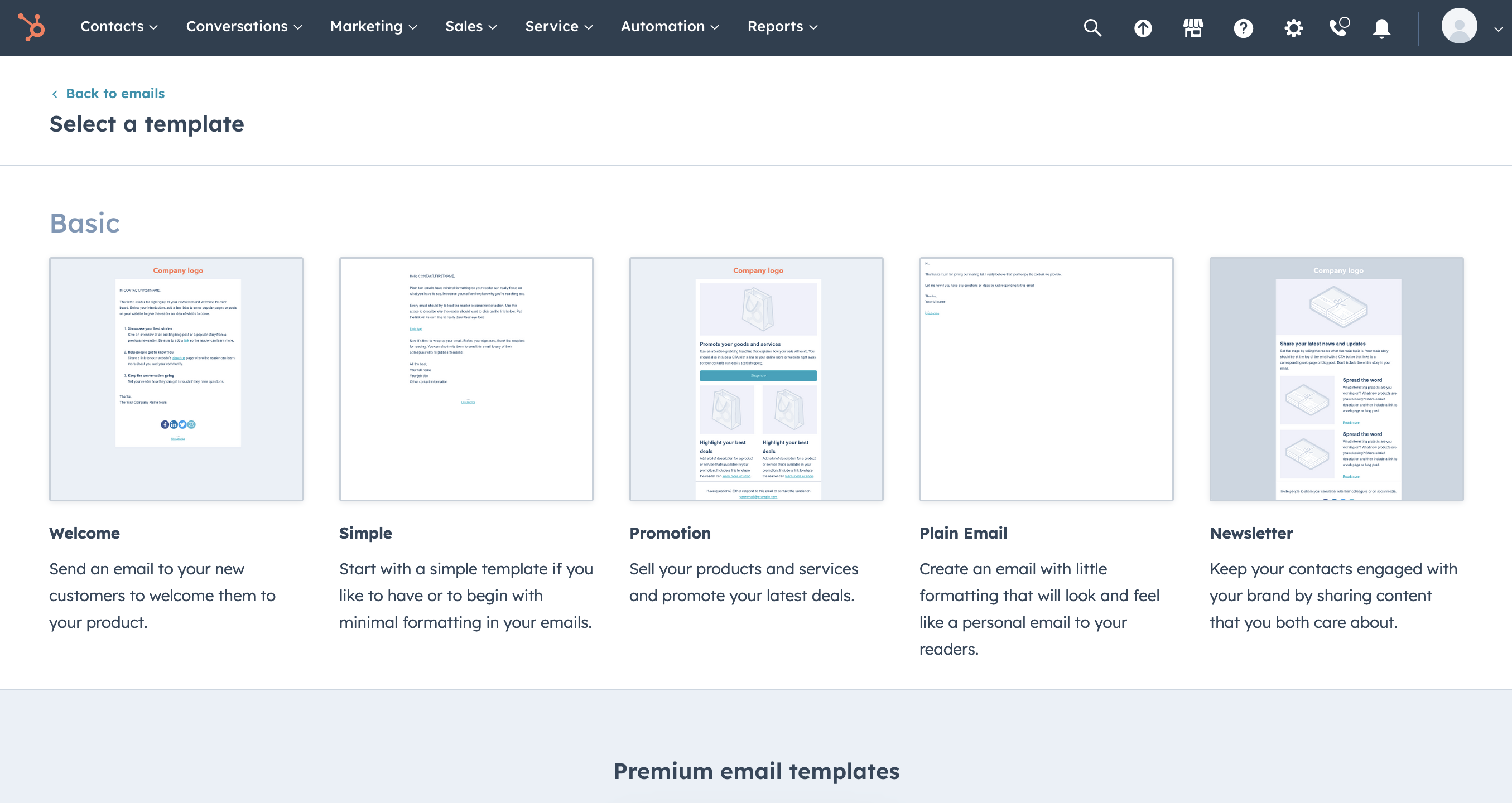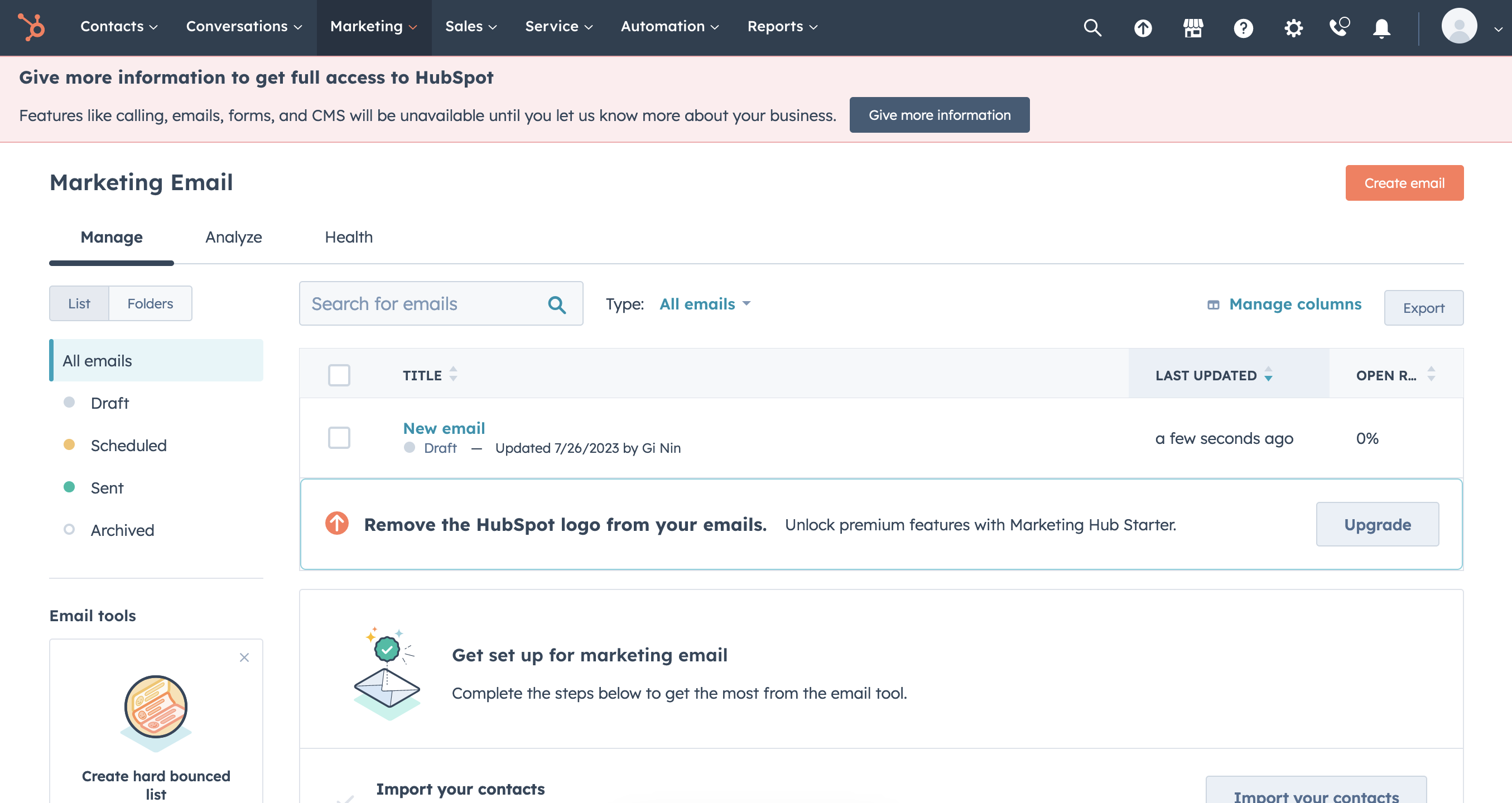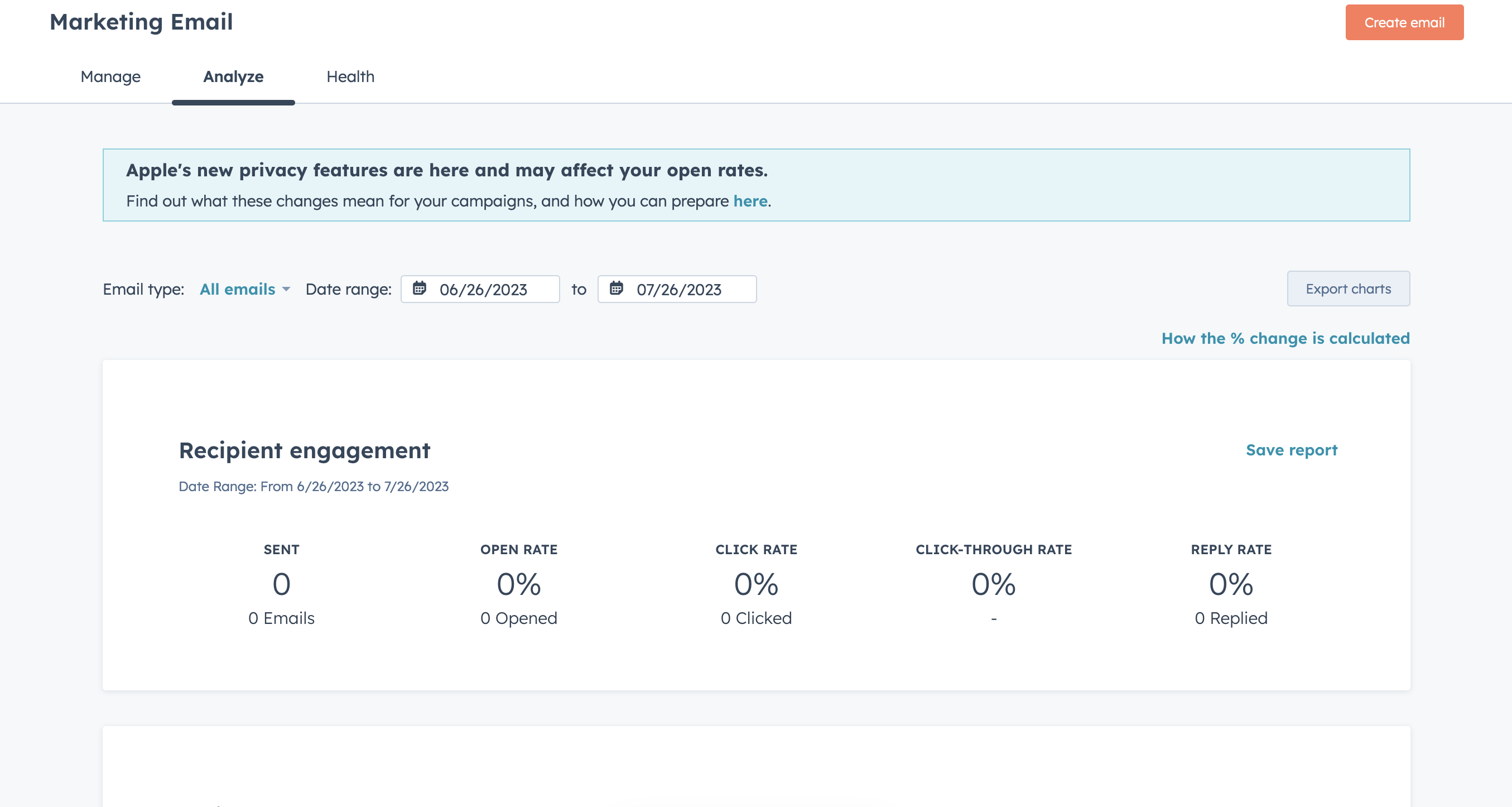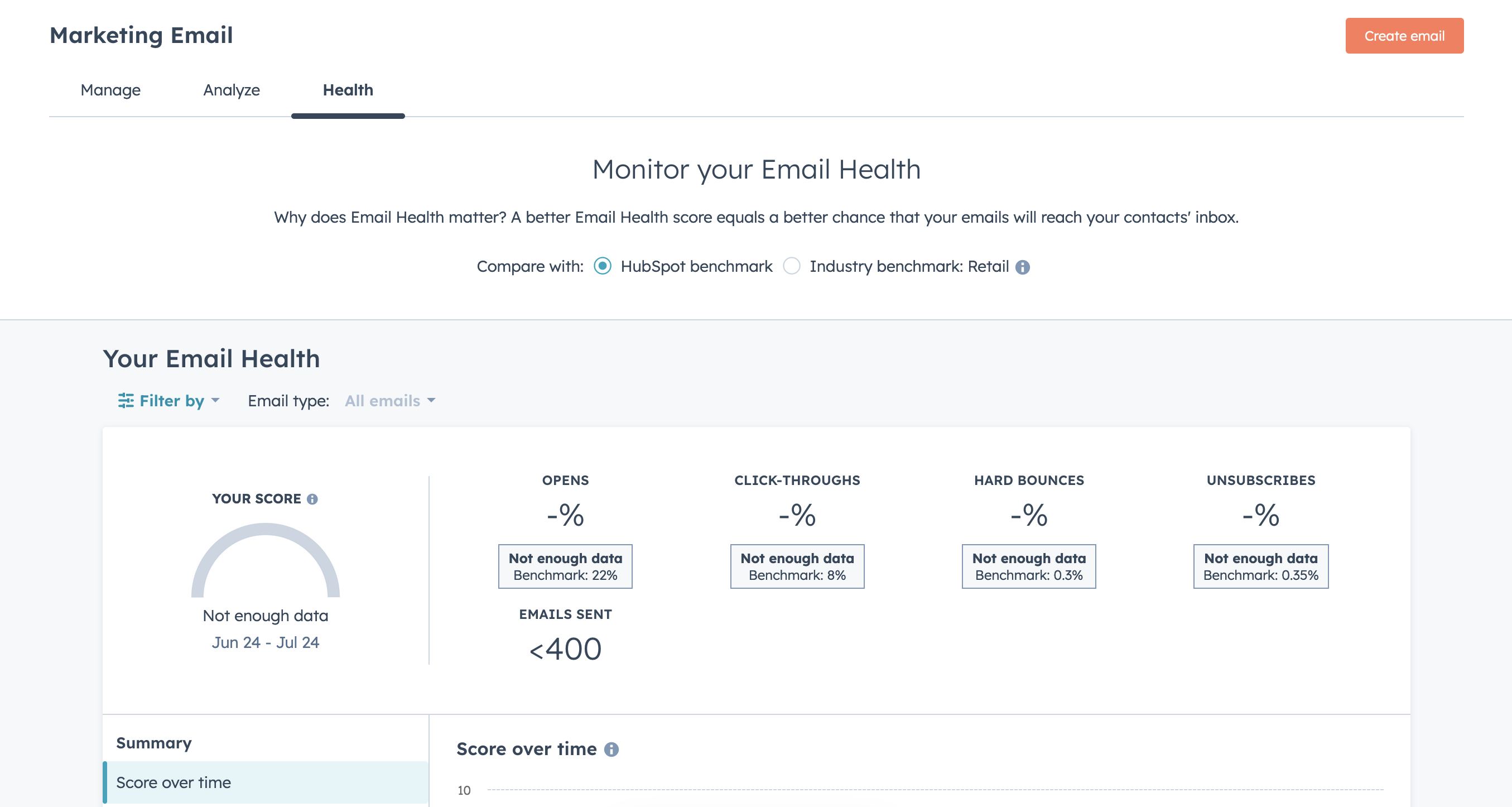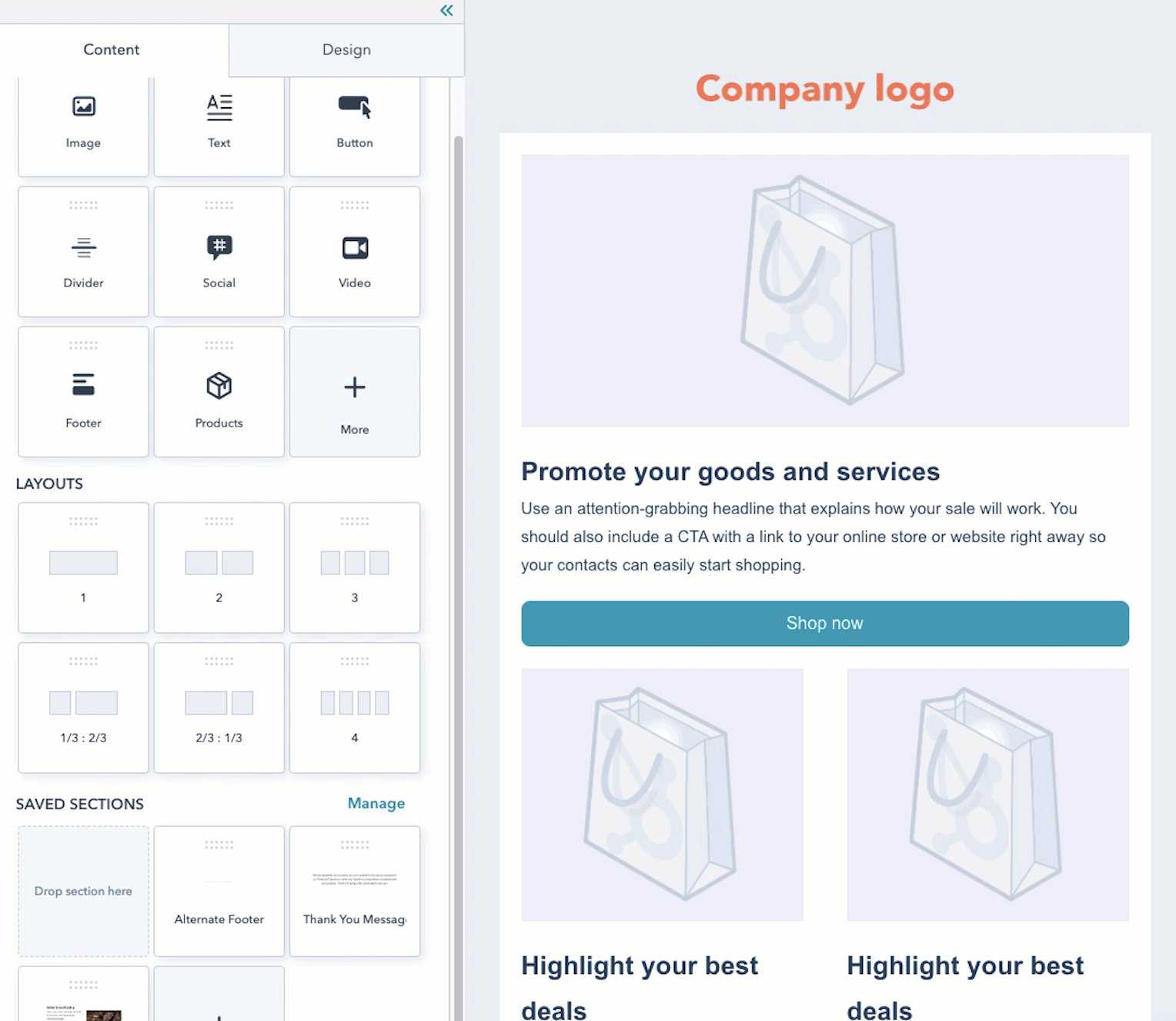 SendGrid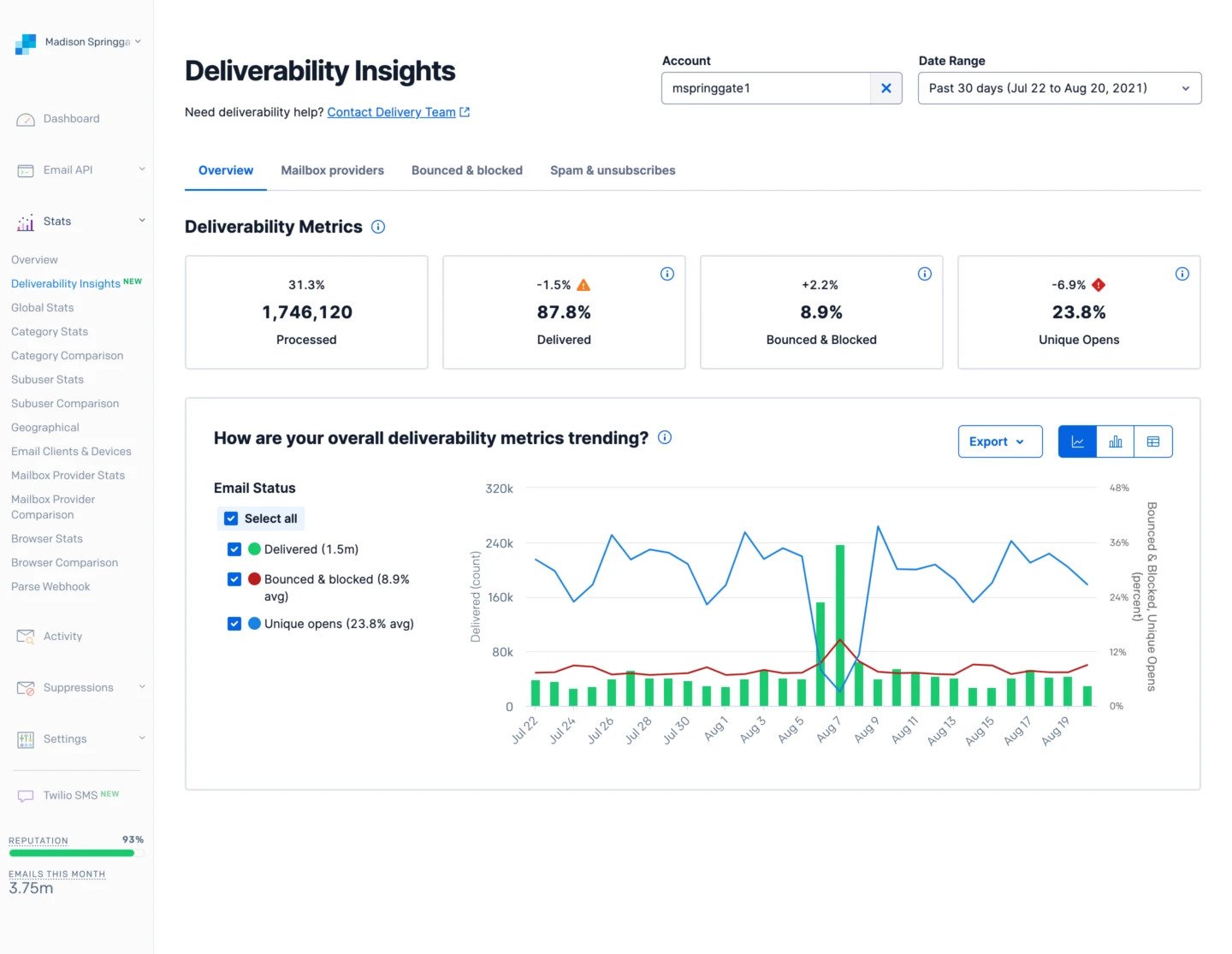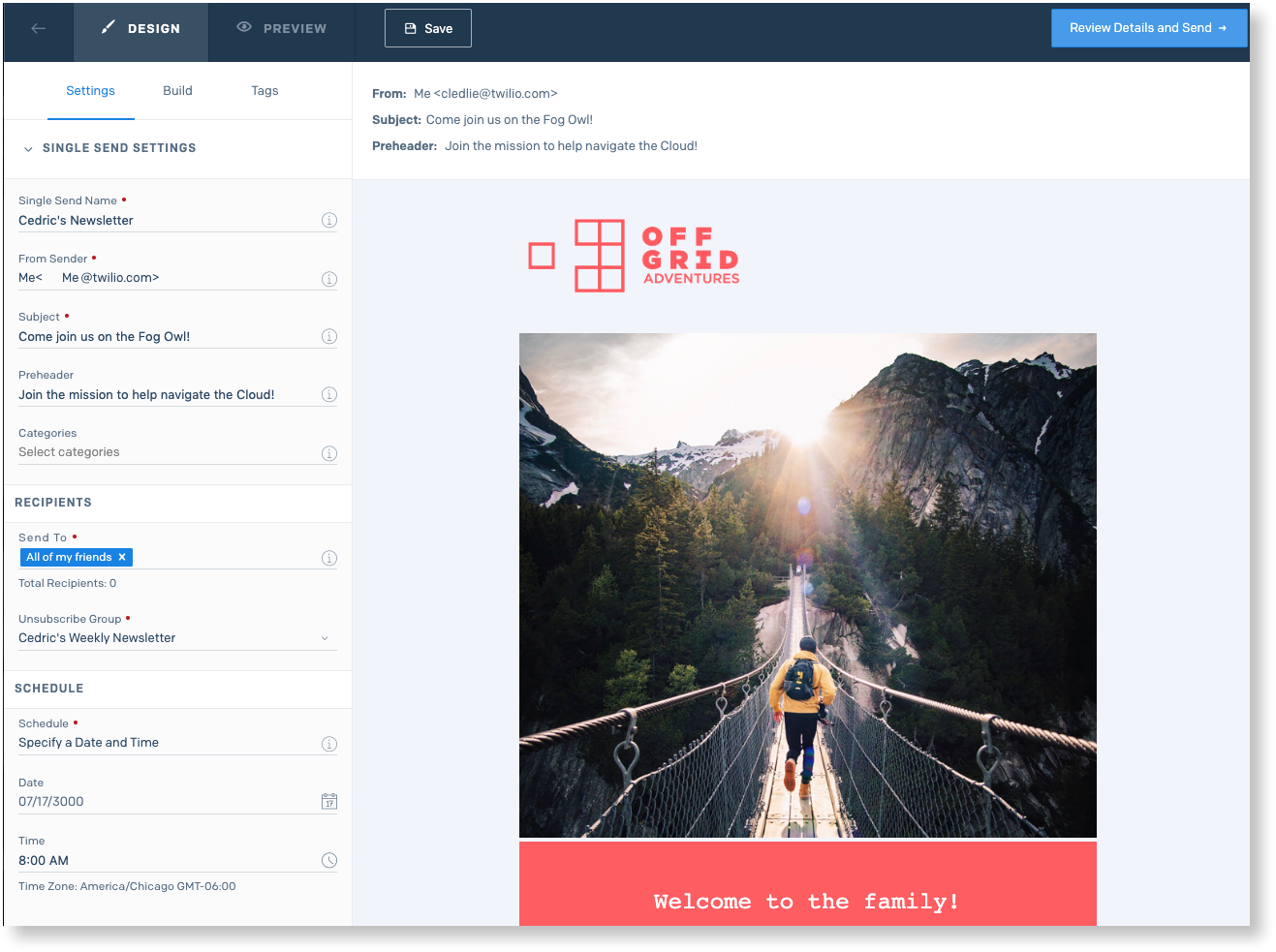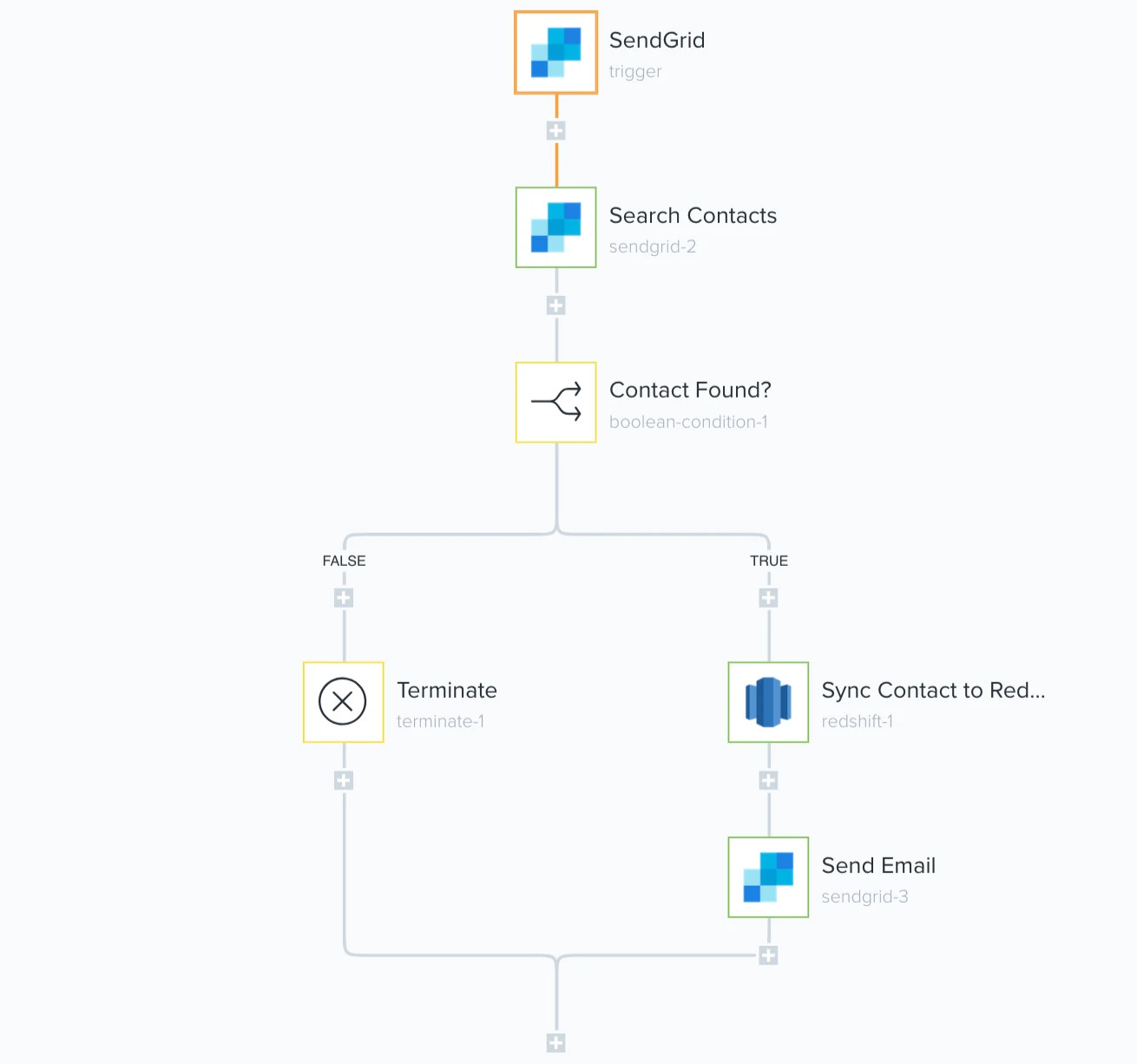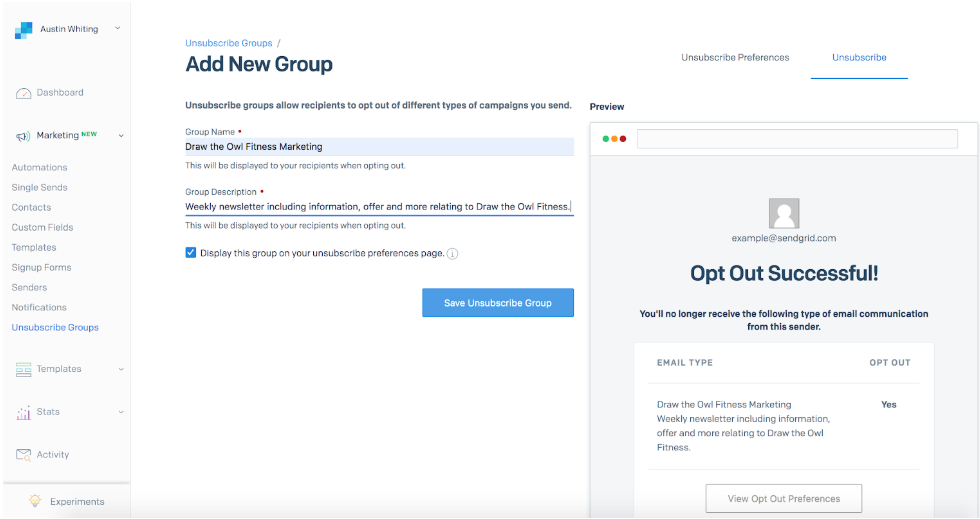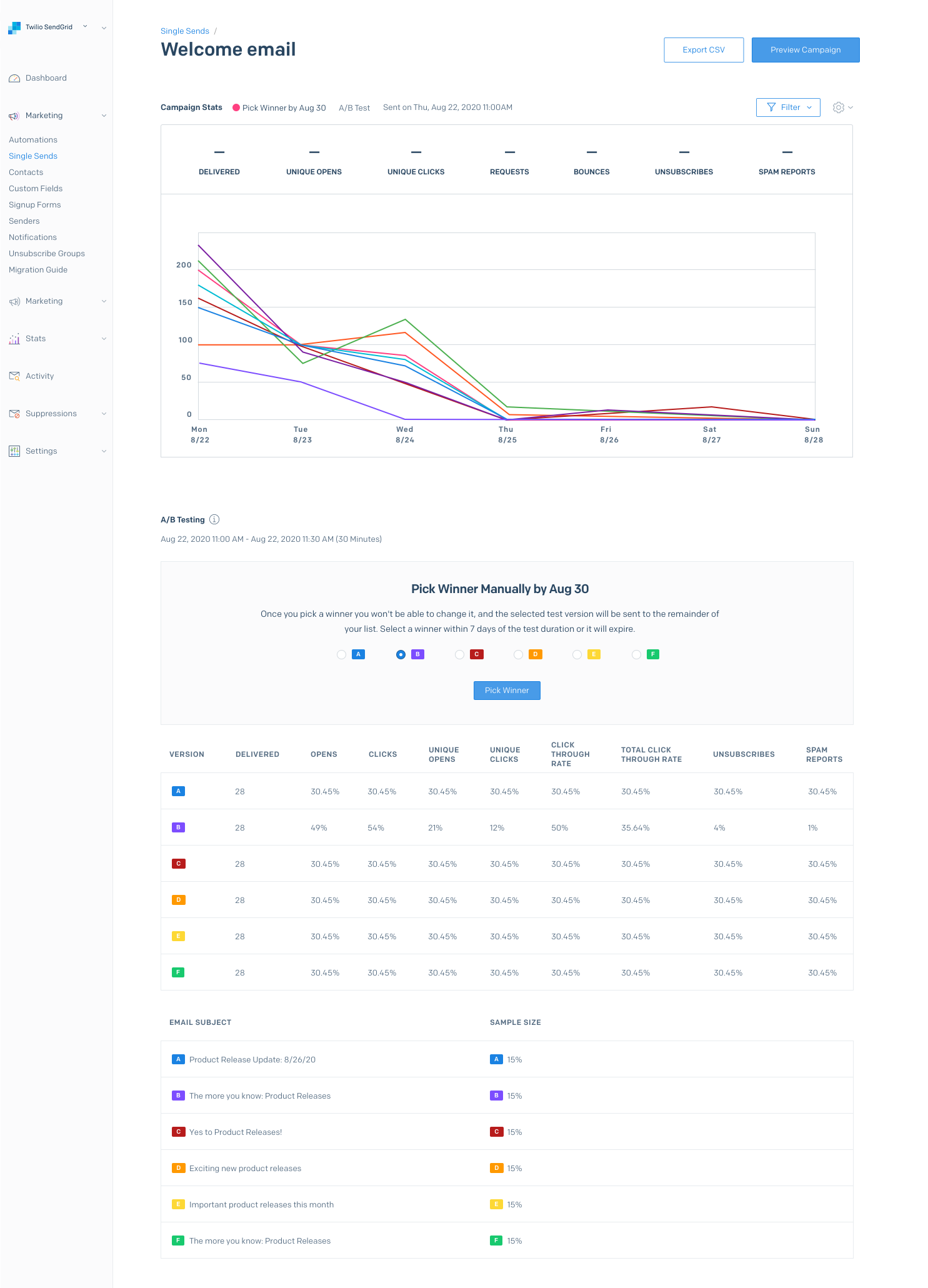 Integrations
HubSpot
1,495 integrations including WordPress, Zapier, Canva, Facebook, Salesforce, Shopify, Stripe, and more.
SendGrid
100+ integrations with other ESPs like Klaviyo and Litmus, CRM systems like AgileCRM, content management systems like WordPress and Verst., and more.
Devices
HubSpot
Website
A mobile app for iOS and Android to manage the CRM
Chrome extension for Gmail or G Suite
Office 365 add-in and desktop add-in for Office 365
SendGrid
A web app and an iOS app with limited functionality (management and troubleshooting only), you can find an APK for Android but it's not an official release
Languages
HubSpot
English
Chinese (traditional)
Danish
Dutch
Finnish
French
German
Italian
Polish
Portuguese (Brazil)
Spanish
Swedish
SendGrid
English
Automation
HubSpot
Many pre-built automations (called workflows) triggered by:
Contacts
Companies
Deals
Tickets (for support purposes)
Quotes
Conversations
Feedback submissions
SendGrid
SendGrid offers a tool for building custom automated sequences and a pre-built welcome series. The automation editor allows users to select entry criteria, enable and temporarily disable the sequence, set conditions, and add as many emails to the sequence as they want.
Pros
HubSpot
An all-in-one solution for e-commerce businesses: email marketing, CRM, CMS, and more
1,482 integrations
Thorough onboarding and courses
A strong global community
Ability to store many contacts for free
SendGrid
A solid transactional API
Good choice of integrations
Great testing tool
Good for scaling businesses
Cons
HubSpot
Steep prices
Complicated feature system may cause additional spendings
Overwhelming amount of functions
Support isn't accessible enough
Email templates aren't sophisticated
SendGrid
Slow customer support
Many reviewers complain about deliverability issues like blacklisted IPs
Bugs like no 2FA emails to log in to the platform
Could be more user-friendly
Reviews from experts
HubSpot
The fact that it's so user-friendly is a big advantage to using HubSpot's CRM platform. Its guided set-up wizard, demos and intuitive interface make it a great tool for all levels of experience. It's still a huge software with a lot of bells and whistles, but taking all that into account, its usability is still outstanding. You'll be particularly impressed with its lead management features.
<...>
Anything above Starter gets very expensive and requires you to pay a high onboarding fee. In the case of the HubSpot Marketing Professional plan, this is $3,000 on top of the $890/month.
Surprisingly, HubSpot's templates aren't quite what you'd expect from such a popular, modern tool. I'd like to see some more design options for email and landing pages.
Overall: I'm 50-50 with HubSpot. I see it as a compromise and middle step until we are able to get more specialized solutions for each one of their offerings.
Pros: HubSpot is a good solution for organizations at their early steps. It provides all the necessary tools for website management and marketing activities. The contacts' management is good too.
Cons: It doesn't go in-depth on anything. For everything that HubSpot does there is a platform that does it better. But we would need many different tools so we stay with all in one but shallow approach (for now). It is also very expensive for what it is.
SendGrid
SendGrid's email editor allows you to customize existing templates, build a new email newsletter with the drag-and-drop functionality, or code an email from scratch. You can customize the design of the email by changing attributes such as background color, text, and font, as well as add new content blocks, including buttons, images, texts, and snippets of code.
One of the most useful aspects of the email editor is the ability to add tags in the message, which allow you to add custom fields. This includes adding the recipient's name and location, date of last open, or any other information you collect on your subscribers, which enables a high level of personalization.
Sendgrid is a powerful email marketing tool that offers superior services to its customers. Sendgrid is a must-have tool for start-ups, eCommerce businesses, freelancers and corporates. One thing that separates Sendgrid from other email marketing tools is their scalability once our list grows. The free version of Sendgrid allows you to send 100 emails every day.
What I like most about Sendgrid is that most of the tools out there offer easy integration with Sendgrid. Some apps can even directly integrate with SendGrid without using automation software like Zapier.
*This information is current as of 09/28/2023. While we regularly update our articles, it`s possible that this article may not contain some of the latest information.